06-07-2015 07:04 BST / 02:04 EDT by Serebii
This update will be amended throughout the day so be sure to check back. If you have any ideas for the site, be sure to send them in
With the generation continuing and Nationals coming up globally, and the Chatroom has been rife with discussion while the WiFi Chatroom has been a place for battles, trades and Friend Safari hunting, so be sure to visit them. Our Forums have also had these discussion and are a bustling trade and competitive section for the games. Be sure to like our FaceBook Page.
Last Update: 07:04 BST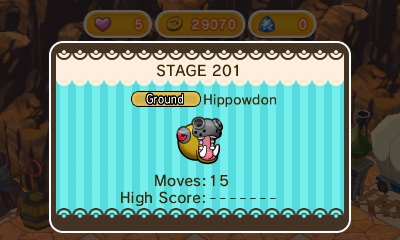 In The Games Department
Pokémon Shuffle - New Stages
The latest update to Pokémon Shuffle has come and includes many brand new stages . We're currently working through them and will be adding them to our Location page and our Pokémon Listings so keep checking back
Edit @ 07:26: All stages added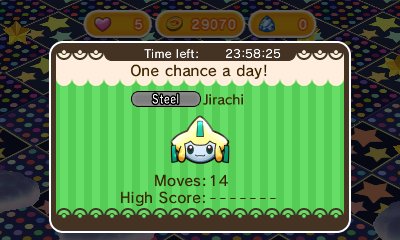 In The Games Department
Pokémon Shuffle - Events
A brand new challenge has begun on Pokémon Shuffle. This challenge provides you access to the Pokémon Jirachi and is playable once a day until July 10th. You need to download the new patch, Version 1.2.6 to obtain it. Our Pokémon List has been updated with details of this Pokémon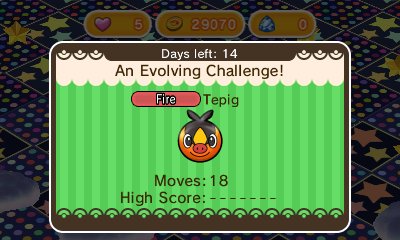 In The Games Department
Pokémon Shuffle - Events
A brand new challenge has begun on Pokémon Shuffle. This challenge provides you access to the Pokémon Tepig and is playable until July 20th. This is ahead of Pignite coming in August You need to download the new patch, Version 1.2.6 to obtain it. Our Pokémon List has been updated with details of this Pokémon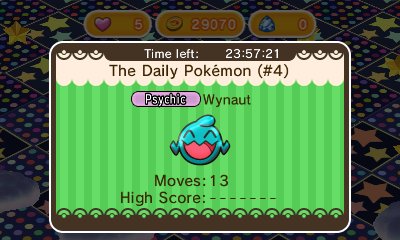 In The Games Department
Pokémon Shuffle - Events
The next wave of Daily Events has begun. Over the next two weeks, the following Pokémon will be available. On Mondays you can get Wynaut. Lasts until July 18th. These Pokémon can only be found through this manner so be sure to get them.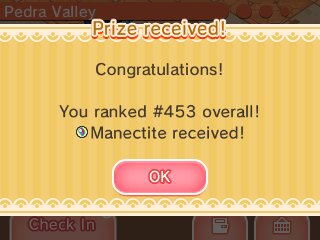 In The Games Department
Pokémon Shuffle - Events
If you were one of the lucky 160,000 (20,000 in Europe/Australia, 40,000 in America or 100,000 in Japan) players worldwide who ranked in the Mega Manectric competitive stage over the past week, then the Manectite is now available to be received. The Mega Start and Mega Speedup for the higher ranked players will also be obtained. If you didn't qualify, then you can redeem a Jewel. To get these items, simply Check In between now and July 13th 2015 at 06:00 UTC and you will receive the item.