Friday: Pokémon X & Y - Pokémon Center Distribution + Episode Titles
18-04-2014 06:09 BST / 01:09 EDT by Serebii
This update may be amended throughout the day so be sure to check back. If you have any ideas for the site, be sure to send them in
X & Y have been out for months now, and the Chatroom has been rife with discussion while the WiFi Chatroom has been a place for battles, trades and Friend Safari hunting, so be sure to visit them. Our Forums have also had these discussion and are a bustling trade and competitive section for the games. Be sure to like our FaceBook Page.
Last Update: 06:09 GMT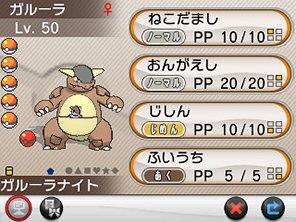 In The Games Department
Pokémon X & Y
It has been revealed that a special tournament is to take place in the Pokémon Centers. To tie in with these tournaments, and in the time around it, various Pokémon with their Mega Stones are to be distributed to players with sets aimed to help you get into battle immediately. They are all Level 50
From May 10th to May 18th, a Gyarados with Waterfall, Earthquake, Ice Fang, Dragon Dance and holding Gyaradosite is to be given
From May 19th to May 25th, a Scizor with Bullet Punch, Swords Dance, Roost, U-Turn and holding Scizorite is to be distributed
From May 26th to June 1st, a Kangaskhan with Fake Out, Return, Earthquake, Sucker Punch and holding Kangaskhanite is to be distributed
From June 2nd to June 8th, a Gengar with Shadow Ball, Sludge Bomb, Will-o-Wisp, Destiny Bond and holding Gengarite is to be distributed
From June 9th to June 15th, a Tyranitar with Stone Edge, Crunch, Earthquake, Ice Punch and holding Tyranitarite is to be distributed
Finally, from June 16th to June 22nd, a Mawile with Iron Head, Play Rough, Fire Fang, Sucker Punch and holding Mawilite is to be distributed.
Our Event Database has been updated with details of these events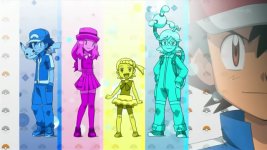 In The Anime Department
Pokémon XY - Episode Titles
The official Pokémon Fan has revealed a few new Episode titles for upcoming episodes. Thes episode are due to air on May 15th 2014, May 22nd and in a one hour special on May 29th 2014. These episodes feature Ash & Co. as they travel throught he Kalos region and include the first appearance of the Kalos Champion
Episode 829: Swirlix and Slurpuff!! A Sweet Fight Gets Anything But Sweet!?
Episode 830: Flabebe and the Fairy Flower!
Episode 831: Enter Champion Dianthe! Mega Gardevoir in Mist!!
Episode 832: Ta-da! A Fake Ash Appears!!