OK. To Avoid the current hassles there is this disclaimer for those Who want to use it without permission:
You shall not post this on anywhere for public use
You shall not sell this for public use
Do not replicate and forward without permission
Do not claim this as yours
Do Not Translate it into your language and claim ownership

Arriving on Migration Island, Ash & Co. witness a massive amount of Metapod evolve into Butterfree and fly away, as is tradition on the island. However, as the Butterfree leave, Ash notices a wild Caterpie emerge, having not even evolved into Metapod yet. Remembering his own Butterfree, Ash decides to help the Caterpie to evolve so it can leave on time with its family. However, Caterpie struggles with the training due to its love of sleep, but things get even worse when wild Ursaring appear and start causing hassle. Will Ash be able to help the Caterpie?

Full Guide coming Soon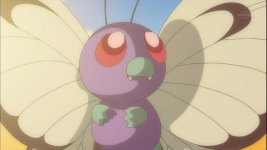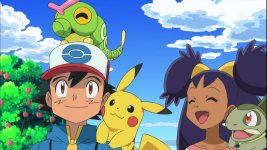 791: Butterfree and Me!

791: Ash & Butterfree! Until the Day We Meet Again!!



Yes


Ash
Iris
Cilan
Jessie
James
Professor Oak
Nurse Joy
Parker


Ash:
Iris:
Jessie:
James:
Rocket:
Professor Oak:
Wild:


None of Consequence