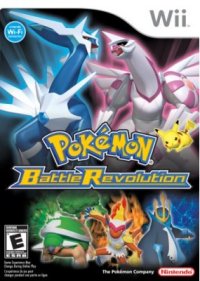 Pokémon Battle Revolution
Pokémon Battle Revolution is the first Wii Game for Pokémon. Essentially a continuation of the Colosseum & Stadium series, Battle Revolution is a 3D Battle simulator, featuring all 493 Pokémon,using the gorgeous graphics on the Nintendo Wii in glorious 16:9 Aspect Ratio and 480p Resolution
Battle Revolution is the first Wii game to link up to the DS. Using your Diamond & Pearl game cartridges, you are able to copy your Pokémon over for use in the many modes of the game. There are also many rental passes for use for those who do not have the DS games
In the single player mode, there are 10 Colosseums that the player can access as they progress through the game. Each with varying opponents and quirks that truely test your skill as a trainer. There are 8 Ranks of difficulty for the Colosseums so it truely tests your power. To top it off, once you've compelted the game, 3 Colosseums have extra modes spring up that further test your Masterful battling abilities and your breeding abilities
Like Diamond & Pearl, Battle Revolution has a multiplayer mode, allowing for your friends with a DS to connect and battle in the areas in Battle Revolution. However, in Japan & the Americas, it is the first online game for the Wii. Utilising its own Friend Code, you are capable of storing and battling with your friends through the Nintendo WiFi Connection. You also have the ability to have Random online battles with anyone in the world who is also wanting a Random battle. This is a true way to test your skill.
To top it off, you also have the ability to create your own custom character. Based upon 6 different models, you can create a character that perfectly fits you, or can be so outlandishly different from you. These can then be saved onto Battle Passes and utilised whenever you battle online.
You can also purchase many items and obtain 3 special Pokémon through the completion of the game which can be transferred to your DS game to work as an added incentive to beat the Colosseums.
Although it does lack some of the features of its predecessors such as the Earls Academy & Mini Games of Stadiums 1 & 2 and the RPG modes of Colosseum & XD, Battle Revolution has a deceptively in-depth single player mode that will challenge you as a trainer with its many difficulties and hidden extras