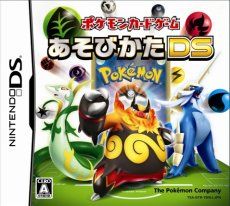 Pokémon Card Game: How To Play DS
Pokémon Card Game: How To Play DS is a small tutorial game which comes with the Starter Kit + set of cards in Japan. This set allows for gameplay of the Trading Card Game and teaches how to play the game.
This game allows you to pick one of three decks of cards, based upon the Beginning Set and shows you all the aspects of gameplay for the Pokémon TCG. In addition to teaching the aspects, you can play against up to six computer opponents and there is also a quiz to test your knowledge of the rules.
The game is also useful as it has a rule dictionary for reference when you do play the game and you have the ability of sending the tutorial to friends through use of DS Download Play.
We'll bring more as it comes.