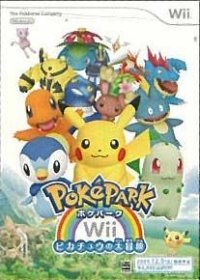 PokéPark Wii - Pikachu's Adventure
PokéPark Wii - Pikachu's Adventure is an Action/Adventure game coming to the Nintendo Wii. This game features Pikachu exploring the PokéPark after being notified of a crisis there. While there, Pikachu learns he has to partake in a variety of attractions at the park
While at the park, Pikachu learns that to do the attractions, he will require the assistance of several Pokémon. These Pokémon are obtained through the Trial of Strength features where you partake in quizzes and battles. There are a variety of Pokémon to earn here.
Once you have the right Pokémon, you can partake in the attractions which include a water race called the Marine Slider, a Sky Race and a standard race. These are all controlled uniquely through the Wii Remote.
The game has 193 Pokémon to find within it, many of which will be able to play in the attractions. When you befriend the Pokémon and partake in the attractions, you will gain pieces of the Sky Prism which Mew needs in order to save the PokéPark.