Pokémon Box: Ruby & Sapphire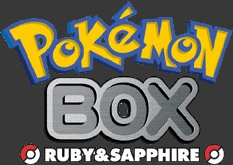 Pokémon Box: Ruby & Sapphire, or Pokémon Memory Magic in some regions, is a utility game released for the Nintendo Gamecube in 2003. This utility allowed for storage of Pokémon from Ruby, Sapphire & Emerald, storing up to 1,500 Pokémon in each save file. Each savefile required 59 blocks of the Memory Card.
In the game, it is run by Brigette, a friend of Lanette from Hoenn who wishes to create one of the best Pokémon Storage Systems
This utility was available in limited forms. In Japan it was available from Pokémon Centers in two bundles; one which came with the disc and Memory Card and another which came with the disc, a Memory Card and a Gamecube->GameBoy Advance Link Cable. In the US it was available in Pokémon Center New York and in Europe it was available in limited means from the Stars Catalogue and in a Gamecube bundle.
In addition to the storage of Pokémon from the Gameboy Advance games, it has a few other features that can be utilised including the ability to play the game on the television. You can also look at your Pokémon collection, even taking screenshots from it.
There are also several gift Pokémon you can receive as Eggs as a reward for putting Pokémon in the game.