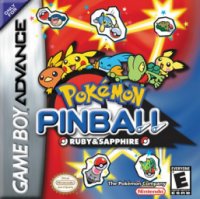 Pokémon Pinball: Ruby & Sapphire
The sequel to the hugely successful Pokémon Pinball which was on the Gameboy Color. This new version of the game features updated graphics and tighter mechanics. However this game does not feature the Rumble Pack which it's predecessor did. Instead, it allows vibrations to go through the Gamecube controller if you are playing it on the Gamecube Gameboy Player.
Like it's predecessor you have 2 boards to choose from, A Ruby Board and a Sapphire Board. These boards have multiple Pokémon in them to help or thwart your attempts to capture Pokémon in the area that you are in. Each of the boards has a variety of locations for you to discover, each with their own set of Pokémon to capture
This game features a total of 205 Pokémon to capture, containing the entirity of the Hoenn Pokédex, the Johto starters and the Pokémon Aerodactyl. It features various bonus rounds featuring these Pokémon and even includes a new mechanic to allow for the obtaining and hatching of Pokémon through eggs
The game also featured limited e-Reader compatibility, allowing for you to get various bonuses and more protection from failure and getting the various very rare Pokémon easier.