OK. To Avoid the current hassles there is this disclaimer for those Who want to use it without permission:
You shall not post this on anywhere for public use
You shall not sell this for public use
Do not replicate and forward without permission
Do not claim this as yours
Do Not Translate it into your language and claim ownership

Continuing their travel across Big Island, Ash & Co. become witness to a rare event, the 1,000 year awakening of the Pokémon Jirachi, who only wakes for seven days. As Pikachu and Axew play with Jirachi, Ash decides to introduce itself but Jirachi, scared of humans, backs away and leaves. Ash is disheartened by this but soon meets a girl who is looking for Jirachi to make her wish to make the land fertile come true. Ash & Co. decide to help her with this but struggle to find Jirachi in the seven days it's awake. However, the moment they do, Team Rocket appears and attacks. Will Team Rocket manage to get the weakened Jirachi, or will the wish be granted?

Full Guide coming Soon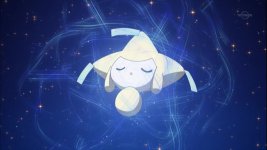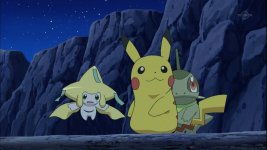 793: Searching for a Wish!

793: Wish Upon Jirachi! The Seven Days Miracle!!



Yes


Ash
Iris
Cilan
Jessie
James
Holly
Lotus
Cacto


Ash:
Iris:
Jessie:
James:
Rocket:
Wild:


None of Consequence