OK. To Avoid the current hassles there is this disclaimer for those Who want to use it without permission:
You shall not post this on anywhere for public use
You shall not sell this for public use
Do not replicate and forward without permission
Do not claim this as yours
Do Not Translate it into your language and claim ownership

Lunala and Necrozma have appeared at the Altar of the Sunne and start battling. Ash & co. start to try to battle Necrozma to help Lunala but their attacks have no effect. However, to make things worse, a group from Team Rocket have also appeared and are trying to catch both Lunala and Necrozma. When all seems to be useless, Nebby returns from the Ultra Wormhole. What will happen? Will they be able to stop Necrozma and Team Rocket?

Full Guide coming Soon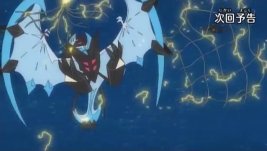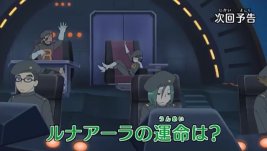 1031: Full Moon and Many Arms!

1031: Lunala VS UB: BLACK! A Battle at Full Moon!!



Yes


Ash
Lillie
Mallow
Lana
Sophocles
Kiawe
Gladion
Professor Kukui
Samson Oak
Jessie
James
Matori
Lusamine
Faba
Wicke
Professor Burnet
Gozu
Hala
Olivia
Acerola
Nanu


Ash:
Lillie:
Mallow:
Lana:
Sophocles:
Kiawe:
Gladion:
Samson Oak:
Jessie:
Rocket:
Hala:
Acerola:
PokeRide:
Matori:
Special/Other Trainers:
Wild:


None of consequence