OK. To Avoid the current hassles there is this disclaimer for those Who want to use it without permission:
You shall not post this on anywhere for public use
You shall not sell this for public use
Do not replicate and forward without permission
Do not claim this as yours
Do Not Translate it into your languange and claim ownership
After taking out the TR Elite Trio all by himself, Eusine prepares to head after Crys and lifts himself into the air on Jumpluff. He activates the special propellers under his shoes to assist flying, and is about to speed off when he notices a clear clinging sound coming from the fainted Harry below. He hovers down to rumble through the uniform of the TR elite, and gasps in shock when he discovers the item that made the sound.
Back at the Tin Tower, the heavyball that captured Suicune rolls onto the ground, and Crys rejoices over her successful catch. But then, Suicune struggles hard inside the ball, and soon manages to create cracks on it. In a flash of light, Suicune bursts out from the destroyed heavyball, and hops right back onto the ancient pagoda. Crys hollers in shock and remarks that heavyballs should have been effective in capturing massive four-legged creatures. But then she rationalizes that she hasn't weakened Suicune enough, and quickly orders Cubon and Arcanon to attack. Suicune starts ascending up the tower by jumping between the building's external platforms, and Crys knows that she can only count on false swipe now as it is the only attack that can cause damage without fainting a Pokémon. However, with Suicune's impressive speed, Cubon will be having a hard time pulling off the attack on its own. After a moment of thought, she decides to rely on Arcanon's agility, and commands Cubon to hop onto the fire Pokémon.
Arcanon quickly dashes after Suicune, and manages to catch up with it on the seventh floor of the Tin Tower. Cubon hurriedly delivers a false swipe once Suicune is within striking distance, but to its surprise, the mythical beast traps its thick bone with its ribbon-like tails and holds it immobile. Crys ascends on Electrode, and encourages Cubon to give its best. Suddenly, an almost invisible wall blocks her way, and she hits her head hard on it without seeing it. She reaches out her hands and gasps in astonishment when she realizes that something in the shape of the ornament on Suicune's head is surrounding the whole upper part of the ancient pagoda. Just then, Eusine's voice comes through the walkie talkie doll in her bagpack, and hollers that Suicune has unleashed its famous crystal wall seal, a powerful shield that fends off its pursuers.
Crys quickly takes out the doll and wonders where Eusine is. Eusine explains that he is on his way to Ecruteak, and that the doll she's holding actually has a signal transmittor built inside which enables him to track her location. He states that the crystal walls are vaguely visible through his binoculars from where he is, and points out that the seal doesn't seem to be complete yet. Crys thinks for a moment, and realizes the place where Cubon's thick bone makes contact with Suicune's tails must be leaving a cleft in the crystal walls. Eusine warns that no one but Suicune will be able to undo the seal once it's complete, and tells her to try her best in keeping that final opening from being sealed before he arrives. Crys wonders what Eusine has in mind, and the young man explains that he has acquired something from the TR members which can render the crystal walls powerless, a mystical item known as the Clear Bell.
Hearing that the seal cannot be allowed to complete, Crys and Arcanon struggle to weigh down on Cubon's thick bone, in hopes of maintaining the tiny gap that remains. However, the mythical beast charges up its powers once again, and forces its tails to fork across its other, instantly crushing the thick bone and sealing off the crystal walls. The strong backward force created knocks Crys off her balance, and sends her falling from the Tin Tower, while the sharp shards of the shattered bone strikes off her left earring, and stabs through the glass monitor of her Pokégear as well as the walkie talkie doll. The damage caused to the doll destroys the signal transmittor inside, and Eusine immediately loses track of Crys. The young man frantically yells into his microphone, but to his horror, receives no response from the girl at all.
Flying high up in the sky beyond the clouds, a phoenix glitters in seven colours as its body reflects the sunlight. It flaps its giant wings, and continues to soar through the skies, all the while leaving a rainbow trail from behind…
Thanks To Coronis For Writing this for us



131: VS. Suicune! (Part Two)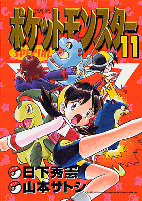 Volume 11