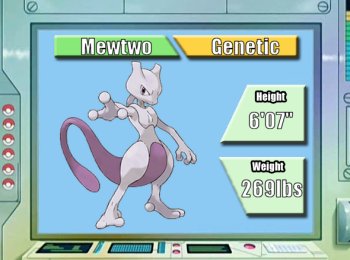 Mewtwo, The Genetic Pokémon. It was created by recombining Mew's genes. It's said to have the most savage heart among Pokemon. Because its battle abilities were raised to the ultimate level, it thinks only of defeating its foes. It usually remains motionless to conserve energy, so that it may unleash its full power in battle. Even though the scientific power of humans made its body, they failed to give it a warm heart. It was created by a scientist after years of horrific gene-splicing and DNA-engineering experiments.
Overview
Mewtwo is the original powerhouse. Back in RBY, no other Pokémon could even touch Mewtwo, it was incredible. It isn't as amazing now, as stuff actually resists Psychic, but it is still an incredible Pokémon that is an amazing choice for any uber team.
Ability
Pressure: works really well with a lot of Mewtwo's sets, and is a great ability in general.
Move Sets
Specs
- Aura Sphere
- Ice Beam
- Grass Knot
- Flamethrower
Item Attached: Choice Specs
Ability: Pressure
EVs and Nature:
EVs: 4 HP / 252 SAtk / 252 Spd
Modest Nature (+SAtk, -Atk)
Choice Specs on a Pokémon as offensively dangerous as Mewtwo is terrifying. The combination of moves hits pretty much every Pokémon in the uber tier for super effective damage. Aura Sphere lays the hurt down on any Dark or Steel types, as well as one particular normal type. Ice Beam does amazingly in the uber tier due to the abundance of Dragons, but it is a great move regardless. Grass Knot murders the weather making, ever prominent Water and Ground Pokémon, with Flamethrower there for any Bugs and Steels.
Taunt
- Taunt
- Calm Mind
- Aura Sphere
- Ice Beam
Item Attached: Leftovers
Ability: Pressure
EVs and Nature:
EVs: 4 HP / 252 SAtk / 252 Spd
Modest Nature (+SAtk, -Atk)
Taunt works amazingly on Mewtwo, ruining most of its counters by outspeeding them and destroying their recovery. Calm Mind boosts Mewtwo's obscene Special Attack and its Special Defence, making it pretty horrifying to try to hurt after a few boosts. This is especially effective in the uber tier where the vast majority of attacks are special. Aura Sphere hurts the common Dark switch ins and Steel switch ins a lot, with Ice Beam there for good coverage and landing a nice hard hit on Flying types. Thunder and Ice Beam are an acceptable move combination, as well as Aura Sphere and Shadow Ball. All of them work well, just choose what goes best with your team.
Life Orb
- Aura Sphere
- Ice Beam
- Thunder
- Fire Blast / Selfdestruct
Item Attached: Life Orb
Ability: Pressure
EVs and Nature:
EVs: 4 HP / 252 SAtk / 252 Spd
Timid Nature (+Spd, -Atk) / Hasty Nature (+Spd, -Def)
Positively frightening. This thing can destroy pretty much everything in the game, no joke. With that disgusting Special Attack, massive Speed, extra power with the ability to switch moves, not a lot can stop this beast. Aura Sphere, Ice Beam and Thunder are all there, doing what you'd expect. They have great coverage between them, and are all powerful moves. Fire Blast destroys any Steel types not killed by Aura Sphere, although Selfdestruct is an awesome option, as it can be used when Mewtwo is weak to remove whatever Pokémon you want from their team.
Scarf
- Focus Blast
- Shadow Ball
- Trick / Ice Beam
- Selfdestruct
Item Attached: Choice Scarf
Ability: Pressure
EVs and Nature:
EVs: 40 Atk / 238 SAtk / 232 Spd
Hasty Nature (+Spd, -Def)
Outspeeds any Darkrai, which makes this a great surprise set. Focus Blast murders a lot of Pokémon that would normally switch into Mewtwo. Shadow Ball partners up amazingly with it and is another good move regardless. Trick can mess up an entire team if timed correctly, whereas Ice Beam is another attacking option. Selfdestruct works amazingly with Mewtwo's huge Speed and nice Attack, making it a great suicide move.
Dual Screens
- Reflect
- Light Screen
- Taunt
- Selfdestruct
Item Attached: Light Clay
Ability: Pressure
EVs and Nature:
EVs: 252 HP / 4 Atk / 252 Spd
Jolly Nature (+Spd, -SAtk)
Reflect and Light Screen are amazing for team support, and Mewtwo uses them well. Taunt, in combination with blistering Speed makes setting up screens quite easy. Once Mewtwo's job is done, go out with a bang with Selfdestruct.
EVs and Nature:
Specs
Offense pushed to the maximum. There isn't much point in any other spread.
Taunt
Same explanation as Specs, to be honest. There isn't a point in making this anything else..
Life Orb
If you are running Selfdestruct, go with Hasty and you could throw some Attack EVs in there, but it still gets the kills it needs to regardless.
Scarf
Quite specific EVs for this one. 40 Attack kills most Kyogre and Blissey, with 232 Speed outrunning positive max Speed +1 base 125s. The rest is in Special Attack for obvious reasons.
Dual Screens
Speed for Taunt, HP to survive. 4 Attack for Selfdestruct.
Other Options
Brick Break, Bulk Up, Counter, Earthquake, Fire Punch, Focus Punch, Ice Punch, Magic Coat, Recover, Substitute, Thunderpunch, Will-o-wisp
Brick Break works on a physical set such as Bulk Up.
Bulk Up works like Calm Mind except it is less effective, more unexpected.
Counter could make for an interesting surprise, if you predicted properly.
Earthquake would be used on a physical set to remove any Steel types.
Fire Punch is a physical alternative to a Fire move to sort out the Bug types in ubers.
Focus Punch is an option for destroying Blissey and possibly working on a SubPunch set.
Ice Punch is another physical choice on a physical set.
Magic Coat could work as a lead move to blast back Sleep moves.
Recover would be effective on a defensive Mewtwo, as instant recovery is always amazing.
Substitute works to beat Blissey for a Calm Mind set, but Taunt is generally better.
Thunderpunch is the final option for a physical attack.
Will-o-Wisp works for a defensive set, as it halves the opponents Attack, rendering physical attackers useless.
Countering Mewtwo
Okay, how to counter something that can 2HKO the entire game. Blissey is the special wall of all special walls, so has to be added as a counter. Just avoid Selfdestruct and try to avoid Fighting moves. Giratina has to avoid Shadow Ball and Ice Beam, but it has Shadow Sneak and amazing bulkiness to take hits. Steel types like Dialga, Scizor, Forretress and Metagross are great choices. They all have a way of hurting Mewtwo greatly, they just have to avoid Fighting and Fire moves. Lugia works well due to massive Special Defence, instant recovery, and Whirlwind to destroy any boosts. Just don't hit struck by Thunder, Ice Beam or Shadow Ball. Tyranitar can kill Mewtwo with a STAB Dark move, just watch out for Aura Sphere. Kyogre has nice bulk and can Calm Mind itself, making for a stall war that Kyogre would likely win, unless Mewtwo has Thunder. Ho-oh has amazing Special Defence and can destroy Mewtwo with Sacred Fire, until the big bird gets a taste of Thunder. Revenge killing Mewtwo is a great way of killing it. Darkrai and Deoxys-A can outspeed and flatten the original uber. Palkia also works well, just not as well as Darkrai. Even though this looks like a lot of counters, remember that Mewtwo can actually beat all of them if they switch in wrongly or take an unexpected move. Mewtwo is scary strong.
Locations in Games
Ruby/Sapphire/Emerald

Trade from FRLG

Colosseum/XD

Trade from FRLG

Fire Red/Leaf Green

Cerulean Cave

Diamond/Pearl/Platinum

Transfer from FRLGHGSS

HeartGold/SoulSilver

Cerulean Cave
Animé Appearences