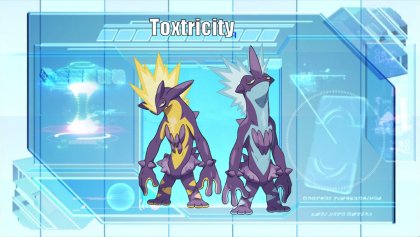 Toxtricity, The Punk Pokémon. When this Pokémon sounds as if it's strumming a guitar, it's actually clawing at the protrusions on its chest to generate electricity. This short-tempered and aggressive Pokémon chugs stagnant water to absorb any toxins it might contain. Capable of generating 15,000 volts of electricity, this Pokémon looks down on all that would challenge it. It has an electrical organ on its chest. While generating electricity, it fills its surroundings with what sounds like the strumming of a bass guitar.
Overview
Toxtricity is one of the most potent special attackers on this generation thanks to its great dual STAB combination and ability in Punk Rock which power ups moves like Overdrive and Boomburst (which hits even harder than STAB Overdrive). However, while Toxtricity has a high Special Attack stats, it is being held back by its mediocre defenses and subpar Speed which makes it very easy to revenge kill. Despite these shortcomings, not many Pokemon are able to switch safely into it as even Pokemon like Ferrothorn and Rhyperior who resists or are immune to its dual STAB, take a big chunk of damage from Boomburst.
Positives
Base 114 Special Attack makes Toxtricity a very fearsome special attacker and also has a decent Attack stat to back it up as a mixed attacker. While its special movepool is somewhat limited, it gets what it needs with Boomburst and STAB Overdrive which are boosted by Punk Rock. Electric / Poison is a decent type combination which makes it immune to poison and paralysis while providing it with a useful STAB combination.

Negatives
Toxtricity is frail with mediocre 75/70/70 defense which means that almost any super-effective attack will instantly OHKO it.
It's subpar Speed makes it easy to be forced out and revenge killed by faster threats such as Excadrill and Dragapult.
It's Electric / Poison typing also curses it with a x4 Ground weakness which means that any Ground type able to switch into it, will OHKO it with their STAB.
As an offensive Electric type, Toxtricity is outclassed by the Rotom formes as they have Levitate, better defensive typings, higher Speed and access to Nasty Plot which makes them more threatening.
Movesets
THE REAL FOLK BLUES
- Boomburst
- Overdrive
- Sludge Wave
- Volt Switch
Item Attached: Choice Specs / Life Orb
Ability: Punk Rock
EVs and Nature:
4 HP / 252 SpA / 252 Spe
Timid Nature
The only business Toxtricity has is to spam Boomburst as it easily outdamages even its STAB Overdrive thanks to Punk Rock and takes a big chunk of health from Ground types who attempt to switch into it. Overdrive one of Toxtricity's main STAB which also gets boosted by Punk Rock and it should be used to toast Pokemon like Corviknight, Toxapex, Jellicent or Milotic. Sludge Wave is its secondary STAB and it is used to ravage Fairy types like Togekiss and Clefable. Finally, Volt Switch allows Toxtricity to switch out of danger while regaining momentum. However, be careful when to use it as Ground types can easily block the move.
DYNAMAX:
Toxtricity gains a lot of benefits from Dynamaxing as it gains a decent amount of bulk out of it while it allows it to boost itself. Max Strike lowers the opponent's Speed which is pretty awesome for Toxtricity due to its subpar Speed. Max Ooze raises its Special Attack which allows it to hit harder while bypassing a Choice item's lock if necessary.
Finally, between its Gmax move and regular Dynamax move, Toxtricity doesn't really gains any notable benefit from both, which doesn't makes a notable difference on whether you are using the GMax Toxtricity or not. G-Max Stunshock allows it to randomly poison or paralyze its target which may come useful, but it is RNG dependant which makes it somewhat unreliable. On the other hand, Max Lightning allows it to set up terrain for 5 turns which is not bad as it provides an extra boost to Overdrive, although Toxtricity will be easily forced out once its Dynamax/Gigantomax ends.
EV and Item Description:
A Timid nature is needed as Toxtricity will need the most Speed to outspeed opponents and hit them hard. Notably, it outspeeds Adamant Dracovish and Bisharp. Max Special Attack is required to deal as much damage as possible while the rest is dumped into HP for some extra bulk.
Partners
Corviknight: Thanks to its immunity to Ground and ability to set up on Ground types with Roost and Bulk Up, Corviknight makes for a decent partner. Also, it can Defog opposing hazards and make a decent Volt-Turn core with Toxtricity.
Dracovish: Toxtricity wants partners who can scare Ground types and Dracovish terrorizes them with STAB Fishious Rend. It's worth mentioning that both share a common check in Gastrodon, which is a Pokemon Toxtricity can weaken with Specs boosted Boomburst allowing it to overwhelm it.
Alolan Ninetales: Its ability to support Toxtricity with Aurora Veil makes it an invaluable partner for it as it allows it to take advantage of Dynamax/Gigantomax effectively and pull out a sweep.
Ferrothorn: It's reliability as a Stealth Rock setter makes a decent partner as it is able to scare away Pokemon like Rhyperior, Gastrodon and Seismitoad who resist its STAB combination.
Gyarados: It deserves a mention as it has a great defensive synergy with Toxtricity being immune to Ground while weakening foes with Intimidate which complements well with Toxtricity's Volt Switch.
AMP ENERGY DRINK
- Shift Gear
- Overdrive
- Boomburst
- Fire Punch
Form: Amped Form
Item Attached: Life Orb
Ability: Punk Rock
EVs and Nature:
124 Atk / 132 SpA / 252 Spe
Naive Nature
Toxtricity also has a decent Attack stat to go for a mixed sweeper route with its Amp Form gaining Shift Gear, which allows it to increase its Speed x2 while providing an Attack boost. Overdrive and Boomburst are your main tools to attack while being able to dish out damage from the special side. Once it gains a Shift Gear boost, Fire Punch allows Toxtricity to OHKO max HP/Def Ferrothorn even after SR damage which prevents it from walling this set.
DYNAMAX:
Dynamax can increase its chances of survival after setting up Shift Gear. G-Max Stunshock deserves a mention as due to its random chance of poison or paralysis, it actually benefits Toxtricity on the long run as it can prevent a Pokemon like Dragapult a free switch when hit by the move.
EV and Item Description:
124 Atk EVs is what Toxtricity needs in order to be able to OHKO Ferrothorn at +1 while 132 SpA EVs are invested to still be able to power up Boomburst and Overdrive to decent levels. Max Speed with a Naive nature is used to allow Toxtricity to outspeed pretty much anything on the metagame at +2.
Partners
Corviknight: Thanks to its immunity to Ground and ability to set up on Ground types with Roost and Bulk Up, Corviknight makes for a decent partner who can also bring Toxtricity safely with U-turn.
Alolan Ninetales: Its ability to support Toxtricity with Aurora Veil makes it an invaluable partner for it as it allows it to take advantage of Dynamax/Gigantomax effectively and pull out a sweep.
Ferrothorn: Stealth Rock nets Toxtricity more chances of pulling out a sweep while also providing an ally capable of dispatching Pokemon like Rhyperior, Seismitoad and Gastrodon.
Dracovish: Dracovish appreciates Toxtricity's ability on dispatching troublesome Pokemon like Jellicent and Toxapex while Dracovish will be able to easily dent Pokemon like Ferrothorn and Hippowdon.
Rotom-Mow: While it may be weird using two Electric types on hindisght, Rotom-Mow boasts an immunity to Ground types while being able to scare Ground types with Will-o-Wisp and Leaf Storm.
Other Options
Taunt can be used as an option to disrupt Pokemon like Ferrothorn preventing them from using Leech Seed or set up hazards. However, due to its frailty, it finds it hard to justify its use.
Discharge is a weaker alternative over Overdrive but comes with a handy 30% of paralysis which Toxtricity can take advantage of.
An Assault Vest set with Nuzzle / Hex / Boomburst / Overdrive is also an option as it fulfills a small niche on being capable of checking Togekiss while denting Dragapult and Mimikyu with paralysis + Hex. However, that is all it can achieve.
Countering Toxtricity
Ground types will be Toxtricity's nail in the coffin as they resist its dual STAB combination and obliterate it with their STAB attacks although Boomburst will heavily damage those who do not pack a resistance or immunity to Normal on their secondary typing.
Assault Vest Excadrill is arguably the best counter for Toxtricity as it is immune to its dual STAB combination while it can switch into Boomburst with impunity.
Dragapult and Rhyperior are decent checks for Toxtricity. Dragapult boasts an immunity to Boomburst and it resists its dual STAB combination, which makes it easy for it to switch into Toxtricity as it doesn't wants to eat boosted Draco Meteors. While Rhyperior has to be careful on the amount of times it switches into Boomburst, it packs an immunity to Electric and resistance to Poison which allows it to finish off Toxtricity with its Ground type STAB.
Locations in Games
Red/Blue/Yellow:
Not in game
Gold/Silver/Crystal:
Not in game
Ruby/Sapphire/Emerald:
Not in game
FireRed/LeafGreen:
Not in game
Colosseum/XD:
Not in game
Diamond/Pearl/Platinum:
Not in game
HeartGold/SoulSilver:
Not in game
Black/White:
Not in game
Black 2/White 2:
Not in game
X/Y:
Not in game
Omega Ruby/Alpha Sapphire:
Not in game
Sun/Moon:
Not in game
Ultra Sun/Ultra Moon:
Not in game
Let's Go, Pikachu!/Let's Go, Eevee!:
Not in game
Sword/Shield:
Evolve Toxel
Max Raid Battles: East Lake Axewell, Giant's Cap, Giant's Mirror, Hammerlocke Hills, Lake of Outrage, Motostoke Riverbank, North Lake Miloch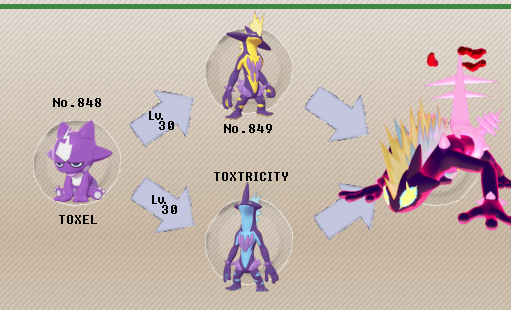 Animé Appearences
Toxtricity has, at time of writing, yet to make an appearance in the anime

| | | | |
| --- | --- | --- | --- |
| # | -English Episode Name- | -Jap. Episode Name- | Pics |