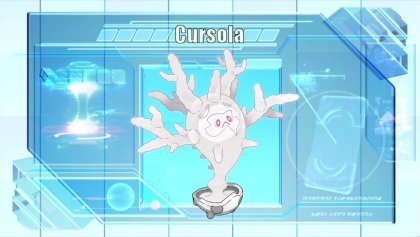 Cursola, The Coral Pokémon. Its shell is overflowing with its heightened otherworldly energy. The ectoplasm serves as protection for this Pokémon's core spirit.Be cautious of the ectoplasmic body surrounding its soul. You'll become stiff as stone if you touch it.
Overview
Cursola is one of the new regional evolutions introduced in generation eight. As the evolution of Galarian Corsola it finds a unique role as a attacker in multiple different angles. On one hand you can run a more offensive psychical set with weakness policy and weak armor or you can a special oriented set with trickroom. The reason for this is due to its high offenses in both stats, and its low speed while also possessing a speed boosting ability. It is however not without it's own faults, while it does have great offensive capabilities both specially and psychically speaking, both its Hp and Defense stats are very low, and its pure ghost typing does not afford it many resistances as a whole, usually resulting in it fainting to one to two psychical attacks.
Positives
Perish Body is fantastically evil if you have managed to trap your opponents
Its Special Attack stat is fantastic

Negatives
Sometimes, it's less viable than Eviolite Galarian Corsola, especially in Doubles
It is physically frail
Movesets
Assault Vest
- Shadow Ball
- Ice Beam
- Giga Drain
- Power Gem
Item Attached: Assault Vest
Ability: Perish Body
EVs and Nature:
252 HP / 252 SpA / 4 SpD
Modest / Quiet Nature
This set relies on the high special defense of Cursola that is then further augmented by a Assault vest to great effect. Shadow ball serves as the STAB move of Cursola while power gem and ice beam serves as extra coverage. Giga drain is the most important move in this due to its healing properties, allowing Cursola to regain Hp. The EV's are made to further emphasize the alrealy great Special Attack of Cursola while at the same time offsetting it's relatively low Hp stat. Perish body is one of two abilities Cursola possesses and the ability this Cursola set has due to the counter productivity Weak armor can provide, just keep in mind that Cursola will faint in three turns due to the effects of Perish body if it is hit by a move that makes contact, the same can however be said for the attacker.
Life Orb
- Power Gem /Meteor Beam
- Shadow Ball
- Protect
- Giga Drain
Item Attached: Life Orb / Power Herb
Ability: Perish Body
IVs: 0 Atk, 0 Speed
EVs and Nature:
252 HP / 252 SpA / 4 SpD
Quiet Nature
This is a standard set for a trickroom Cursola. The moves in this case are geared more so with doubles in mind. Giga drain serves as coverage gasinst water types like Gastrodon and as as source of healing. Protect is a stple in doubles guaranteeing one attack does not hit Cursola. Shadow ball servers as the main STAB move for Cursola and should be used in most situations unless you can hit the opponent for a super effective hit. The final move is slightly interchangeable between both Meteor beam and Power gem. Power gem is another coverage move that can be used pretty reliably, whole Meteor beam will serve as a one time nuke as it were raising the Special attack of Cursola in the process. It is not a good idea to use the move Meteor beam without the other item listed the Power herb, the Power herb instead of raising the damage all moves at the cost of health as the Life orb would have given will instead allow Meteor beam to be used in one turn instead of two. The EV and IV spread are are made to maximize Hp and Special attack while lowering seed which will make Cursola move fater then it would outside of trickroom.
Weakness Policy
- Shadow Ball
- Protect
- Ice Beam
- Power Gem
Item Attached: Life Orb / Power Herb
Ability: Weak Armor
IVs: 0 Atk
EVs and Nature:
4 HP / 252 SpA / 252 Spe
Timid Nature
This set is a much more offensive option for Cursola. It is designed with the idea that you have a partner with beat up with you to trigger both Weak armor, and the Weakness policy. Due to these factors keep in mind that the survivability of Cursola will be very low due to both the damage it takes due to beat up and the Defense drops caused by it's ability Weak armor. Weak armor will raise the Speed of Cursola by two stages while also lowering it's Defense by one. This coupled with the Weakness policy which raises both its Special Attack and Attack by two stages when hit by a super effective attack. Both of these factors make this Cursola a great candidate for Dynamax, just always keep in mind that it will be very fragile after it's boosts. The Ev spread is made to optimize the Speed of Cursola and Special attack of Cursola for maximize offensive capability.
Partners
A good partner for the second set listed is Dragapult. Dragapult can act as a way to trigger Weakness policy while also providing it's offensive prowess, just keep in mind it is not a good idea to use a psychically attacking Dragapult on Cursola due to it's naturally low defense, without Defense drops in mind. In that same vain Whimsicott can also be a good partner for Cursola due to it's ability to also use fast beat up and it's myriad of support moves, such as tailwind.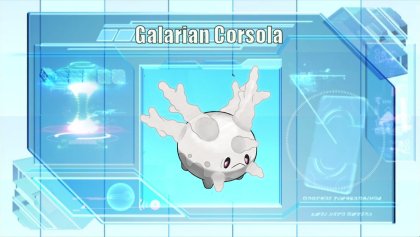 Corsola, The Coral Pokémon. Watch your step when wandering areas oceans once covered. What looks like a stone could be this Pokémon, and it will curse you if you kick it.
Overview
Positives
Its bulk and ability make it a formidable foe

Negatives
While it can hold its own in battle, it's not that greatwith the offensive
Movesets
Corsola
- Strength Sap
- Will-O-Wisp
- Night Shade
- Protect / Disable
Item Attached: Eviolite
Ability: Cursed Body
IVs: 0 Speed
EVs and Nature:
252 HP / 4 Def / 252 SpD
Calm Nature
While this set is not for Cursola and instead for it's previous stage Corsola it is a important thing to list due to it's specific niche. Corsola can function as a wall due to it's Special defense and Defense stats, it's movepool, and it's hold item. Said hold item is the Evolite which gives it a one point boost to both it's Special defense and Defense stats. The moves on this set are made to facilitate the role Corsola has as a wall, with Strength sap Corsola is able to restore it's health and lower the opponents attack stat by one stage. Will-o-wisp allows Corsola to burn the opponent lowering their Attack in the process. Night shade is the only attacking move Corsola has in this set, dealing damage equal to it's level. Disable can be used to eliminate a move your opponent has, if playing doubles you can easily switch that out for protect. The Evs are set to Special defense and Hp to both offset the low Hp stat of Corsola and the Special defense is invested in since two out of it's four moves will lower the power of the opponents psychical attacks. Curse body is the recommended ability due to the fact wek armor will hinder it's job as a wall.
Other Options
You can run the Weakness policy set as a Physical attacker instead. This however is not as good as the Special attacking set due to both the relative lacl of coverage moves, and the lower base Attack stat of Cursola.
Locations in Games
Red/Blue/Yellow:
Not in game
Gold/Silver/Crystal:
Not in game
Ruby/Sapphire/Emerald:
Not in game
FireRed/LeafGreen:
Not in game
Colosseum/XD:
Not in game
Diamond/Pearl/Platinum:
Not in game
HeartGold/SoulSilver:
Not in game
Black/White:
Not in game
Black 2/White 2:
Not in game
X/Y:
Not in game
Omega Ruby/Alpha Sapphire:
Not in game
Sun/Moon:
Not in game
Ultra Sun/Ultra Moon:
Not in game
Let's Go, Pikachu!/Let's Go, Eevee!:
Not in game
Sword/Shield:
Evolve Corsola
Max Raid Battles: Giant's Mirror, South Lake Miloch, Stony Wilderness, Watchtower Ruins, Challenge Beach, Courageous Cavern, Stepping-Stone Sea, Slippery Slope, Old Cemetery, Giant's Foot, Frigid Sea, Ballimere Lake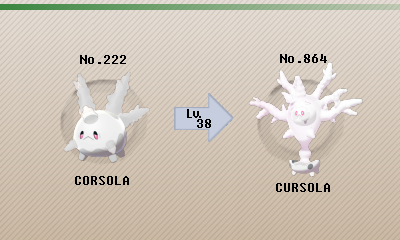 Anime Appearences
Cursola has yet to make an appearance in the anime.

| | | | |
| --- | --- | --- | --- |
| # | -English Episode Name- | -Jap. Episode Name- | Pics |