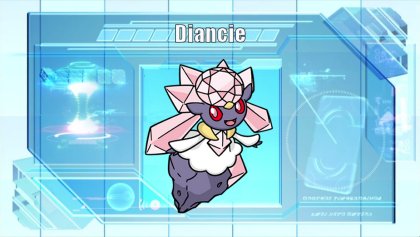 Diancie, The Jewel Pokémon. A sudden transformation of Carbink, its pink, glimmering body is said to be the loveliest sight in the whole world. It can instantly create many diamonds by compressing the carbon in the air between its hands.
Overview
Diancie is a rather unique Mythical Pokémon, and yet it, in lore, is a transformation of Carbink and really brings to mind the song "Anything you can do, I can do better". Diancie is literally a Carbink with double the offensive stats which means it can be more than just a bulky wall, and can actually harm the opponent as well. Its movepool is not much different to Carbink either, which is both good and bad. It lacks much of the offensive movepool that you'd want, but it does get a really unique move in Diamond Storm. Diancie can be a force to be reckoned with, you just need to know how to use it. While Diancie will never be usable in official formats, you can still use it in friendly matches.
Positives
-150 base in both defenses is superb, and probably the most attractive thing about regular Diancie.
-100 mixed offenses certainly aren't shabby, and it has some neat moves on both sides to utilize. Speaking of...
-Just good enough of a movepool to be able to do all kinds of different things. This movepool includes its signature move, Diamond Storm, which is basically Stone Edge, but it has much better accuracy and a 50% chance to up your defense a stage. Definitely a nifty tool.
-It has 50 Base Speed, and while mostly a con, allows it to be an excellent Trick Room lead.
-Has some useful resistances to Fire-, Flying-, Dragon-, Dark-, and Bug-Type attacks. This allows it to ruin the day of things spamming Knock Off, Flying Spam, Choice-locked Dragon types, and U-Turn spammers without even trying.

Negatives
-50 Base HP really lets down its defenses.
-50 Base Speed could be much better, and is a huge burden outside of Trick Room.
-The same typing that gives it all those useful resistances also gives it a plethora of glaring weaknesses to common types such as Water-, Ground, and especially Steel-.
-Clear Body is a kind of useless ability. I guess it lets you avoid Intimidates to hit things harder with Diamond Storm?
-It doesn't get Power Gem or Play Rough, so it needs to go mixed to use both STABs.
-No recovery outside of rest.
Abilities
Clear Body: Opponents' moves which lower this Pokémon's stats have no effect. However this Pokémon may lower its own stats with its own moves. Not the best ability, but it does avoid abuse from Intimidate, Snarl, Charm etc. Not like we have any choice, anyway
Movesets
Stealth Rocks Are A Girl's Best Friend
-Stealth Rock
-Moonblast
-Diamond Storm
-Hidden Power Fire / Earth Power
Item Attached: Leftovers
Ability: Clear Body
EVs and Nature:
EVs: 252 HP / 252 Satk / 4 Atk
Quiet Nature
This set is a solid Stealth Rock setter, and makes use of Diancie's solid bulk and mixed offenses. Moonblast is the Fairy STAB move of choice, as it is reliable, has a high base power, and can even lower Special Attack on occasion. Diamond Storm is the Rock STAB of choice, and allows Diancie to beat things like Talonflame and Mega Pinsir, while also raising Diancie's defense stat half the time. The choice in coverage really comes down to what causes you more problems: Earth Power is better for taking out Heatran, while Hidden Power Fire allows Diancie to hit Scizor on the switch-in and toast Ferrothorn.
Trick Room
- Trick Room
- Stealth Rock
- Explosion
- Diamond Storm / Moonblast
Item Attached: Leftovers
Ability: Clear Body
EVs and Nature:
EVs: 252 HP / 88 Def / 168 SpD
Sassy Nature
Thanks to its low speed and incredible bulk, Diancie is a perfect candidate for Trick Room setter. Trick Room and Stealth Rock support the team. Explosion can be used to put a huge dent in the opponent when Diancie isn't useful anymore. Diamond Storm vs Moonblast is mostly a matter of preference, and both serve the same function here as they do in the above set.
Other Options
Reflect/Light Screen, Rest, Rock Slide, Stone Edge
Due to its bulk, Diancie could be used as a decent dual screener with an offensive slant, using Reflect & Light Screen
Rest is the only form of recovery for Diancie, but it does leave it open to attack, which is not the best thing
Rock Slide & Stone Edge could be used over Diamond Storm, but you'd have to be mad to do that. Stone Edge has less accuracy but more of a chance to Critical Hit and Rock Slide may make the opponent flinch
Double & Triple Battle Options
Ever wonder how Carbink would play if it had a little more firepower? Like 50 more points in base Attack and Special Attack? Maybe Mega Evolve? Wonder no more, because Diancie is literally just that. A Mega Evolving Carbink with 50 more points in the attacking stats. Diancie actually has more going for it than that in Doubles/Triples thanks to its signature move in Diamond Storm.
Quantum Refractor
-Diamond Storm
- Moonblast / Dazzling Gleam
- Hidden Power Fire / Earth Power
- Protect
Item Attached: Life Orb
Ability: Clear Body
EVs and Nature:
EVs: 252 HP/252 SAtk/4 Atk Quiet Natutre
Because of Clear Body, Diancie won't need to mind Intimidate when using Diamond Storm. The reason one might choose Moonblast over Dazzling Gleam is to avoid being blocked by Wide Guard shenanigans. The third slot is for whichever Pokemon your team can't handle more, Scizor or Heatran. Metagross is a problem too, but both moves hit Steel types. Perhaps you've every steel type imaginable covered, in that case the 3rd slot is a free slot to use some of the more unique moves at Diancie's disposal like Gravity, Magnet Rise, Skill Swap, or even Trick Room. But I wouldn't rely on Diancie to set up Trick Room when Slowbro and Aromatisse are readily available and immune to (non Mold Breaking) Taunts.
Diancie is in a grey zone with Trick Room. It can use Trick Room, it has the speed for Trick Room, but does not have the sheer power akin to Pokemon seen on Trick Room teams like Mega Camerupt, Escavalier or Mega Abomasnow, nor does its typing allow it to abuse its insane bulk like Eviolite Dusclops, Solid Rock Rhyperior, or Mega Slowbro. I believe Diancie's best bet is to fit on a Sandstorm team to make use of the boost in Special Defense in conjunction with Diamond Storm's 50% Physical Defense increase rate.
Diancie cowers from steel types (Bullet Punch), so any Pokemon that can handle opposing Steel types would work well here. Heatran, Mega Charizard Y, or Arcanine seem to fit the bill. Even with base 150 Defenses, base 50 HP is a let down, and we're also long past the point where base 100 attacking stats were impressive. Compared to Mega Evolutions, they look kind of low now don't they?
Countering Diancie
Offensive Steel Types make Diancie wish it was never born. Jirachi, Heatran, Scizor, Bisharp, the list goes on. Just watch out for Earth Power and Hidden Power Fire when switching in. Water types like Azumarill and Keldeo and Ground types like Landorus-Therian and Mamoswine also do well with their super-effective STABs. Excadrill gets a special mention because it has STAB on both Iron Head and Earthquake, and can even spin away the Stealth Rocks Diancie sets up. Bulkier things that can just hit it with Toxic and soak up hits until it faints like Chansey and Hippowdon are also good ways to take care of Diancie, as having no recovery hurts it quite a bit.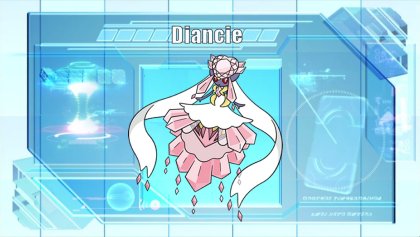 Overview
Now we're talking. Mega Diancie sees one of the most fundamental shifts in the usability of a Pokémon that Mega Evolves. It doesn't just make it more powerful where it was, but rather it sacrifices some of its bulk to become an utter beast. That's not to say it's now as frail as a poor-footed mountain goat, its defences are still rather high, but it's just not as bulky, but who cares about that? Now, Diancie is fast, it hits very hard. Its ability also makes it so non-attacking moves are reflected to the user, which is always glorious to see. It still has a few of the drawbacks, since its movepool doesn't change and its type still makes it fear whenever it sees a Metagrossite, but it is good.
Positives
-160/160 Offenses are ridiculously good.
-Magic Bounce is an amazing ability that allows Diancie to block things like Will-O-Wisp and Stealth Rock and send them back to the opponent.
-110 Base Speed is a godsend for this thing. Being as fast as a Latios is much better than being as fast as an Azumarill.
-Same solid typing as regular Diancie
-While not as good as regular Diancie's, Mega Diancie's defenses still aren't too shabby. She takes hits about as well as Rotom-W does. -Diamond Storm is still amazing.

Negatives
-Same weaknesses to common attacking types.
-Base 110 Speed takes a turn to kick in, but the weakened defenses do not.
-Movepool is pretty limited for an offensive pokemon; having to go mixed to use both STABs is never a good thing.
Abilities
Magic Bounce: Bounces back a large range of status category moves including those that change stats, inflict status condition, force switches, set entry hazards, etc. Mega Diancie is one of only a couple of Pokemon to have this ability, and it's a great one at that. A wide variety of status moves not only become useless when Mega Diancie hits the field; with Magic Bounce, Mega Diancie uses the opponent's own status moves against them.
Movesets
Polished Diamonds
-Rock Polish
-Moonblast
-Diamond Storm
-Earth Power / Hidden Power Fire
Item Attached: Diancieite
Ability: Magic Bounce
EVs and Nature:
EVs: 4 Atk / 252 Satk / 252 Spe
Rash Nature
This set turns Mega Diancie into an absolutely terrifying cleaner. Rock Polish is the crux of the set, allowing Mega Diancie to outspeed even the likes of Timid Max Speed Mega Alakazam. Moonblast is the main STAB attack of choice, and hits incredibly hard off a fully invested base 160 Special Attack stat. Diamond Storm is an excellent secondary STAB, as even with the minimal investment it has, it still hits fairly hard. The choice between Earth Power and HP Fire is against up to preference, but Earth Power is generally the better pick, as Scizor is going to be revenge killing Diancie with Bullet Punch regardless of it has HP Fire.
Calmbink
-Calm Mind
-Moonblast
-Earth Power
-Hidden Power Fire / Psyshock
Item Attached: Diancieite
Ability: Magic Bounce
EVs and Nature:
EVs: 4 HP / 252 Satk / 252 Spe
Timid Nature
This set performs very well when punching holes early game, and can even sweep late game if giving the opportunity. Calm Mind boosts Mega Diancie's attack to astronomical levels, while Moonblast hits very hard, and hits most pokemon neutrally. Earth Power deals with most Fire-, Steel-, and Poison-Types that resist Moonblast, such as Excadrill and Heatran. Hidden Power Fire is useful for nailing Mega Scizor on the switch and decimating Ferrothorn, while Psyshock allows you a way past Mega Venusaur and Amoonguss, as well as Chansey.
Double & Triple Battle Options
To add insult to injury for those wanting to use Diancie on a Trick Room team, the Mega's speed is too high to utilize properly, base 110 is much too fast. When Diancie Mega Evolves, it sheds some of it's high defenses in favor of higher offensive Stats, so now it has base 160/160/110 offenses, which is more than enough to clean up a late game.
The Mother Lode
-Diamond Storm
- Moonblast/ Dazzling Gleam
- Hidden Power Fire / Earth Power
- Protect
Item Attached: Diancieite
Ability: Magic Bounce
EVs and Nature:
EVs: 252 SAtk / 252 Speed / 4 Atk
Naive/Hasty Nature
This is no different than the previous set. Because Diancie becomes an offensive Mega, using a moveslot for support isn't recommended. However because of the higher speed and offenses, this may be just what you need to give a sand team the extra firepower needed for victory. Base 110 Speed means that all Charizards will have to think twice before staying or coming in on Diancie. Being part Fairy means Tyranitar can rest a little easier with an effective Moonblasting partner to keep the Fighting types at bay. Magic Bounce means Thunder Wave won't stop your sweep.
Base 110 speed. With the introduction of ORAS Megas and there being more of a general Speed Creep with Generation 6, base 110 speed may not be enough to close the game. Running max speed is usually the only option for Mega Diancie but that still leaves it vulnerable to speed ties with Gengar, Lati@s and Mega Gallade. Lets not forget about Greninja either sitting as base 122 speed. It's hard to know what to do with Diancie especially when it can't seem to fit into any niche properly, despite a nice signature move, unique typing and Mega Evolution.
Countering Mega Diancie
Bullet Punch. Seriously, if you have a Scizor just revenge kill with it and you'll be fine. Even Aqua Jet will work, really. In all seriousness, what works for regular Diancie also works for Mega Diancie: STAB Steel-, Water-, and Ground- Attacks. However, thanks to the Mega Diancie's much higher speed, things like Landorus-Therian and Excadrill often end up taking massive damage or outright getting KO'd before they can lay a finger on her. Because of this, bulkier waters and grounds such as Rotom-W, Hippowdon and Azumarill, are often your best choices to deal with her. If you don't have Bullet Punch, that is, because that OHKO's two times over when coming from Mega Scizor. It's ridiculous.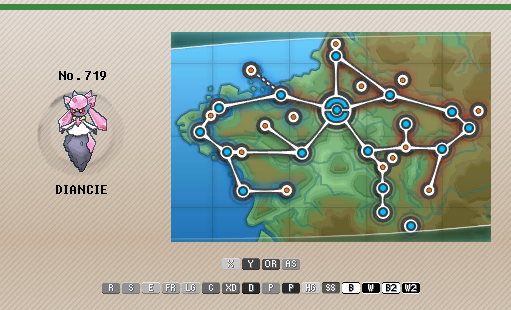 Locations in Games
Ruby/Sapphire/Emerald:
Not in game
FireRed/LeafGreen:
Not in game
Colosseum/XD:
Not in game
Diamond/Pearl/Platinum:
Not in game
HeartGold/SoulSilver:
Not in game
Black/White:
Not in game
Black 2/White 2:
Not in game
X/Y:
Event only
Omega Ruby/Alpha Sapphire:
Event Only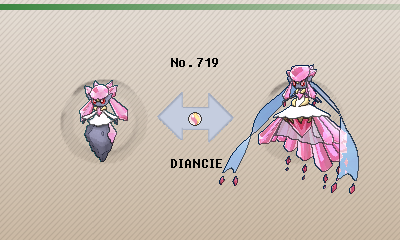 Animé Appearences
| | |
| --- | --- |
| Diancie has made a few appearances in the anime. In most of its appearances, it was the princess of the Diamond Ore Country and was on a quest with Carbink | |