OK. To Avoid the current hassles there is this disclaimer for those Who want to use it without permission:
You shall not post this on anywhere for public use
You shall not sell this for public use
Do not replicate and forward without permission
Do not claim this as yours
Do Not Translate it into your language and claim ownership

Having parted ways with Iris and Cilan, Ash returns to Pallet Town with Alexa. Initially intending to go to Professor Oak's laboratory to see his Pokémon, Alexa convinces Ash to pay a visit to his mother first. After some time there, Ash gets restless and heads to Professor Oak's laboratory and starts to reflect on his journey through Unova and the Decolore Islands, and starts to think abotu where to go next. However, as he is doing so, Team Rocket attacks the laboratory. Will Ash and his Pokémon protect the lab?

Full Guide coming Soon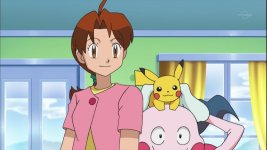 803:

803: My Dream, Pokémon Master!!



Yes


Ash
Brock
Misty
May
Max
Dawn
Tracey
Iris
Cilan
Jessie
James
Alexa
Professor Oak
Gary
Delia Ketchum
Giovanni
Matori
Parker


Ash:
Dawn:
Iris:
Jessie:
James:
Rocket:
Alexa:
Professor Oak:
Giovanni:
Wild:


Ash leaves his Pokémon at Professor Oak's Laboratory
Jessie leaves Frillish & Woobat with Giovanni
James leaves Amoonguss & Yamask with Giovanni
Jessie's Wobbuffet returns
Ash heads to the Kalos region