OK. To Avoid the current hassles there is this disclaimer for those Who want to use it without permission:
You shall not post this on anywhere for public use
You shall not sell this for public use
Do not replicate and forward without permission
Do not claim this as yours
Do Not Translate it into your language and claim ownership
In the next town, Dawn gets approached by a lady who'd like her to do a favour for the local princess. The princess is a spitting image of Dawn but wants to partake in Pokémon Contests. Dawn decides to help out the princess and the two swap places. Will the Princess succeed in her Pokémon Contest?
Full Guide Coming Soon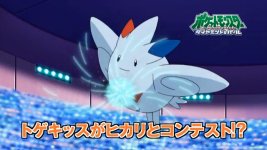 639: Dawn of a Royal Day

639: Dancing Togekiss! Pokémon Contest Princess!!



Yes


Ash
Brock
Dawn
Jessie
James
Nurse Joy
Contesta
Mr. Sukizo
Marian
Salvia
Freesia


Ash:
Brock:
Dawn:
Jessie:
Rocket:
Salvia:
Special/Other Trainers:


Dawn switches places with Iris
Jessie loses the contest but gets given her final ribbon by Iris



Dawn gets given Togekiss by Iris