OK. To Avoid the current hassles there is this disclaimer for those Who want to use it without permission:
You shall not post this on anywhere for public use
You shall not sell this for public use
Do not replicate and forward without permission
Do not claim this as yours
Do Not Translate it into your language and claim ownership

The adults in Alola have started to act all lethargic and sleepy. To investigate this mystery, the Ultra Guardians head to the Altar of the Sunne to investigate, joined by Gladion. However, soon after they arrive an Ultra Wormhole opens up and Lunala exits, closely followed by the mysterious Ultra Beast, Necrozma. What does Necrozma want?

Full Guide coming Soon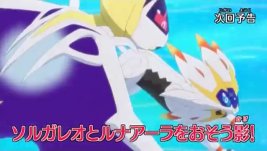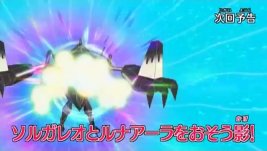 1030: Filling the Light with Darkness!

1030: Crisis in Alola! The Darkness that Eats Radiance!!



Yes


Ash
Lillie
Mallow
Lana
Sophocles
Kiawe
Gladion
Professor Kukui
Samson Oak
Jessie
James
Officer Jenny
Nurse Joy
Giovanni
Matori
Lusamine
Faba
Wicke
Professor Burnet
Gozu
Sophocles' Mother
Hobbs
Abe
Sima
Mimo
Harry
Harper
Sarah
Lana's Father


Ash:
Lillie:
Mallow:
Lana:
Sophocles:
Kiawe:
Samson Oak:
Gladion:
Jessie:
Rocket:
Lusamine:
PokeRide:
Matori:
Special/Other Trainers:
Wild:


None of consequence