OK. To Avoid the current hassles there is this disclaimer for those Who want to use it without permission:
You shall not post this on anywhere for public use
You shall not sell this for public use
Do not replicate and forward without permission
Do not claim this as yours
Do Not Translate it into your languange and claim ownership
Bill is still hesitating whether the rock bridges are safe when Lt. Surge has already climbed on one. Bill has no choice but to follow, and slowly trails after the Vermillion gymleader. The young inventor suddenly loses his footing and falls off the bridge. Lt. Surge tries to grab him but is slightly too late. Bill lands in the water and discovers that it is a very shallow lake. He notices the high viscosity of the water and tries hard to pull himself up, yet to no avail. He then calls out his Magikarp, and commands a splash from it to get back on the bridge. Bill brushes a sweat off his forehead as he compliments on his pokemon's work, but then Lt. Surge comes over and sees that the young inventor's shoes and trousers were corroded. The two immediately realize the lake is acidic and wonder as it's safe to proceed.
A voice suddenly calls out to them from behind, and the two turn to find Bruno walking towards them from the other side of the rock bridge. The big man remarks that they are standing on the ultimate battle field, and Lt. Surge looks down to discover for the first time that the two rock bridges are actually giant Onixs. Bruno says that the two wild Onixs move randomly, and that it is purely up to luck and the trainers' skills to keep themselves from falling into the acidic lake during battle. Lt. Surge finds the challenge interesting, and quickly releases his Electrabuzz to charge forward.
Meanwhile, Yellow, Blaine and Pika are searching aimlessly in another stalactite cave. Pika looks at the jagging rocks in the tunnel and starts wiggling around nervously. Yellow wonders why Pika suddenly feels so uneasy, and Blaine asks if one of the new functions of Red's Pokedex is to monitor Pika's emotions. Yellow admits and shows the dex to Blaine, but says she doesn't need that feature because she can read Pika's mind directly. She then gently pats Pika, and reveals that while she can pick up Pika's thoughts, she cannot understand what it holds in its subconscious mind. Blaine thinks for a moment, and says that he has always found weird why Pika never prompted Yellow to visit Mt. Moon. The young trainer doesn't understand, and Blaine explains that they are almost certain that Mt. Moon was the place where Red fought against his challenger and was last seen by Pika. Yet Pika didn't take Yellow there right away after leaving Pallet, and while he used to believe that Pika simply didn't want to head back to the dangerous place that soon, he now suspects that Pika actually forgot about Mt. Moon. He explains that perhaps the shock and upset over losing Red made Pika unconsciously lock up part of its memory, and that it may not remember much about the incident at the moment.
Blaine points out the scar on Pika's left ear that never healed, and remarks that the unreceding wound is probably a sign of Pika's battered mind. Yellow holds Pika tight with a worried look, and wonders what it would take to help the little electric rat. Suddenly, a flash of light comes from one side of the tunnel, and the two hurry towards there to find Lt. Surge and Bill facing off Bruno in an adjacent cave. Yellow decides to help them but quickly discovers that a giant transparent glass separates cave from the tunnel. She knocks hard on the glass to notify Lt. Surge and Bill, but her voice doesn't seem to be able to reach to the other side. Blaine examines the glass, and exclaims that it is one of those magic mirrors which is only transparent on one side.
Lt. Surge's Electrabuzz and Bill's Vulpix combine a thundershock and flamethrower attack, but Bruno easily hops out of the way. Lt. Surge remembers learning that Bruno uses Onixs, and worries that both of their pokemons have type disadvantages over ground and rock. He turns to Bill and demands a good strategy that the University teaches, but the young inventor sheepishly says that there aren't any. Bruno straightens up, and announces that he wouldn't use pokemons with dual types like Onix so as to make the battle fair. He decides to exercise his expert type, and releases his fighting pokemons: a Hitmonchan specialized in punches, a Hitmonlee specialized in kicks, and a Machamp specialized in chops...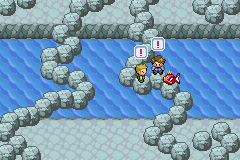 Thanks To Coronis For Writing this for us and doing the pictures



074: VS. Magikarp!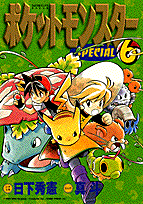 Volume 06


Surge & Bill get ambushed by Bruno
Blaine & Yellow find Surge & Bill but cannot reach them