15-12-2015 03:16 GMT / 22:16 EST by Serebii
This update may be amended throughout the day so be sure to check back. If you have any ideas for the site, be sure to send them in
With the generation continuing, the Chatroom has been rife with discussion while the WiFi Chatroom has been a place for battles, trades and Friend Safari hunting, so be sure to visit them. Our Forums have also had these discussion and are a bustling trade and competitive section for the games. Be sure to like our FaceBook Page.
Last Update: 13:34 GMT
Edit @ 03:40: Movie Posters | Edit @ 06:01: Shuffle Events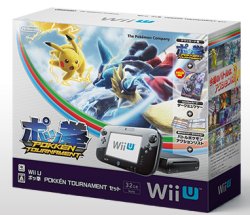 In The Games Department
Pokkén Tournament
Following its reveal during the Nintendo Direct last month in Japan, the first details and image of the Wii U Pokkén Tournament bundle have been revealed. The bundle will sell for 36,800¥ and come with a 32GB Black Wii U Premium Set, a digital downloaded version of Pokkén Tournament, a Shadow Mewtwo amiibo card and a special pamphlet of the Battle Pokémon Action List, a leaflet which showcases all the moves of the Pokémon.
It is also revealed that a special controller is to be released for Pokkén Tournament. It is a wired controller that matches the control of the arcade game and will cost 3,480¥. It'll also release on March 18th 2016. The game is also compatible with the Wii U Pro Controller and the Classic Controller Pro
Edit @ 13:32: Two new sets of Support Pokémon have been confirmed for Pokkén Tournament. Togekiss & Rotom and Dragonite & Victini. What they do is currently unclear.
| | |
| --- | --- |
| Pokkén Controller | Pokkén Boxart |
| | |
| Support Pokémon | Support Pokémon |
| | |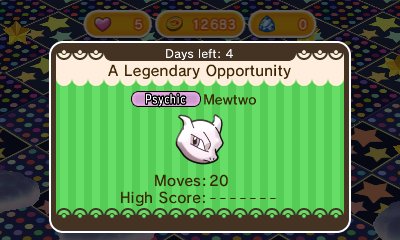 In The Games Department
Pokémon Shuffle - Events
A few brand new challenges have begun on Pokémon Shuffle.
First up, a special Mewtwo stage has begun in Pokémon Shuffle to celebrate 5 million downloads of Pokémon Shuffle Mobile. This special stage has no cost for the use of items and guarantees you to capture Mewtwo if Mewtwo has still eluded you. It runs until January 19th 2016. In Pokémon Shuffle Mobile, you are given Mewtwo outright without the stage.
Next, the Regirock stage has begun a repeat run in both Pokémon Shuffle and Pokémon Shuffle Mobile. It runs until December 18th. It will then be followed by Registeel from December 18th to December 22nd and Regice from December 22nd to December 28th
Next, a Regigigas stage has begun on both Pokémon Shuffle and Pokémon Shuffle Mobile. It is a special stage in which Regigigas is easier to capture if you have Regirock, Regice and Registeel on your team. This stage runs unti December 28th
Finally, the Mega Garchomp stage has begun a repeat run on Pokémon Shuffle and its first run on Pokémon Shuffle Mobile. On the 3DS version, the top 50,000 in Japan, 18,000 in the US and 12,000 players in Europe will receive a Garchompite, or a Jewel if they already have one. If they are in the top 5,000 in Japan, 1,800 in the US and 1,200 in Europe they will also receive a Mega Speed Up. If the players don't qualify for the Garchompite but are still in the top 80,000 in Japan, 30,000 in the US and 20,000 in Europe, they will receive an Attack Power Up. All other players will receive a Disruption Delay. On Pokémon Shuffle Mobile, you need to be in the top 100,000 players for the Garchompite, top 20,000 players get a Mega Speedup, top 140,000 players get an Attack Power & a Jewel and all other players get a Jewel.
All of these require the version 1.2.26 to download. Our Pokémon listings have been updated with these Pokémon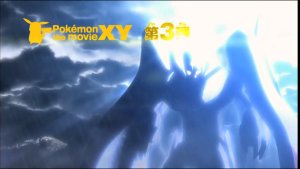 In The Anime Department
Pokémon the Movie XY & Z
The first two posters for the upcoming movie, Pokémon the Movie XY & Z 2016 have been released ahead of its first trailer on Thursday. These posters don't reveal much new about the movie but do showcase Volcanion as a key aspect within it and Zygarde Core featuring in it too. We'll bring more as it comes.
| | |
| --- | --- |
| Movie Poster | Movie Poster |
| | |