25-12-2015 03:55 GMT / 22:55 EST by Serebii
This update may be amended throughout the day so be sure to check back. If you have any ideas for the site, be sure to send them in
With the generation continuing, the Chatroom has been rife with discussion while the WiFi Chatroom has been a place for battles, trades and Friend Safari hunting, so be sure to visit them. Our Forums have also had these discussion and are a bustling trade and competitive section for the games. Be sure to like our FaceBook Page.
Last Update: 11:08 GMT
Edit @ 04:00 Cover Plates | Edit @ 04:06: Delibird Event | Edit @ 11:08: European 3DS Themes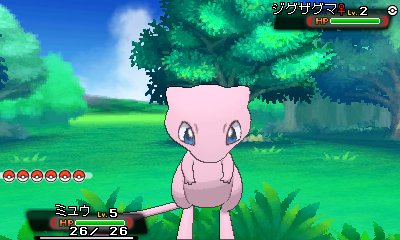 In The Games Department
Pokémon X, Y, Omega Ruby & Alpha Sapphire - Mew Event
A new event has been confirmed for Japan. This event is to distribute the Pokémon, Mew. All copies of Pokémon Green, Red, Blue and Yellow on the Nintendo eShop in Japan will come with a special Serial Code within the first year of being distributed and the code will be redeemable until March 31st 2017.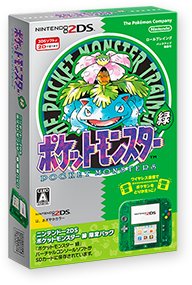 In The Games Department
Pokémon X, Y, Omega Ruby & Alpha Sapphire - Mew Event
The Nintendo 2DS is being released in Japan and with it comes 4 special editions released on February 27th 2016 for 9,980¥. These are coming bundled with the Virtual Console versions of Green, Red, Blue and Yellow respectively and also come with some special features. Most notably they will provide the above Mew event but will also give a special ticket to receive Mew in the Virtual Console games themselves in a special event announced in February as well as special 3DS Themes for each game based on the Pokémon within. The 2DS Pokémon Blue bundle is exclusive to Pokémon Centers in Japan and if you pre-order in Pokémon Centers, you get a special CD featuring Pokémon cries
| | | | |
| --- | --- | --- | --- |
| Pokemon Red | Pokemon Blue | Pokemon Green | Pokemon Yellow |
| | | | |
| | | | |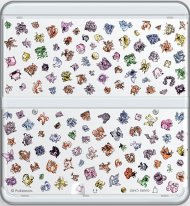 In The Games Department
Pokémon New Nintendo 3DS Plate
Finally, also to celebrate the 20th anniversary, some special New Nintendo 3DS face plates have been revealed for Japan. These face plates feature the sprites of various Pokémon from Pokémon Red & Green. They will be released February 27th 2016 in Japan for 2000¥
Pokemon Themes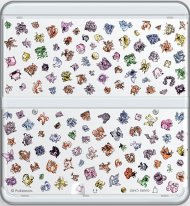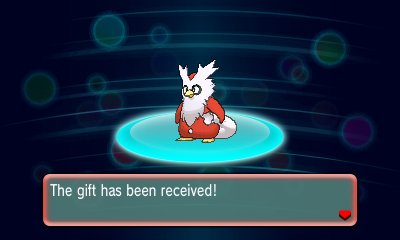 In The Games Department
Pokémon X, Y, Omega Ruby & Alpha Sapphire - Special Delibird
For those of you who participated in the Festive Feud Battle Competition earlier this month, the entry gift is now being distributed. This gift is a Delibird which is special in that it knows the special move Happy Hour and comes with the Relic Gold item that is not available in Generation VI games before now. It is obtained via a Serial Code and the code given on the Global Link can be redeemed until midnight UTC on February 29th 2016. The Event Database has been updated with details of this event.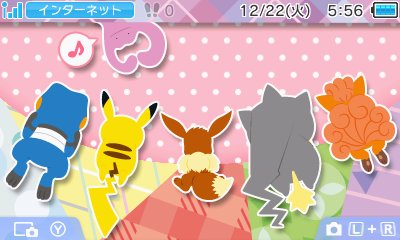 In The Games Department
Pokémon X, Y, Omega Ruby & Alpha Sapphire - 3DS Themes
Following their release in North America yesterday and in Japan on Tuesday, the two newest themes are now available in Europe. The two themes are Pokémon: Poké Create & Kokeshi Dolls which includes artwork of Pokémon Dolls and various other dolls with the Sushi High Roller music from Pokémon X & Y. Second is the Pokémon: Peeking Pokemon Friends theme which includes artwork of Pikachu, Ditto, Banette, Vulpix & Croagunk behind cloth on both screens wiuth the Dressing Up With Props music from Pokémon Black & White. Each theme costs €1.99/Ł1.79.