08-09-2016 02:09 BST / 07-09-2016 21:09 EDT by Serebii
Be sure to check Tuesday's update for huge news. This update will be updated throughout the day. If you have any ideas for the site, be sure to send them in
With the new generation upcoming, and the Chatroom has been rife with discussion while the WiFi Chatroom has been a place for battles, trades and Friend Safari hunting, so be sure to visit them. Our Forums have also had these discussion and are a bustling trade and competitive section for the games. Be sure to like our FaceBook Page.
Last Update: 17:54 BST
Edit @ 04:38: Pokémon GO Plus | Edit @ 11:28: Anime Announcement | Edit @ 11:48: Pokémon XY&Z Episode Pictures | Edit @ 17:54: Nintendo Badge Arcade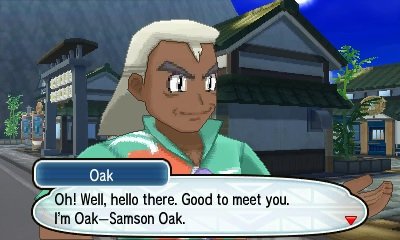 In The Games Department
Pokémon Sun & Moon
The Pokémon Company has released a new trailer for Pokémon Sun & Moon. This trailer doesn't reveal much but is focused on practically every bit of information for Pokémon Sun & Moon but most noteworthy, at 01:32 showcases a man called Oak who discusses Region Forms, who looks a bit different to the Professor Oak we know. It also showcases the name of the PokéRide options: Lapras Swim, Sharpedo Jet & Charizard Flight
Edit @ 04:30: It's confirmed that the man is Nariya Oak, Professor Oak's cousin, in Japanese
05:22: The next Pokémon Sun & Moon news will come on September 14th at 22:00 JST which is 14:00 BST, 15:00 CEST, 09:00 EDT, 06:00 PDT, 23:00 AEST
Edit @ 17:07: The English name for Professor Oak's cousin is Samson Oak.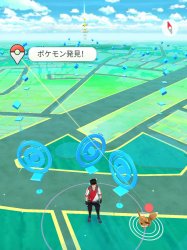 In The Games Department
Pokémon GO
It has been confirmed by The Pokémon Company that the Pokémon GO Plus device is to be released in Japan and various other countries on September 16th 2016, with releases in other countries such as those in South America expected at a later point in the year
09:51: System Requirements have also been given
iOS
Operating System: iOS 8 - 9
Models: iPhone 5/5c/5s/SE/6/6s/6 Plus/6s Plus
Android
Operation System: Android 4.4 - 6.0
Requirements: 2GB of RAM, Bluetooth Smart (Bluetooth Ver. 4.0 or higher)
Niantic have also put out a list of devices they have tested the device works with. Other devices should work if they match the requirements, but there is no guarantee
iOS Devices: iPhone 5, iPhone 5s, iPhone 5c, iPhone 6, iPhone 6 Plus, iPhone 6s, iPhone 6s Plus, iPhone SE
Android Devices: AQUOS Xx2 mini, AQUOS Xx3 506SH, ARROWS Fit F-01H, Galaxy A8 SCV32, GALAXY Active neo SC-01H, GALAXY Note Edge, Nexus 5, Nexus 6(XT1100), Nexus 6P(Softbank), Qua phone KYV37, TORQUE G02 KYV35, Xperia Z2 SO-03F, Xperia Z3 SO-01G, Xperia Z5 Compact SO-02H
09:58: We also have details of how the game looks on the smartphone when the device is connected. When it is, an image of the GO Plus hovers on screen. When you're in range on a Pokémon or a PokéStop, when the Pokémon GO activates and detects it, it will point it out on the screen showing what the GO Plus is pointing at. This is useful if you are in range of multiple things at once so you're able to see what the GO Plus is activating if you have your phone open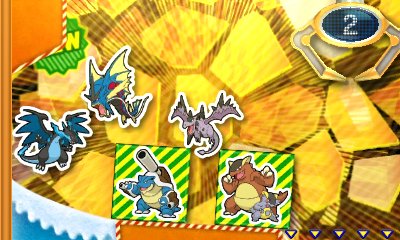 In The Games Department
Nintendo Badge Arcade
The free piece of Nintendo 3DS software, Nintendo Badge Arcade, had its weekly update in North America and with this update, it has added a new badges panel and will be adding more Pokémon panels over the coming week, all of which were previously released in Japan. Our section has a full list of badges so click the image to go to the section.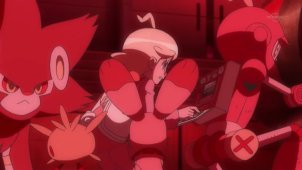 In The Anime Department
Pokémon XY & Z - Episode Pictures
As usual, we have done pictures from the episode that aired in Japan today. This episode features Ash & co. separate to take on Team Flare from multiple different angles. The AniméDex has been updated with the contents of this episode. Click the picture to go to the gallery but be warned however as they contain spoilers.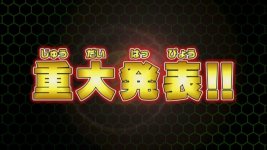 In The Anime Department
Pokémon XY&Z - Anime Announcement
During the trailer for next week's anime hour long special which concludes the Team Flare arc, it was announced that, alongside the episode, there will be a big announcement. It's currently unknown what this announcement is, but we will post the full details as soon as it comes so be sure to check back next week