12-04-2016 06:52 BST / 01:52 EDT by Serebii
This update may be amended throughout the day so be sure to check back. If you have any ideas for the site, be sure to send them in
With the generation continuing and Nationals coming up globally, and the Chatroom has been rife with discussion while the WiFi Chatroom has been a place for battles, trades and Friend Safari hunting, so be sure to visit them. Our Forums have also had these discussion and are a bustling trade and competitive section for the games. Be sure to like our FaceBook Page.
Last Update: 12:02 BST
Edit @ 07:05: Pokémon Shuffle Events | Edit @ 10:23: CoroCoro | Edit @ 19:50: Pokkén Tourmanent Patch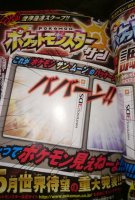 In The Games Department
Pokémon
The first images from CoroCoro have leaked and have revealed that next month will provide a huge scoop on Pokémon Sun & Moon. It has text saying that you can't see the Pokémon in the box art yet. We'll bring more as it comes
Edit @ 11:37: In the movie section of CoroCoro, it has confirmed that the Mythical Pokémon, Magearna, is to be a Steel/Fairy-type Pokémon
In addition to this, a new arcade game has been announced, seemingly following on from Pokémon Battrio and Tretta called Pokémon Ga-Olé. The mechanics of this are not yet known but you insert discs into the arcade machine, rather than rest the Tretta discs on top. It's not clear if this will replace Tretta or run in conjunction with it.
Edit @ 12:02: For the Pokémon Elections, announced last month, it is confirmed that the distribution Pokémon at the movie will be the winner. To enter, you need to get a card when prebooking the ticket and then send your vote in before May 8th. The winner will be announced in June and then distributed at the movie
| | |
| --- | --- |
| Pokémon Sun & Moon | Pokémon Movie News |
| | |
| Pokémon Movie News | Pokémon Ga-Olé |
| | |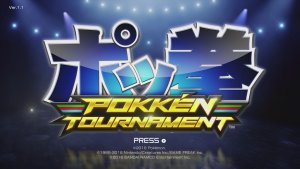 In The Games Department
Pokkén Tournament - Version 1.2
The latest patch for Pokkén Tournament on the Wii U has been released. This patch requires 14MB of space on your Wii U memory or external hard drive in order to download

A fix for Shadow Mewtwo where it can cause an infinite combo that cannot be stopped
Reduced the damage inflicted by Reshiram
Various bug fixes
We're still working on any more changes brought on by this patch, as well as waiting for official patch notes, so be sure to keep checking our
Patch Section
. Our
Playable Pokémon Section
&
Support Pokémon Section
have been updated with the changes brought by this patch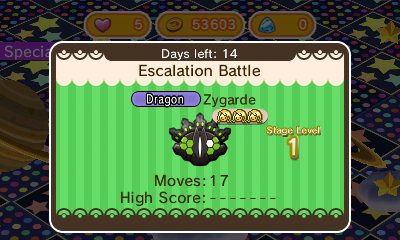 In The Games Department
Pokémon Shuffle - Events
A few brand new challenges have begun on Pokémon Shuffle and Pokémon Shuffle Mobile.
First, a special stage for Zygarde 50% Forme has begun on Shuffle & Shuffle Mobile. It runs until April 26th. It is an Escalation Battle that gives various items as you Level up. Level 30 an Exp Booster S, Level 40 Exp Booster M, Level 50 Mega Speedup, Level 70 Exp Booster L, Level 90 Level Up and Level 100 Raise Max level. You also sometimes skip a level due to the Pokémon getting angry
Next, a special stage for Landorus Therian Forme has begun on Shuffle & Shuffle Mobile. It runs until April 26th
Next, the Manaphy stage has begun a repeat run in Pokémon Shuffle & Shuffle Mobile. It runs until April 26th
Finally, the Daily Pokémon (#3) has begun a repeat run on both Shuffle & Shuffle Mobile, running until April 26th
All of these require the version 1.3.6 to download. Our Pokémon listings have been updated with these Pokémon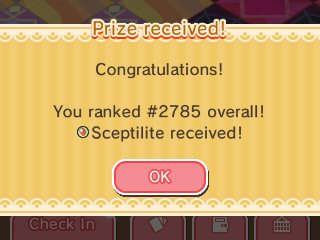 In The Games Department
Pokémon Shuffle - Events
If you were one of the lucky players worldwide who ranked in the Mega Sceptile competitive stage over the past week, then the Sceptilite is now available to be received. The Attack Power and Raise Max Level for the higher ranked players will also be obtained. If you didn't qualify, then you can redeem an Attack Power. To get these items, simply Check In between now and April 19th 2016 at 06:00 UTC and you will receive the item.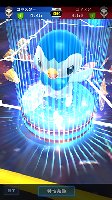 In The Games Department
Pokémon Komaster
The App, Pokémon Komaster, has just been released in Japan on Google Play, with iOS support to come shortly. This game is a board game where you select multiple various figures and have to try and take over the board using your figures against opponent figures. It's a free to play game and allows you to purchase diamonds in order to get better figures and items. You need Android 2.3.3 or higher to run and it requires 41MB to initially install. We'll be covering this game in full over the coming days so keep checking back.
Edit @ 07:45: There are figures of various rarity. The rarest of the figures are Charizard, Venusaur, Dialga and Palkia which each have a 0.5% chance of appearing when you buy a Single pack. Each Rare figure has a 1.5% chance of appearing and each Ultra Common figure has a 7.16-7.17% chance of appearing. All of the figures can be levelled up through gameplay. Much like the Trading Figure game, attacks are done by spinning, and damage inflicted depends on where the figure lands.