12-02-2016 02:10 GMT / 21:10 EST by Serebii
Be sure to check Wednesday's update for a brand new Pokémon reveal. This update may be amended throughout the day so be sure to check back. If you have any ideas for the site, be sure to send them in
With the generation continuing and Nationals coming up globally, and the Chatroom has been rife with discussion while the WiFi Chatroom has been a place for battles, trades and Friend Safari hunting, so be sure to visit them. Our Forums have also had these discussion and are a bustling trade and competitive section for the games. Be sure to like our FaceBook Page.
Last Update: 18:56 GMT
Edit @ 02:18: Pikachu Distribution | Edit @ 04:06: Nintendo Badge Arcade | Edit @ 18:40: Pokkén Tournament CoroCoro Details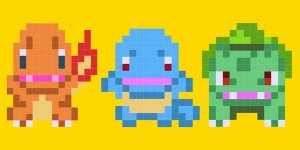 In The Games Department
Pokémon - Super Mario Maker Costumes
To celebrate the 20th anniversary of Pokémon, three new costumes have been added to Super Mario Maker via event courses. These costumes are based on the Pokémon Bulbasaur, Charmander and Squirtle. You can repeat the stage three times in order to get the three costumes. These costumes include special sound effects for the Pokémon.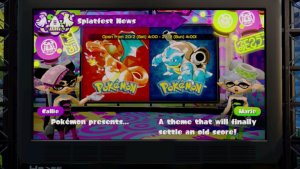 In The Games Department
Pokémon - Splatoon
To celebrate the 20th anniversary of Pokémon, a new Splatfest has been announced for the video game Splatoon on Wii U. This Splatfest pits teams off against eachother based on whether they pick Pokémon Red & Green in Japan or Pokémon Red & Blue in North America and Europe. This Splatfest runs in Japan, Europe and the US from Feb 20th through 21st. All players will temporarily get an in-game T-Shirt which shows Charizard, Venusaur or Blastoise depending on their choice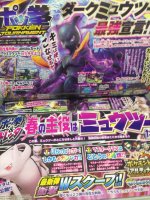 In The Games Department
Pokémon
The next images from CoroCoro have come and have revealed some new details for Shadow Mewtwo in the Wii U version of Pokkén Tournament, due out next month globally. In it, it notes that its Psywave attacks can be used in multiple different ways. It can go on the offence with both Power and Technical moves that keep shifting in order to confuse the opponent. Psywave is primarily a close combat move used for setting up combos, but it can also be used as a vortex to suck in opponents and can also be used as a projectile.
It is also said that Shadow Mewtwo storms the 1 Player Mode, Ferrum League. It questions what Shadow Mewtwo's objective is and its relation to the mysterious girl. It can also use Thunder Punch, Fire Punch and Ice Punch in quick succession. If all three hit, a huge amount of damage is dealt.
Finally, it lists standard Mewtwo as being able to use moves such as Hyper Beam.
Pokémon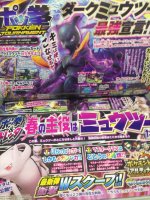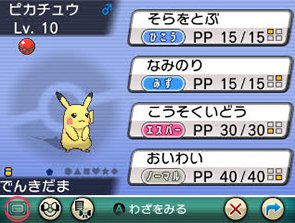 In The Games Department
Pokémon - Pikachu Distribution
To celebrate the opening of the Pokémon Center Online service in Japan, a special Pikachu is to be distributed via Serial Code to people making their first order on the site from February 16th through May 22nd. This Pikachu comes with the moves Surf, Fly, Agility and Celebrate.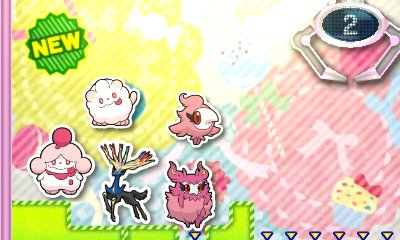 In The Games Department
Nintendo Badge Arcade
For those of you in Europe, two new Pokémon panels are now available as part of the Valentine's Day special event. These panels are the Xerneas and Flabébé panels which have been previously released in North America and Japan. It's not known how long they'll be around for or if more will follow but we'll update the section as more come