15-07-2016 08:04 BST / 03:04 EDT by Serebii
Be sure to check yesterday's update for huge news. This update may be updated throughout the day. If you have any ideas for the site, be sure to send them in
With the generation continuing and Nationals coming up globally, and the Chatroom has been rife with discussion while the WiFi Chatroom has been a place for battles, trades and Friend Safari hunting, so be sure to visit them. Our Forums have also had these discussion and are a bustling trade and competitive section for the games. Be sure to like our FaceBook Page.
Last Update: 17:59 BST
Edit @ 07:35: Episode Titles | Edit @ 07:48: Pokémon GO Release | Edit @ 17:11: Global Pre-Order Bonuses for Sun & Moon | Edit @ 17:59: Shiny Yveltal event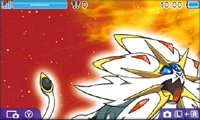 In The Games Department
Pokémon
Two new themes have been announced for the Nintendo 3DS in Japan. These two themes are to come in the special New Nintendo 3DS bundles that are hitting Japan to coincide with the launch of Pokémon Sun & Moon. The first features Solgaleo & Lunala and the second features Pikachu. It's unlikely that these themes will be released outside of the 3DS bundles
| | |
| --- | --- |
| Pokémon | Pokémon |
| | |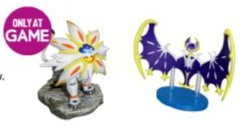 In The Games Department
Pokémon
Various pre-order bonuses have been revealed for around the globe for Pokémon Sun & Moon. As previously reported, in the Pokémon Centers in Japan you will receive special figures for Solgaleo & Lunala, as well as an art book if you pre-order both, but several more bonuses have been revealed
United Kingdom
GAME - Solgaleo & Lunala Figurines
Spain
GAME - Solgaleo & Lunala Figurines
El Corte Inglés - Pokémon Adventures - Yellow Volume 1
FNAC - Pokémon Adventures - Ruby & Sapphire Volume 1
Media Markt - Pokémon Adventures - Gold & Silver Volume 1
Blade Center, Canal Ocio, Toy 'R'Us, GameShop, xtralife.es, tutiendadevideojuegos.com o zonavideojuego.com - Sun & Moon Pins
Australia & New Zealand
EB Games - Sun & Moon Pins & Poster
Japan
Animate - Pikachu Towel (Sun), Sun & Moon Memo Pad (Moon)
Amazon - Microfiber Pouch - Yellow (Sun), Blue (Moon)
Aeon,Daiei Direct - Wrist Straps
Ito-Yokado - A4 Clearfile
Edion - Post Card Set
GEO - Random Rubber Clip (featuring Rowlet, Litten, Popplio or Pikachu)
Circle K Sunkus - Sun & Moon Jigsaw Puzzle
Joshin Denki - Paper Box + PC Wallpaper
Seven Eleven - Clear File
Tsutaya - Pokémon Tote Bag
Bic Camera, Sofmap, Kojima - Pen Case
Family Mart - Hand Towel
Fuji & Heiwado - B5 Notebook
Futabatosho - Magnets - Solgaleo (Sun), Lunala (Moon), Both and Rowlet, Little & Popplio (Both games)
MrMax - A5 Sticker Set
Yamada Denki - A4 Clear File
Yodobashi Camera - Foil Sticker Set
Loppi, HMV - Metal Straps
WonderGOO - Pen Case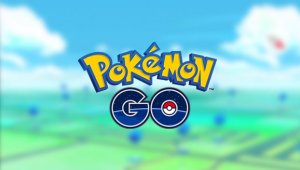 In The Games Department
Pokémon GO
The International rollout for Pokémon GO has restarted with the release of the game on iOS and Android in Spain, Italy and Portugal. Therollout is continuing but we don't know what will be released and when but the moment that news on that comes, it shall be posted here. Be sure to check our section for the full details of this game, which are still being added to.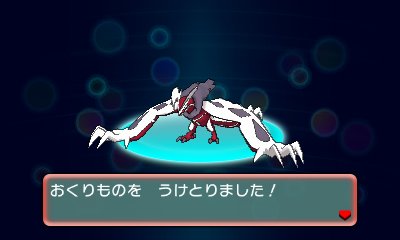 In The Games Department
Pokémon Omega Ruby & Alpha Sapphire - Shiny Yveltal Event
On the leaflet for the Serial Codes of Shiny Xerneas given at Hyper Japan, it has been announced that the Shiny Yveltal event is to be held in the United Kingdom. From August 17th 2016 to September 15th 2016, you'll be able to go to Smyths Toy Stores across the UK in order to receive the code to receive the Shiny Yveltal.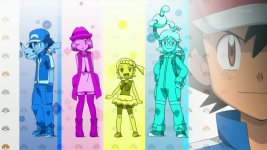 In The Anime Department
Pokémon XY & Z - Episode Titles
The Pokémon Fan magazine has revealed another set of new episode titles, this time for the thirty-seventh & thirty-eighth episodes of Pokémon XY & Z. These episodes are set to air on August 11th, 18th and 25th respectively and include the finals of the Kalos Pokémon League as well as the continuation of the Team Flare arc.
Episode 933: The Finals! Ash VS Alain!!
Episode 934: Kalos League Victory! Ash's Ultimate Match!!
Episode 935: Team Flare Attacks! The Zygarde at the Prism Tower!!