15-06-2016 02:15 BST / 21:15 EDT by Serebii
Be sure to check the previous update for huge newsIf you have any ideas for the site, be sure to send them in
With the generation continuing and Nationals coming up globally, and the Chatroom has been rife with discussion while the WiFi Chatroom has been a place for battles, trades and Friend Safari hunting, so be sure to visit them. Our Forums have also had these discussion and are a bustling trade and competitive section for the games. Be sure to like our FaceBook Page.
Last Update: 18:45 BST
Edit @ 03:59: Pokémon Sun & Moon News | Edit @ 04:15: World Hobby Fair | Edit @ 15:41: Masuda's Mii | Edit @ 17:44: Pokémon GO at Treehouse Live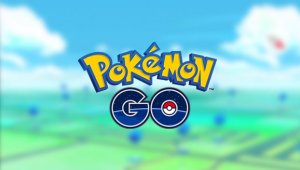 In The Games Department
Pokémon GO - Nintendo Treehouse Live
Today is the final day of Nintendo Treehouse Live @ E3 2016 and starting it off today is yet another bit of Pokémon news. From 10am PDT/1pm EDT/6pm BST/7pm CEST, Treehouse Live will begin and scheduled for 10:05 PDT/13:05 EDT/18:05 BST/19:05 CEST is a 55 minute session of Q&A about Pokémon GO. This session will also include an appearance from Creative Fellow at Nintendo, Shigeru Miyamoto. We'll be providing live coverage of it all and post any news that comes so keep checking back
18:17: The plan for Pokémon GO is for eventually all Pokémon to be available, but it began with the first generation to celebrate the 20th anniversary
18:23: Consultation with The Pokémon Company allowed for Niantic to make Pokémon rarer if they're rare in the main games and keep their style of personality. 18:24: Focus was put on the catching of Pokémon. Chances increase when the circle on a Pokémon is the smallest. You get experience points for methods such as Curve Balls
18:29: Pokémon GO Plus, as previously announced, connects with smartphones and tells you what's going on by the colour of the icon on the device and by vibrating. It lets you play without opening your mobile device. This was done to get players to look around while exploring, rather than just looking at their smartphones
18:30: Pokémon GO Plus flashes Green when there is a Pokémon nearby. Press the button and it osolates to decide if it is caught or not. If it flashes a rainbow colour, then the Pokémon is caught. If it flashes Red, then the capture failed.
18:33: Pokémon GO Plus is being primed to be launched towards the end of July
18:35: Pokémon GO Plus will be available in certain retailers and through online stores and will cost $34.99
18:36: Pokémon GO will eventually have connectivity with Pokémon Sun & Moon
18:38: Evolution in Pokémon GO is different to the main games. It happens using candies. Catch a Pokémon you will receive candies and by collecting them, they can be used to Power Up Pokémon or Evolve. Catch 25 Squirtle and you will get 25 Squirtle candy which evolves Squirtle into Wartortle
18:40: Trading will be implemented at a later point after launch
18:42: There are plans for big events where players group together at a later point.
18:45: Pokémon GO will be primed to be released towards the end of July but this is not a solid date.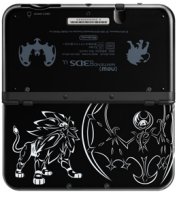 In The Games Department
Pokémon Sun & Moon
Two special edition Pokémon Sun & Moon New Nintendo 3DS LL Consoles have been announced for Japan. The first of these models is black and features Solagaleo & Lunala while the second is yellow and features Pikachu. They will be released on November 18th 2016 for 18,800¥ each. Neither of them come with the games of Pokémon Sun & Moon. We'll bring more on any international launch as it comes
| | |
| --- | --- |
| Pokémon - Lunala & Solgaleo | Pokémon - Pikachu |
| | |
| | |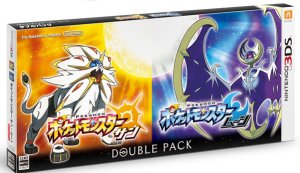 In The Games Department
Pokémon Sun & Moon - Double Pack
It has been confirmed that in Japan, Pokémon Sun & Moon will be released in a double pack. This pack will contain both versions of the game as well as two sets of Serial Codes offering 100 Poké Balls each. This can be reserved from July 16th 2016 and available from launch on November 18th 2016.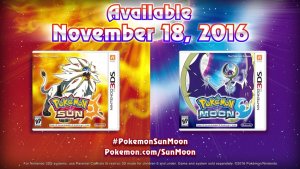 In The Games Department
Pokémon Sun & Moon - World Hobby Fair
It has been confirmed that Pokémon will have a booth at the World Hobby Fair '16 Summer on June 25th & June 26th. At this event, there will be five things.
First, Abarerukun and Rinka from Pokénchi will be there and take the main stage. There will be a quiz rally and an exclusive sneak-peak at the movie, Volcanion & The Ingenious Magearna. Finally, Pokémon Sun & Moon will be there and game producer & series director, Junichi Masuda will be on stage with a playthrough of part of the game. We'll bring more on that as it comes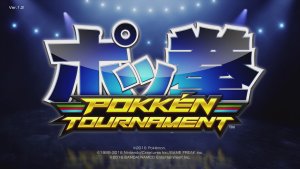 In The Games Department
Pokkén Tournament - Version 1.3
The next patch is now available for Pokkén Tournament. This patch is Version 1.3 and requires 215MB to download. The update affects the characters Lucario, Pikachu, Machamp, Gardevoir, Weavile, Suicune, Charizard, Gengar, Blaziken, Pikachu Libre, Sceptile, Chandelure, Braixen, Garchomp, Mewtwo and Shadow Mewtwo as well as the Support Pokémon Snivy, Croagunk, Magneton, Quagsire, Diglett, Yveltal, Latios and Cresselia. This patch is required to go online.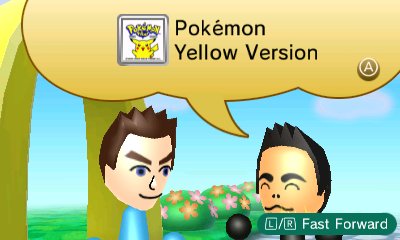 In The Games Department
Pokémon - StreetPass Plaza
For those with a Japanese 3DS, a special Mii is being sent through SpotPass to be saved to the Mii Plaza to celebrate E3. This Mii is the Mii of series director and Producer for Pokémon Sun & Moon, Junichi Masuda. While the Mii doesn't give anything new, it does promote Pokémon Sun & Moon and his last played game was Pokémon Pikachu, the Japanese version of Pokémon Yellow. The end date is not known so download it while you can
Edit @ 15:43: Also confirmed for Europe to arrive the day after you receive The Legend of Zelda series director Eiji Aonuma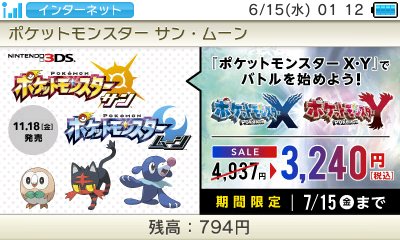 In The Games Department
Pokémon X & Y - Sale
To celebrate the release of news for Pokémon Sun & Moon, a sale has begun on the Nintendo eShop in Japan. This sale reduces the price of Pokémon X & Pokémon Y down from 4,937¥ to 3,240¥, a saving of 35%. This sale is set to last until July 15th 2016