27-09-2016 07:04 BST / 02:04 EDT by Serebii
This update may be updated throughout the day. If you have any ideas for the site, be sure to send them in
With the new generation upcoming, and the Chatroom has been rife with discussion while the WiFi Chatroom has been a place for battles, trades and Friend Safari hunting, so be sure to visit them. Our Forums have also had these discussion and are a bustling trade and competitive section for the games. Be sure to like our FaceBook Page.
Last Update: 18:33 BST
Edit @ 10:14: Volcanion Event | Edit @ 18:33: Darkrai Event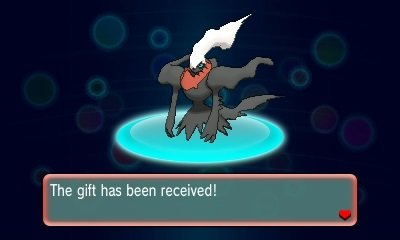 In The Games Department
Pokémon Omega Ruby & Alpha Sapphire - Darkrai
For those of you in North America, following the initial plan of codes being distributed via code in the newsletter, The Pokémon Company has changed the plans and made the second chance Darkrai event live through a shared serial code of Darkrai20. This code only runs until October 31st 2016 so be sure to get it while you can. If you previously obtained Darkrai at Gamestop, you cannot receive this event.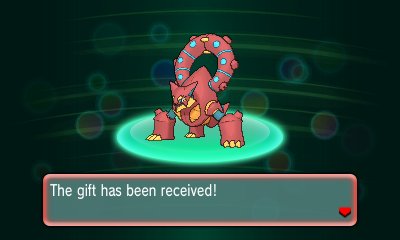 In The Games Department
Pokémon Omega Ruby & Alpha Sapphire - Volcanion
Some further European distributions for Volcanion have been confirmed. In Sweden, Volcanion will be distributed from October 1st through November 23rd at Gamestop, Webhallen & Spel & Sĺnt stores, you'll be able to get the Serial Code for Volcanion. This Volcanion differs slightly from the one announced for North America in that rather than having the Assault Vest hold item & Explosion move, it more mirrors the Japanese version and holds the Rage Candy Bar and has the move Mist. We'll post more distributions as they come.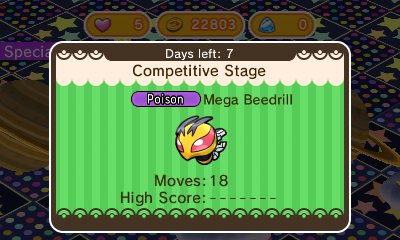 In The Games Department
Pokémon Shuffle - Events
A few brand new challenges have begun on Pokémon Shuffle and Pokémon Shuffle Mobile.
First up is a Mega Beedrill competitive stage. This stage has a new tier of prizes. First, the top 300 in North America, 200 in Europe & 1,000 in Japan will get a Beedrillite and 3 Mega Speedups & 3 Raise Max Level. The top 1,600 in North America, 1,000 in Europe & 5,000 in Japan will get a Beedrillite and 2 Mega Speedups & 2 Raise Max Level. The top 8,000 in North America, 5,000 in Europe & 25,000 in Japan will get a Beedrillite, a Raise Max Level & a Mega Speedup. The top 20,000 in North America, 13,000 in Europe & 60,000 in Japan will get a Beedrillite and a Disruption Delay. The top 26,000 in North America, 18,000 in Europe & 80,000 in Japan will get an Attack Power and a Disruption Delay. All other players will get an Attack Power.
Next, a special stage to get the Pokémon Slaking has appeared. It will run until October 11th 2016
Next, a repeat of the Keldeo Resolute Form Escalation Battle has begun with all new rewards. It will run until October 11th 2016
Finally, a repeat of the special Mewtwo stage has begun. It will run until October 4th 2016
All of these require the version 1.3.21 to download. Our Pokémon listings have been updated with these Pokémon