01-04-2017 07:03 BST / 02:03 EDT by Serebii
This update may be amended throughout the day so be sure to check back. If you have any ideas for the site, be sure to send them in
With the new generation out, the Chatroom & Discord Chat has been rife with discussion while the WiFi Chatroom has been a place for battles & trades, so be sure to visit them. Our Forums have also had these discussion and are a bustling trade and competitive section for the games. Be sure to like our FaceBook Page.
Last Update: 07:03 GMT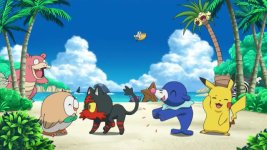 In The Anime Department
Pokémon Sun & Moon - Episode Titles
TV Game Magazine May has revealed the next pair of new episode titles from Pokémon Sun & Moon. These episodes are set to air on April 20th and 27th respetively . The first features Ash & Co. go to a concert where a DJ owns a Dugtrio. The second features an open day at the school where Ash's mother comes to visit
Episode 967: Here's a Real Shocker! A Dugtrio Split-Up?!
Episode 968: Alola! The First Visitation Day!!