04-07-2017 05:01 BST / 23:01 EDT by Serebii
This update may be amended throughout the day so be sure to check back. If you have any ideas for the site, be sure to send them in
With the new generation out, the Chatroom & Discord Chat has been rife with discussion while the WiFi Chatroom has been a place for battles & trades, so be sure to visit them. Our Forums have also had these discussion and are a bustling trade and competitive section for the games. Be sure to like our FaceBook Page.
Last Update: 19:45 GMT
Edit @ 05:06: Weakness Cup | Edit @ 07:03: Pokémon Shuffle Events | Edit @ 19:45: Episode Title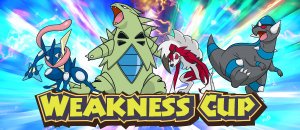 In The Games Department
Pokémon Sun & Moon - Battle Competition
Details for the next Battle Competition have been announced. This is the Weakness Cup competition. This is a Double Battle competition using rules where only Pokémon with five or more weaknesses can be used. The standard Legendary Pokémon and Mythical Pokémon restrictions apply and you cannot use Ash Greninja. Only Weakness Policy and the type-reducing Berries such as Yache Berry can be used. Mega Stones are also not allowed. Registration runs from July 20th to July 27th. Battles will run from July 28th to July 30th. All entrants will get the Altarianite, Ampharosite, Latiosite and Latiasite Mega Stones. Download Rules for this competition are now available from Festival Plaza
Edit @ 05:34: We have updated our Online Competition page with a list of all eligible Pokémon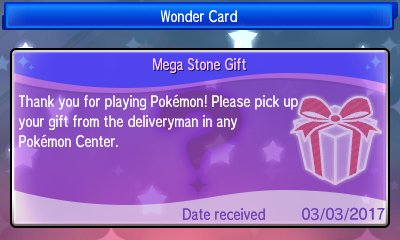 In The Games Department
Pokémon Sun & Moon - Global Link Gift
For those of you who participated in the recent tiny tourney Battle Competition, the entry gift is now available to all qualifying players through this link after logging into the Global Link. This gift is an Gardevoirite, Galladite and Lopunnite, which cannot be obtained through any other means at this time, and needs to be redeemed by July 31st 2017 at 23:59 UTC.. However, separate distributions for these Mega Stones through shared code will begin in later this year for those who didn't participate in this online competition.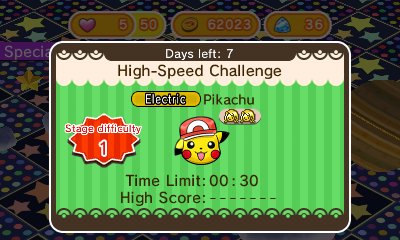 In The Games Department
Pokémon Shuffle - Events
A few brand new challenges have begun on Pokémon Shuffle and Pokémon Shuffle Mobile.
First is the special stage for Kalos Cap Pikachu. This event runs until July 11th 2017
Next, a stage for Deoxys Attack Forme has begun. This stage runs until July 18th 2017
A special stage for the Rayquaza Costume Pikachu has also gone live. This stage can only be played once a day, with the capture chance increasing with each day. This stage will run until July 18th 2017.
A special Pokémon Safari has also begun. This safari runs until July 18th 2017 and is a repeat of a previous one that contains Sandshrew, Sandslash, Barboach, Whiscash, Zigzagoon, Linoone and Shiny Rayquaza, but now also includes Shiny Rayquaza Costume Pikachu.
Finally, repeat runs have begun of the Regirock and Cresselia stages. They all run until July 18th 2017
All of these require the version 1.4.17 to download. Our Pokémon listings have been updated with these Pokémon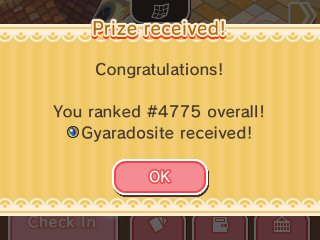 In The Games Department
Pokémon Shuffle - Events
If you were one of the lucky players worldwide who ranked in the Shiny Mega Gyarados competitive stage over the past week, then the prize is now available to be received. The Gyaradosite/Level Up, Attack Power, Mega Speedup and Raise Max Level for the higher ranked players will be obtained. If you didn't qualify, then you can redeem an Attack Power. To get these items, simply Check In between now and June 20th 2017 at 06:00 UTC and you will receive the item.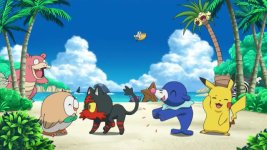 In The Anime Department
Pokémon Sun & Moon - Episode Titles
A Japanese magazine has revealed the next new episode title from Pokémon Sun & Moon. This episode is due to air on July 20th, following a one week break to air the movie Volcanion & The Ingenious Magearna. The episode features Ash & co. participating in a festival by Wela Volcano Park where Pokémon are to wear the Wela Crown which can cause Pokémon to have increased strength. However, a wild Marowak appears and steals the crown.
Episode 977: A Fire Battle! Marowak Shows Up!