06-06-2017 05:04 BST / 00:04 EDT by Serebii
This update will be amended throughout the day so be sure to check back. If you have any ideas for the site, be sure to send them in
With the new generation out, the Chatroom & Discord Chat has been rife with discussion while the WiFi Chatroom has been a place for battles & trades, so be sure to visit them. Our Forums have also had these discussion and are a bustling trade and competitive section for the games. Be sure to like our FaceBook Page.
Last Update: 17:28 GMT
Edit @ 07:03: Pokémon Shuffle | Edit @ 09:17: Pokémon Duel | Edit @ 14:00: Pokémon Direct | Edit @ 15:02: Pokémon Direct News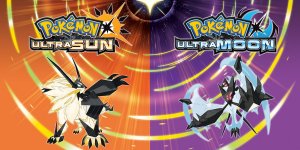 In The Games Department
Pokémon - Nintendo Direct
Today is the special Pokémon Direct where the next big news for the Pokémon franchise will be announced. This presentation begins at 15:00 BST / 16:00 CEST / 23:00 JST / 10:00 EDT / 07:00 PDT and you'll be able to watch it right here in the embedded video below. This update will be updated with all the announcements as they happen so if you do not wish to watch, be sure to keep checking back for all the news
Edit @ 15:01: Pokkén Tournament DX has been revealed for Nintendo Switch! It contains local two player multiplayer with the JoyCons as well as play with two different JoyCons. It includes the Arcade characters as well as the Pokémon Decidueye
15:04: Pokémon Ultra Sun & Ultra Moon are available on November 17th 2017 on Nintendo 3DS
15:07: Pokémon Gold & Silver to hit the 3DS Virtual Console on September 22nd and have Pokémon Bank support
15:28: We have opened up sections on Ultra Sun & Ultra Moon and Pokkén Tournament DX. We'll be adding to these over the next few hours so keep checking back
Below is a list of all Pokkén Tournament new features from the press release
Play Pokkén anytime, anywhere on Nintendo Switch – Play Pokkén Tournament DX in TV mode, handheld mode, or share a Joy-Con controller with another Trainer to battle one-on-one in tabletop mode anywhere!
A brand-new fighter — Decidueye enters the battle, alongside all previous Pokémon from the Wii U and arcade versions.
New Support Pokémon – Litten and Popplio make their debut to lend their support in battle.
Team Battle mode – Pick three Pokémon and battle it out to be the first to defeat all your opponent's Pokémon to win in the new Team Battle mode.
Group Match mode – Find similar skilled players in battle rooms for intense and fun battles online.
Daily Challenges – Complete a variety of different daily challenges.
Watch battle replays – Hone your skills by watching other players' replays and share your best matches online with the new replay feature.
Jump straight into battle - All characters and Support Pokémon will be available right from the start of the game.
Edit @ 15:40: It is currently noted that The Pokémon Company International's press site is listing Ultra Sun & Ultra Moon as being on the Nintendo Switch with a "To Be Announced" date. It's currently unclear if this means they will come out on Nintendo Switch in the end but we'll provide all details as and when they come. They have since deleted this note.
Edit @ 16:09: Fixed an error in the Ultra Sun & Ultra Moon section and added a Forms Page
Edit @ 16:19: Updated with a Pre-Release Screenshot page for Pokkén Tournament DX
Edit @ 16:30: The Pokémon Company stated to Kotaku that the listing on the press site was a clerical error and not indicative of any release on Nintendo Switch, stating it will be exclusive to the 3DS
Edit @ 16:55: Some Pre-Release Screenshots for Pokémon Ultra Sun & Ultra Moon
Edit @ 17:18: It has also been confirmed that Pokkén Tournament will be playable through Split-Screen in Local Play for 2 players. The split is vertical but with each side having a 16:9 window in the vertical half. Picture is below
Edit @ 17:28: It is also confirmed that the Pokkén Tournament controller released for the Wii U last year will work on Pokkén Tournament DX when the Switch is docked.
Footage
Split Screen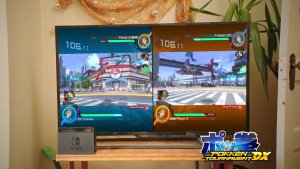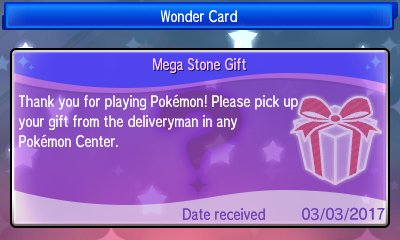 In The Games Department
Pokémon Sun & Moon - Global Link Gift
For those of you who participated in the recent 2017 International Challenge April Competition, the entry gift is now available to all qualifying players through this link after logging into the Global Link. This gift is an Abomasite, Tyranitarite and Manectite, which cannot be obtained through any other means at this time, and needs to be redeemed by July 30th 2017 at 23:59 UTC.. However, separate distributions for these Mega Stones through shared code will begin in later this year for those who didn't participate in this online competition.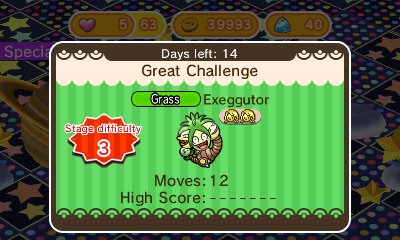 In The Games Department
Pokémon Shuffle - Events
A few brand new challenges have begun on Pokémon Shuffle and Pokémon Shuffle Mobile.
First, a special stage for Alolan Exeggutor has begun and will run until June 20th 2017
Next, an Alolan Muk stage has begun and will also run until June 20th 2017
A stage for Lurantis has also begun and runs until June 20th 2017
A new Pokémon Safari has also begun. This Safari includes Alolan Meowth, Alolan Persian, Bounsweet, Steenee and Tsareena. It runs until June 20th 2017
The Daily Pokémon (#7) have also begun a repeat run until June 20th 2017
Finally, a Primarina Competitive Stage has begun.The top 100 players in Europe, 100 in North America and 500 in Japan will get 1 Skill Swapper, 5 Mega Speedup and 10 Raise Max Level. The top 300 players in Europe, 400 in North America and 1500 in Japan will get 1 Skill Swapper, 4 Mega Speedup and 8 Raise Max Level. The top 500 players in Europe, 800 in North America and 3000 in Japan will get 1 Skill Swapper, 3 Mega Speedup and 6 Raise Max Level. The top 900 players in Europe, 1300 in North America and 5000 in Japan will get 1 Skill Swapper, 2 Mega Speedup and 4 Raise Max Level. The top 1800 players in Europe, 2500 in North America and 10000 in Japan will get 1 Skill Swapper, 2 Mega Speedup and 2 Raise Max Level. The top 3600 players in Europe, 5100 in North America and 20000 in Japan will get 1 Skill Swapper, 1 Mega Speedup and 1 Raise Max Level. The top 5400 players in Europe, 8000 in North America and 30000 in Japan will get 1 Skill Swapper, 1 Mega Speedup and 1 Skill Booster M. The top 7200 players in Europe, 10000 in North America and 40000 in Japan will get 1 Skill Swapper, 1 Mega Speedup and 1 Disruption Delay. The top 9000 players in Europe, 13000 in North America and 50000 in Japan will get 1 Skill Swapper and 1 Attack Power. The top 13000 players in Europe, 18000 in North America and 70000 in Japan will get 1 Disruption Delay and 1 Attack Power. All other players will get an Attack Power
All of these require the version 1.4.14 to download. Our Pokémon listings have been updated with these Pokémon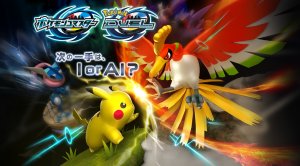 In The Games Department
Pokémon Duel - Balance Patch
Tomorrow, a new version of Pokémon Duel is being uploaded following the weekly maintenance. In this update, some changes are being made to a few figures.
Lugia
Lugia gains the Marine Rage ability which gives +10 damage for each Water-type Pokémon in the PCs of both opponents
Removes Hurricane and adds Cyclone, with the same effect but higher ☆ value
Feraligatr
Added the Speed Booster ability
Increased Bite damage from 60 to 70 and lowered wheel size
Increased wheel size of Hydro Pump, Wash Out and Miss
Mudkip
Changes Tackle to Dodge with a lower wheel size
Increased wheel size of Take Down
Decreased wheel size of Miss
Larvitar
Increased Thrash damage from 40 to 50 with increased wheel size
Increased wheel size of Crunch
Decreased wheel size of Miss
Diglett
Increased wheel size of Dig
Decreased wheel size of Scratch and Miss
Carvanha
Altered Group Attack ability to activate when other Carvanha are within 2 steps of Carvanha
Increased Scary Face wheel size
Decreased Miss wheel size