10-01-2017 04:07 GMT / 23:07 EST by Serebii
This update may be amended throughout the day so be sure to check back. If you have any ideas for the site, be sure to send them in
With the new generation out, the Chatroom has been rife with discussion while the WiFi Chatroom has been a place for battles, trades and Friend Safari hunting, so be sure to visit them. Our Forums have also had these discussion and are a bustling trade and competitive section for the games. Be sure to like our FaceBook Page.
Last Update: 13:28 GMT
Edit @ 06:07: Pokémon Shuffle Events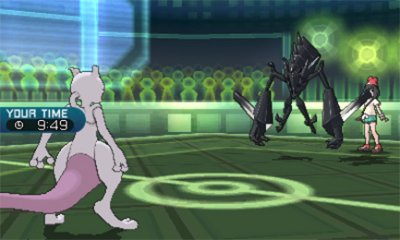 In The Games Department
Pokémon Sun & Moon - Special Battle Season 2
The Special Battle rules for Season 2 have been revealed. Season 2 will run from January 17th 2017 to March 19th 2017 and runs on Sun & Moon. This ruleset alters things to allow for the inclusion of Pokémon through the National Pokédex after the release of Bank later this month The base rules for this season are as follows:
Battle type: Single Battle
Pokémon Restrictions: National Pokédex.
Banned Pokémon: Only 1 of the following can be used per team Mewtwo, Mew, Lugia, Ho-Oh, Celebi, Kyogre, Groudon, Rayquaza, Jirachi, Deoxys, Dialga, Palkia, Giratina, Phione, Manaphy, Darkrai, Shaymin, Arceus, Victini, Reshiram, Zekrom, Kyurem, Keldeo, Meloetta, Genesect, Xerneas, Yveltal, Zygarde, Diancie, Hoopa, Volcanion, Cosmog, Cosmoem, Solgaleo, Lunala, Necrozma, Magearna
The other standard rules apply, including all set to Level 50 if above that, and you choose 3 Pokémon out of your 6, and you cannot have two Pokémon holding the same hold item.
Edit @ 13:28: In addition to these Special Battle rules, Single Battle and Double Battle on Rating Battle on Battle Spot will be updated to allow National Pokédex with the usual Pokémon restrictions banning the usual Legendary & Mythical Pokémon. This will also allow for use of Pokémon from Pokémon X, Y, Omega Ruby & Alpha Sapphire but no mention of any Pokémon obtained through Poké Transporter, blocking Pokémon from the Virtual Console games and Generation V and before games from being used.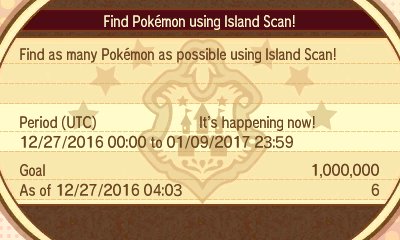 In The Games Department
Pokémon Sun & Moon - Global Mission
The second Pokémon Sun & Moon Global Mission is now over on Pokémon Sun & Moon. This Global Mission was to have all players find a total of 1,000,000 Pokémon through Island Scan. Unfortunately, the mission is counted as a failure as only 661,839 Pokémon were found during this duration. As such, the failure reward of 217FC, or 434FC if the game is registered on the Global Link is now available.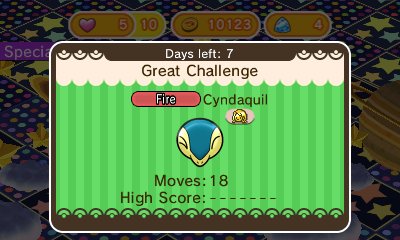 In The Games Department
Pokémon Shuffle - Events
A few brand new challenges have begun on Pokémon Shuffle and Pokémon Shuffle Mobile.
First, a special Cyndauil (Winking) stage has begun and will run until January 17th 2017
Next, a new Pokémon Safari has come, being a repeat of a past one but including two additional Pokémon.. This Safari includes Pineco, Forretress, Ledyba, Ledian, Houndour, Houndoom, Noibat, Hoothoot and Noctowl. It runs until January 24th 2017
Next, the stages for Ho-Oh, Feraligatr, Kingdra and Noivern have all begun a repeat run until January 24th 2017. They all give Personal Skill Boosters if you have previously caught them.
All of these require the version 1.3.34 to download. Our Pokémon listings have been updated with these Pokémon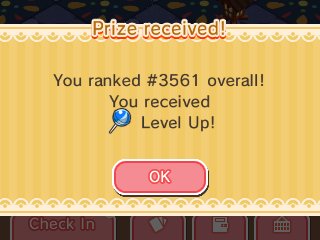 In The Games Department
Pokémon Shuffle - Events
If you were one of the lucky players worldwide who ranked in the Mega Mewtwo X competitive stage over the past week, then the Mewtwonite X is now available to be received. All other rewards for the higher ranked players will also be obtained. If you didn't qualify, then you can redeem an Attack Power. To get these items, simply Check In between now and January 17th 2017 at 06:00 UTC and you will receive the item.