13-04-2017 11:17 BST / 06:17 EDT by Serebii
This update may be amended throughout the day so be sure to check back. If you have any ideas for the site, be sure to send them in
With the new generation out, the Chatroom & Discord Chat has been rife with discussion while the WiFi Chatroom has been a place for battles & trades, so be sure to visit them. Our Forums have also had these discussion and are a bustling trade and competitive section for the games. Be sure to like our FaceBook Page.
Last Update: 20:54 GMT
Edit @ 12:03: Episode Pictures
Edit @ 14:02: Pokémon GO | Edit @ 15:25: 3DS Themes | Edit @ 20:09: Nintendo Badge Arcade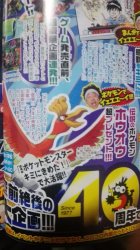 In The Games Department
Pokémon
The first images from CoroCoro have leaked and have revealed the latest news on Sun & Moon. As always, do note that translations are preliminary while we work on them. In this issue, it revealed that a special distribution for Ho-Oh is to hit Japan later this year. At the moment, details on level and moves have yet to be revealed, being "under investigation" by the magazine. We'll bring more as it comes
Pokémon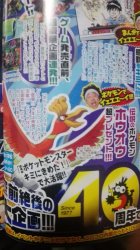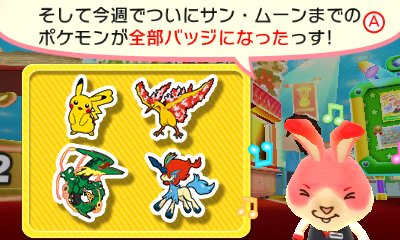 In The Games Department
Nintendo Badge Arcade
The free piece of Nintendo 3DS software, Nintendo Badge Arcade, had its weekly update in Japan. This week it has once again introduced multiple panels of badges of Pokémon to earn. These panels include various more new Pokémon to the ones previously obtainable. We're currently cataloguing all of these badges and will update our Nintendo Badge Arcade section shortly
Edit @ 20:34: The Badge Arcade notes that badges for all Pokémon have been released and that the most popular are Mega Evolutions and Legendary Pokémon. However, it notes that the sprite badges will continue next week
Edit @ 20:54: All six panels and 35 badges have been added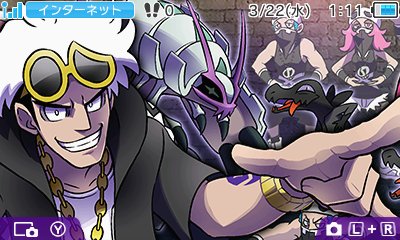 In The Games Department
Pokémon Sun & Moon - 3DS Themes
Following their reveal in Japan and North America three weeks ago, it has been confirmed that the two new Nintendo 3DS themes are to be released in Europe tomorrow. These themes are Pokémon - A Sinister Organisation: Team Skull, and Shiny Tapu Koko and will be Ł1.79/€1.99 each to download. The first is the Pokemon: Shiny Tapu Koko which features special art of the Shiny Tapu Koko as well as Lycanroc, Golisopod and Kommo-o. It has the music Battle! Guardian from Pokémon Sun & Moon.
Secondly is the Pokemon: Team Skull which features artwork of the Team Skull and the Battle! Team Skull Boss music from Pokémon Sun & Moon.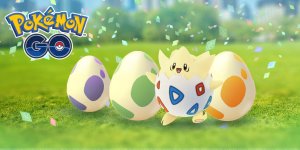 In The Games Department
Pokémon GO
A new event has been announced for Pokémon GO. Starting from today at 20:00 UTC until April 20th 2017 a special Easter event will be held. This event has double experience gained, and Lucky Eggs are 50% cheaper. In addition to that, far more Pokémon will be available in 2km Eggs for the duration of the event and candy yields from eggs are higher. We'll provide a list when it begins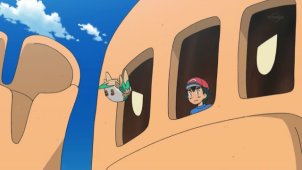 In The Anime Department
Pokémon Sun & Moon - Episode Pictures
As usual, we have done pictures from the first episode that aired in Japan today. This episode features Ash & Co. encounter a Sandygast, but trouble begins when it loses its shovel and then evolves. The AniméDex will soon been updated with the contents of this episode. Click the picture to go to the gallery but be warned however as they contain spoilers.