14-07-2017 06:06 BST / 01:06 EDT by Serebii
This update may be amended throughout the day so be sure to check back. If you have any ideas for the site, be sure to send them in
Since the reveal of Pokémon Ultra Sun & Ultra Moon, the Chatroom & Discord Chat has been rife with discussion while the WiFi Chatroom has been a place for battles & trades, so be sure to visit them. Our Forums have also had these discussion and are a bustling trade and competitive section for the games. Be sure to like our FaceBook Page.
Last Update: 17:35 BST
Edit @ 06:14: Pokkén Tournament DX Pre-Orders | Edit @ 17:35: Tapu Koko Event End Date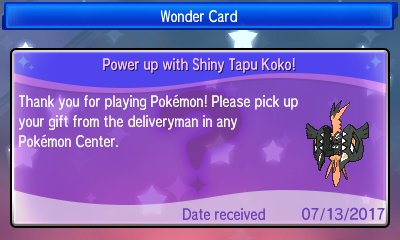 In The Games Department
Pokémon Sun & Moon - Shiny Tapu Koko
Following the surprise release of the Shiny Tapu Koko in North America and Europe yesterday, we now have some official details about it, specifically the end date. This event is due to end on August 14th 2017 so be sure to get the event while you still can.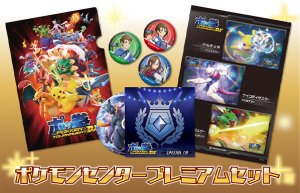 In The Games Department
Pokkén Tournament DX
Having hinted at a special pre-order bonus in Pokémon Centers in Japan, The Pokémon Company has finally announced the full details of the pre-order bonuses for Pokkén Tournament DX in the Pokémon Centers. In addition to this, you'll receive a clear file with the game's artwork, three cards showing the burst attacks of Pikachu, Mewtwo and Decidueye, three badges of the player characters and Nia, and a small bonus soundtrack CD which contains four pieces of the game's soundtrack, with two additional ones being downloadable for free from the Pokémon Center website on September 16th.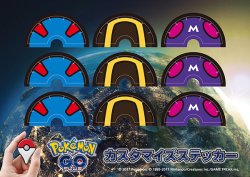 In The Games Department
Pokémon GO
Nintendo and The Pokémon Company have announced a new element to the Pokémon GO Plus device. At Pokémon Centers across Japan, a special ring backing of the Pokémon GO Plus will be released. This allows for you to play with the GO Plus from the palm of your hand rather your wrist. You will also obtain new decals for the GO Plus with features of the Great Ball, Ultra Ball and Master Ball. The ring backing goes on sale tomorrow, July 15th, for 400¥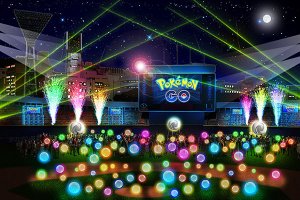 In The Games Department
Pokémon GO
Details have been released for the Pokémon GO elements to the Pikachu Outbreakchu event being held in Yokohama this August. First, from August 9th through August 15th is Pokémon GO Park where the Yokohama Red Brick Park and the Cup Noodle Museum Park will be filled with Poké Stops. Finally, on August 14th, Pokémon GO Stadium at the Yokohama Stadium which requires people to apply to participate by July 24th. From there, players will be selected via lottery to participate in the Pokémon GO Stadium. The true extent of which has yet to be revealed but players need to be Level 5 or higher, indicating that it involves Gyms and possibly raids. Sign ups are done through the Japanese official site