30-05-2017 05:04 BST / 00:04 EDT by Serebii
This update may be amended throughout the day so be sure to check back. If you have any ideas for the site, be sure to send them in
With the new generation out, the Chatroom & Discord Chat has been rife with discussion while the WiFi Chatroom has been a place for battles & trades, so be sure to visit them. Our Forums have also had these discussion and are a bustling trade and competitive section for the games. Be sure to like our FaceBook Page.
Last Update: 14:05 GMT
Edit @ 05:12: Battle Competition | Edit @ 07:05: Pokémon Shuffle | Edit @ 07:35: Episode Titles | Edit @ 07:57: Pokkén Tournament | Edit @ 14:05: Unova Cap Pikachu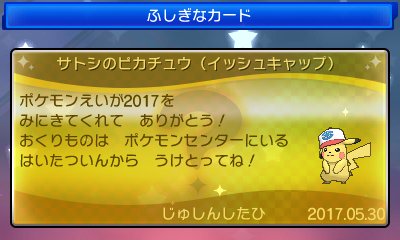 In The Games Department
Pokémon Sun & Moon - Sinnoh Cap Pikachu
To tie in with the 20th movie, Pokémon! I Choose You, the first special promotion has begun in Japan. If you prebook tickets in Japan, you will get a Serial Code that can be used to unlock one of six Pikachu wearing one of Ash's caps from over the years. This distribution provides Unova Cap Pikachu, which has Ash's hat from the Black & White series of the anime and knows the move Iron Tail which Pikachu can't normally get in Sun & Moon. This Pikachu also comes with the special Pikashunium Z Z-Crystal which turns the move Thunderbolt into the Z-Move 10,000,000 Volt Thunderbolt. This distribution is available until June 12th 2017, with a repeat coming in September, so be sure to get it while you can. Our Event Database has full details of this event.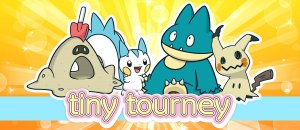 In The Games Department
Pokémon Sun & Moon - Battle Competition
Details for the next Battle Competition have been announced. This is the Tiny Tourney competition. This is a Double Battle competition using rules where only Pokémon under 1.0m (3'03") will be able to enter. Pokémon from transferred games can be used and Mewtwo, Mew, Lugia, Ho-Oh, Celebi, Kyogre, Groudon, Rayquaza, Jirachi, Deoxys, Dialga, Palkia, Giratina, Phione, Manaphy, Darkrai, Shaymin, Arceus, Victini, Reshiram, Zekrom, Kyurem, Keldeo, Meloetta, Genesect, Xerneas, Yveltal, Zygarde, Diancie, Hoopa, Volcanion, Cosmog, Cosmoem, Solgaleo, Lunala, Necrozma, Magearna cannot be used. Mega Stones are also not allowed. Registration runs from June 14th to June 22nd. Battles will run from June 23rd to June 25th. All entrants will get the Galladite, Gardevoirite, and Lopunnite Mega Stones. Download Rules for this competition are now available from Festival Plaza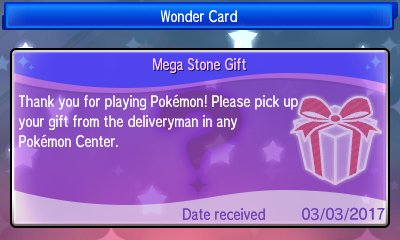 In The Games Department
Pokémon Sun & Moon - Global Link Gift
For those of you who participated in the recent 2017 International Challenge April Competition, the entry gift is now available to all qualifying players through this link after logging into the Global Link. This gift is a Sceptilite, Blazikenite & Swampertite, which cannot be obtained through any other means at this time, and needs to be redeemed by June 29th 2017 at 23:59 UTC.. However, separate distributions for these Mega Stones through shared code will begin in later this year for those who didn't participate in this online competition.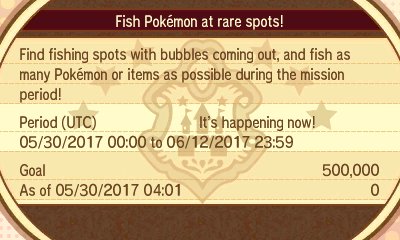 In The Games Department
Pokémon Sun & Moon - Global Missions
The seventh Pokémon Sun & Moon Global Mission has begun. This Global Mission's theme involves fishing up Pokémon at the bubbling fishing spots. To beat this Global Mission, over 500,000 Pokémon/Items have to be fished. Rewards are 2,000 FC (Success), 200 FC (Failure) - If the game is tied to a Global Link account: 4,000 FC (Success), 400 FC (Failure). This Mission runs until June 13th 2017 23:59 UTC. If players fish 3 or more Pokémon/Items, then they will earn a Rare Candy and if 1,000,000 Pokémon/Items are fished, all players with a PGL account will get a Lure Ball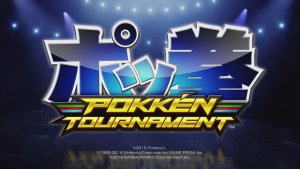 In The Games Department
Pokkén Tournament - Nintendo Switch Rumour
Earlier today, the Japanese retailer Sinobi listed a new arcade stick for the Nintendo Switch in their listings. In this listing, it mentioned that the stick can be used in fighting games such as Pokkén. They have since removed this note. It's currently unclear whether or not this was a mistake in listing something early or a mistake in the game not existing so it's currently unclear. Do note, this is currently classed as rumour and should not be taken as fact at this time. We'll bring any further details as they come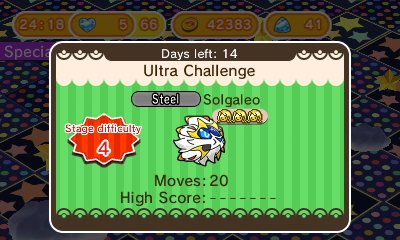 In The Games Department
Pokémon Shuffle - Events
A few brand new challenges have begun on Pokémon Shuffle and Pokémon Shuffle Mobile.
First, a special Ultra Challenge stage has begun for Solgaleo. This runs until June 13th 2017
Next, a High-Speed Challenge stage for Alolan Raichu has also begun. This also runs until June 13th 2017
Finally, an Escalation Battle for Decidueye has begun and runs until June 13th 2017
All of these require the version 1.4.14 to download. Our Pokémon listings have been updated with these Pokémon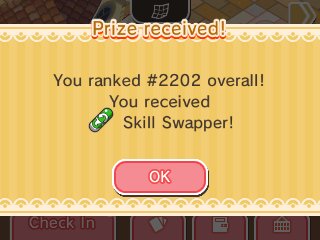 In The Games Department
Pokémon Shuffle - Events
If you were one of the lucky players worldwide who ranked in the Incineroar competitive stage over the past week, then the prize is now available to be received. The Skill Swapper, Attack Power, Mega Speedup and Raise Max Level for the higher ranked players will be obtained. If you didn't qualify, then you can redeem an Attack Power. To get these items, simply Check In between now and June 6th 2017 at 06:00 UTC and you will receive the item.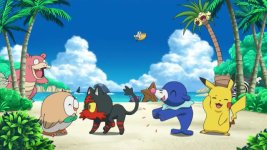 In The Anime Department
Pokémon Sun & Moon - Episode Titles
Corrected titles from Japanese TV guides have revealed the next set of new episode titles from Pokémon Sun & Moon. These episodes are due to air on June 15th. No further details have been given for this episode
Episode 973: Take Good Care of Pikachu