01-05-2018 05:13 BST / 00:13 EDT by Serebii
This update may be amended throughout the day so be sure to check back. If you have any ideas for the site, be sure to send them in
Since the release of Pokémon Ultra Sun & Ultra Moon, the Discord Chat has been rife with discussion, so be sure to visit it. Our Forums have also had these discussion and are a bustling trade and competitive section for the games. Be sure to like our FaceBook Page.
Last Update: 21:00 BST
Edit @ 07:00: Pokémon Shuffle | Edit @ 09:50: Pokémon Duel | Edit @ 15:02: Xerneas & Yveltal Event | Edit @ 16:02: Pokémon GO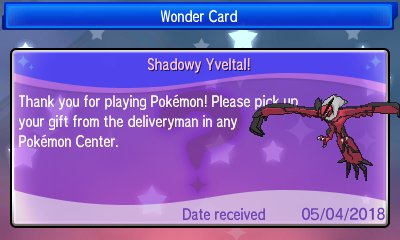 In The Games Department
Pokémon Ultra Sun & Ultra Moon
Following the reveal of it in Gamestop in US stores from May 4th through May 25th, we now have further details of global distributions for the Xerneas & Yveltal events. In the UK & Spainit is distributed at GAME from May 4th through May 26th. In France it is at Micromania. In Germany & Italy it is at Gamestop. In Austrtalia & Canada it is at EB Games Like the other distributions, they differ between games with Ultra Sun/Ultra Moon's being Level 100 with a Gold Bottle Cap and Sun & Moon's being Level 60. Sun & Ultra Sun get Yveltal while Moon & Ultra Moon get Xerneas. Our Event Database has been updated with full details of these events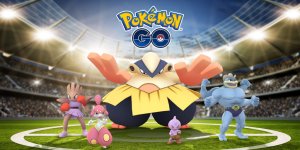 In The Games Department
Pokémon GO
A new event has been announced. From 20:00 UTC tonight to May 14th, Fighting-type Pokémon will appear in increased spawns. In addition to this, you'll receive 2x XP in Gym and Raid Battles and 3000 Stardust and a Rare Candy guaranteed. You'll also receive double points for all gym actions
Edit @ 21:00: This event, as well as the rotation in Field Research and addition of Zapdos as a Research Breakthrough reward has now begun
Edit @ 21:02: New boxes are available in the shop
Special Box - 480 Coins - 2 Lucky Egg, 6 Premium Raid Passes & 2 Star Pieces Great Box - 780 Coins - 6 Lucky Egg, 5 Max Potion, 9 Premium Raid Passes & 6 Star Pieces
Ultra Box - 1480 Coins - 4 Super Incubators, 15 Lucky Eggs, 15 Premium Raid Passes & 15 Star Pieces
Edit @ 21:06: There are multiple reports of Shiny Makuhita & Meditite appearing in the game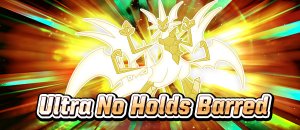 In The Games Department
Pokémon Ultra Sun & Ultra Moon - Battle Competition
Details for the next Battle Competition have been announced. This is the Ultra No Holds Barred competition. This is a Single Battle competition where players can only use Pokémon from the National Pokédex and prohibits use of Mewtwo, Lugia, Ho-Oh, Kyogre, Groudon, Rayquaza, Dialga, Palkia, Giratina, Arceus, Reshiram, Zekrom, Kyurem, Xerneas, Yveltal, Solgaleo, and Lunala. All Pokémon will be raised to Level 100 for the duration of the competition. Registration runs from May 17th 2018 to May 24th 2018. Battles will run from May 25th through May 27th. All entrants will get the 50 Battle Points. Special Download Rules are now available for this competition and our Battle Competition page has been update to list all eligible Pokémon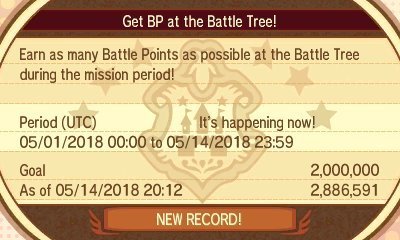 In The Games Department
Pokémon Ultra Sun & Ultra Moon - Global Missions
The seventh Pokémon Ultra Sun & Ultra Moon Global Mission has begun. This Global Mission's theme is to earn BP at the Battle Tree. The goal is to reach 2,000,000 BP earned by May 14th at 23:59 UTC. If the mission is a success, then participating players get 2,000 FC or 4,000 FC if they have a Global Link account tied to their game while if it's a failure players will get 1,000 FC or 2,000 FC if they have a Global Link account tied to their game.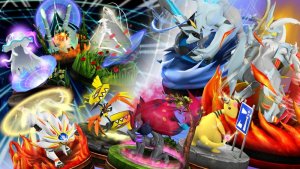 In The Games Department
Pokémon Duel - Update
The smartphone game, Pokémon Duel, has had a new update. This patch takes it to version 6.0.4 and requires 247MB of space on your mobile device to download. It is required to update in order to play the game
This patch contains various brand new figures. The UX Figures are Mega Tyranitar, Mega Aggron & Shaymin Sky Forme,
The EX Figures are Shaymin Land Forme & Regirock
The R Figures are Lycanroc Midday Form & Lycanroc Midnight Form
The UC Figures are Rockruff, & Relicanth
Several new Plates have also been added to the store
There is also an Extreme Gratitude promotion that gives you a Booster Ticket each day as well as an Alolan Raichu and other bonuses
Finally a new Team Match is starting with signups soon. This Team Match runs from May 11th and offers a Shiny Espeon figure as reward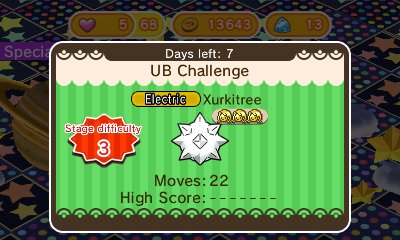 In The Games Department
Pokémon Shuffle - Events
Pokémon Shuffle has begun Week 12 of its event cycle. This cycle continues the Pokémon Safari from last week as well as the following stages that will run for a week
The Ultra Challenge Stage is a stage for Xurkitree
The Great Challenge Stages are Kingdra, Turtwig (Winking), Rhyperior, Togekiss (Winking) & Reshiram
The Daily Pokémon are Slurpuff (Winking), Audino (Winking), Togetic (Winking), Carbink (Winking) & Swirlix (Winking)
There's a One Chance Per Day stage for Thundurus
There's a Special stage for Salamence
In addition to this, there's a Darkrai Escalation Battle which will run for two weeks.