06-04-2018 03:05 BST / 22:05 EDT by Serebii
This update may be amended throughout the day so be sure to check back. If you have any ideas for the site, be sure to send them in
Since the release of Pokémon Ultra Sun & Ultra Moon, the Discord Chat has been rife with discussion, so be sure to visit it. Our Forums have also had these discussion and are a bustling trade and competitive section for the games. Be sure to like our FaceBook Page.
Last Update: 21:06 BST
Edit @ 06:24: Japan Championships
Edit @ 06:57: Pokkén Group Match | Edit @ 20:02: Pokémon GO | Edit @ 21:06: Community Day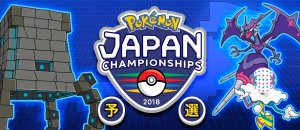 In The Games Department
Pokémon Ultra Sun & Ultra Moon - Battle Competition
Details for the next Battle Competition have been announced. This is the Japan Championships 2018 Qualifiers competition and is only available to players in Japan. This is a Double Battle competition using standard VGC rules, with players being able to earn a place in the Japan Championships being held in June 9th & 10th in the Makuhari Messe Exhibition Hall 11 in Chiba, Japan, to gain entry to the World Championships being held in Nashville this August.
All Pokémon will be raised to Level 50 for the duration of the competition. Registration runs from April 6th 2018 to May 11th 2018. Battles will run from May 11th through May 14th. All entrants will get the 50 Battle Points.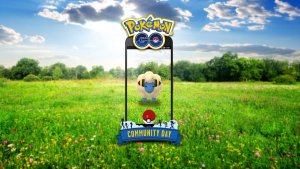 In The Games Department
Pokémon GO
It has been confirmed that during the Community Day on April 15th 2018, if you evolve Flaaffy into Ampharos during the three hour window, your Ampharos will know Dragon Pulse, a move it can't normally learn in Pokémon GO but learned from X & Y after it became capable of Mega Evolving into Mega Ampharos. The Community Day runs at the following times:
The Asia-Pacific region: 12:00 P.M. to 3:00 P.M. JST (GMT +9)
Europe, the Middle East, Africa, and India: 09:00 A.M. to 12:00 P.M. UTC (GMT +0)
The Americas and Greenland: 11:00 A.M. to 2:00 P.M. PST (GMT -8)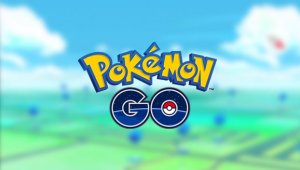 In The Games Department
Pokémon GO
As part of the usual celebrations that seem to happen around prominent conventions, the Unown Letters of P, A & X have started apearing enmass around the Boston Convention and Exhibition Center in Boston, Massachusets to coincide with the PAX East event. This is expected to last throughout the weekend.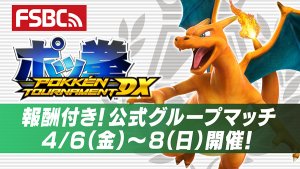 In The Games Department
Pokkén Tournament DX
The next special Group Match has begun on Pokkén Tournament DX. Until April 8th you can participate in the "Searing Blaze" Group Match. This cup is a Basic Battle competition, once again on a Fixed Battle Arena. Participating in this brings a special title reward based on Charizard, and if you place highly you'll get other titles based on your placement.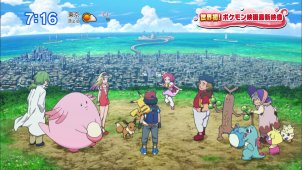 In The Anime Department
Pokémon the Movie 2018
It has been announced that the latest bit of footage of the new Pokémon movie, Everyone's Story, will air on Japanese Variety Show Oha Suta on Monday April 9th, and with this a new Pokémon will be revealed, presumably the Mythical Pokémon Zeraora. Currently it's not known entirely what will be contained in this footage but we'll provide full details as they come so be sure to check back.