16-03-2018 05:10 GMT / 01:10 EDT by Serebii
This update may be amended throughout the day so be sure to check back. If you have any ideas for the site, be sure to send them in
Since the reveal of Pokémon Ultra Sun & Ultra Moon, the Chatroom & Discord Chat has been rife with discussion while the WiFi Chatroom has been a place for battles & trades, so be sure to visit them. Our Forums have also had these discussion and are a bustling trade and competitive section for the games. Be sure to like our FaceBook Page.
Last Update: 21:17 GMT
Edit @ 05:15: LINE Stickers | Edit @ 05:24: Group Match | Edit @ 17:02: Heatran & Regigigas | Edit @ 20:10: Pokémon GO Community Day | Edit @ 20:15: Lugia in Raid Battles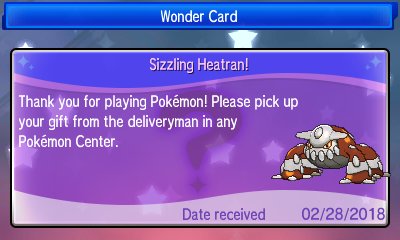 In The Games Department
Pokémon Sun, Moon, Ultra Sun & Ultra Moon - Regigigas & Heatran Event
For those of you in North America, the codes for the second month of the Legendary Pokémon Year events have begun to be sent out. These codes come in the Trainer Club Newsletter and each e-mail only provides one code. players will be able to get a Regigigas in Pokémon Sun and Ultra Sun or Heatran in Pokémon Moon and Ultra Moon. These distributions differ between Sun & Moon and Ultra Sun & Ultra Moon with the Pokémon being Level 60 in Sun & Moon and Level 100 holding a Gold Bottle Cap in Ultra Sun & Ultra Moon. Our Event Database has full details of this event.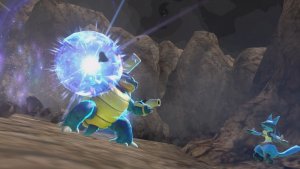 In The Games Department
Pokkén Tournament DX - DLC Wave 2
Some new details have been confirmed for the Pokkén Tournament DX DLC coming out next week. This comes with a variety of screenshots of Blastoise and Mew/Celebi support. Its Burst Attack will cause it to Mega Evolve into Mega Blastoise and then attacks hard. It starts close range but gains distance. Mew uses the move Miracle Power, one unique to this game which increases Synergy Gauge, and even Attack and Critical Hits. Celebi uses an attack that will cause a Phase Shift, even if the move is blocked. We've added over a dozen new screenshots to our page so be sure to check it out. There are also new player outfits as well as new outfits for Nia. The Player Outfits are: Blastoise T-Shirt, Rock Guitar Set, Bi-Colour Hair, Glasses and Refreshing Stole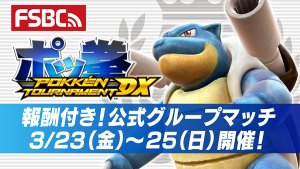 In The Games Department
Pokkén Tournament DX
The next special Group Match has been announced on Pokkén Tournament DX. From March 23rd through March 25th you can participate in the "Gun Destruction" Group Match. This cup is a Team Battle competition, once again on a Fixed Battle Arena. Participating in this brings a special title reward based on Blastoise, and if you place highly you'll get other titles based on your placement.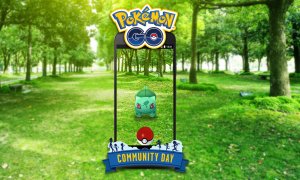 In The Games Department
Pokémon GO
Niantic have announced the next element of this month's Pokémon GO Community Day. All Venusaur that have evolved from Ivysaur during the duration of the Community Day on March 25th will have the move Frenzy Plant, a move that no other Pokémon currently has in the game. This runs at specific times:
The Asia-Pacific region: 12:00 P.M. to 3:00 P.M. JST (GMT +9)
Europe, the Middle East, Africa, and India: 09:00 A.M. to 12:00 P.M. UTC (GMT +0)
The Americas and Greenland: 11:00 A.M. to 2:00 P.M. PST (GMT -8)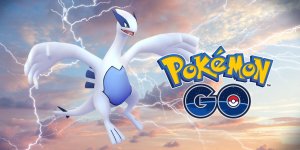 In The Games Department
Pokémon GO
Following the announcement yesterday, Rayquaza has now left Raid Battles and Lugia will be starting to appear in Raid Battles globally in Pokémon GO. With this, the move Sky Attack has received an increase in damage output from 70 to 80, with all Pokémon knowing Sky Attack getting the boost. Lugia is in Raid Battles until April 2nd 2018
Edit @ 21:17: As raid battles have begun against Lugia, there are multiple reports that Shiny Lugia is possible to get following the Raid Battles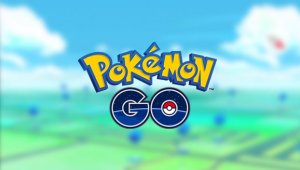 In The Games Department
Pokémon GO
Niantic have confirmed that they are including multiple account linking in the near future. Now, you can link a Facebook and Google account up to Pokémon GO and log in through either of those, as well as the Pokémon Trainer Club account letting you log in with any of the three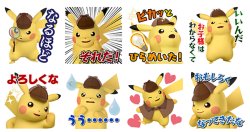 In The Pokémon Department
Pokémon - LINE Stickers
For those of you who have the social media app, LINE on your iOS, Android or Windows Mobile devices, The Pokémon Company will be putting out new stickers for the app in Japan on March 23rd until June 14th. These stickers are focused on Detective Pikachu. This pack costs 180¥
LINE