17-04-2018 05:02 BST / 00:02 EDT by Serebii
This update may be amended throughout the day so be sure to check back. If you have any ideas for the site, be sure to send them in
Since the release of Pokémon Ultra Sun & Ultra Moon, the Discord Chat has been rife with discussion, so be sure to visit it. Our Forums have also had these discussion and are a bustling trade and competitive section for the games. Be sure to like our FaceBook Page.
Last Update: 23:09 BST
Edit @ 07:02: Pokémon Shuffle | Edit @ 15;38: Raikou & Entei | Edit @ 20:00: Community Day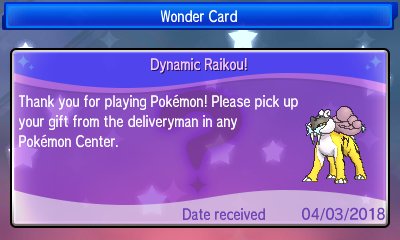 In The Games Department
Pokémon Ultra Sun & Ultra Moon
For those of you in Canada, the newsletter that contains Serial Codes for Entei (Sun/Ultra Sun) or Raikou (Moon/Ultra Moon) are now being sent out and received. Like the other distributions, they differ between games with Ultra Sun/Ultra Moon's being Level 100 with a Gold Bottle Cap and Sun & Moon's being Level 60. Sun & Ultra Sun get Entei while Moon & Ultra Moon get Raikou. Our Event Database has been updated with full details of these events. The United States receives thie event through Serial Codes obtained at Target stores from April 22nd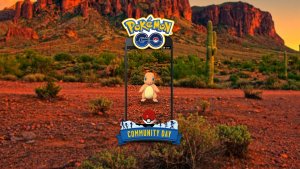 In The Games Department
Pokémon GO
Following the accidentaly reveal of next month's Community Day on the Japanese site yesterday, we have some further confirmation. On May 19th, Charmander will appear as part of the Community Day and any Charizard that evolved from Charmeleon during the event will have a special move. During the Community Day event, lure modules will last 3 hours and you obtain 3x Stardust on captures. This runs at specific times:
Asia & Oceania: 03:00 UTC - 06:00 UTC (12:00 JST - 15:00 JST)
Europe: 09:00 UTC - 12:00 UTC (10:00 BST - 13:00 BST / 12:00 CET - 15:00 CET)
North America: 18:00 UTC - 21:00 UTC (11:00 PDT - 14:00 PDT / 14:00 EDT - 17:00 EDT)
Edit @ 23:09: The special boxes for the Kanto Celebration have been announced to stay in the game until April 24th rather than end with the Kanto Celebration today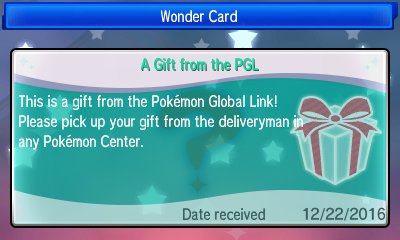 In The Games Department
Pokémon Ultra Sun & Ultra Moon - Global Link Gift
For those of you who participated in the 2018 International Challenge March Battle Competition, the entry gift is now available to all qualifying players through this link after logging into the Global Link. This gift is 50 Battle Points and can be redeemed by March 31st 2018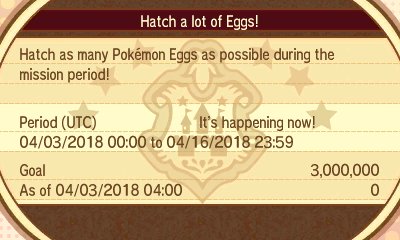 In The Games Department
Pokémon Ultra Sun & Ultra Moon - Global Missions
The sixth Pokémon Ultra Sun & Ultra Moon Global Mission has finished in success. This Global Mission's theme was to hatch Eggs and was a success at 4,887,292 Pokémon hatched. As it was a success, the gift of 2,000 FC, or 4,000 FC if the game is connected to the Global Link, is now available.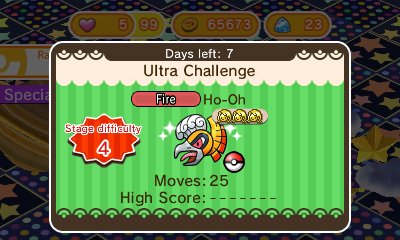 In The Games Department
Pokémon Shuffle - Events
Pokémon Shuffle has begun Week 10 of its event cycle. This cycle continues the Pokémon Safari from last week as well as the following stages that will run for a week
The Ultra Challenge Stage is a stage for Ho-Oh (Shiny)
The Great Challenge Stages are Raichu (Alolan), Armaldo, Shaymin Sky Forme, Mudsdale & Oranguru
The Daily Pokémon are Oricorio P'au Style, Alolan Grimer, Dewpider, Alolan Sandshrew & Brionne
There's a One Chance Per Day stage for Tornadus
There's a Special stage for Tyranitar (Shiny)
In addition to this, there's a Diancie Escalation Battle which will run for two weeks.