23-02-2018 05:03 GMT / 00:03 EST by Serebii
This update may be amended throughout the day so be sure to check back. If you have any ideas for the site, be sure to send them in
Since the release of Pokémon Ultra Sun & Ultra Moon, the Chatroom & Discord Chat has been rife with discussion while the WiFi Chatroom has been a place for battles & trades, so be sure to visit them. Our Forums have also had these discussion and are a bustling trade and competitive section for the games. Be sure to like our FaceBook Page.
Last Update: 21:41 GMT
Edit @ 07:13: Pokémon GO | Edit @ 08:23: Detective Pikachu Theme | Edit @ 10:23: Pokkén Tournament Group Match | Edit @ 14:04: Legendary Week in Pokémon GO | Edit @ 21:41: Movie News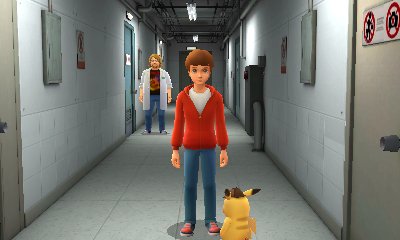 In The Games Department
Detective Pikachu
A new trailer has been released for Detective Pikachu. This trailer showcases more of the game but doesn't provide much more new information. However, it does note that in North America, some retailers will provide a download code for a special 3DS theme. In addition to this, a special demo for the start of the game will be released in early March, which will then have its progress transfer to the game. In addition to this, many new Pre-Release Screenshots have been added to our pre-release screenshot page
Edit @ 07:24: It has also been confirmed that physical pre-orders at the Pokémon Center in Japan will come with a special storybook called Detective Pikachu ~Episode 0: Eevee's Request~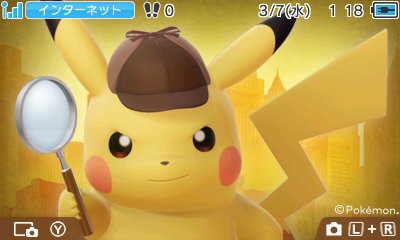 In The Games Department
Detective Pikachu
The first image has come for the upcoming Detective Pikachu 3DS theme. This theme, as noted above, will be available when you buy Detective Pikachu at select retailers in North America, while in Japan it is given when you purchase Detective Pikachu off the Nintendo 3DS eShop before April 21st. This 3DS theme has a special imagery thatm oves when you scroll showcasing Detective Pikachu in various poses, as well as a Mimikyu
Detective Pikachu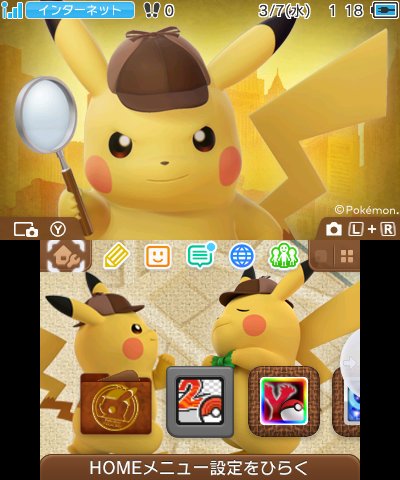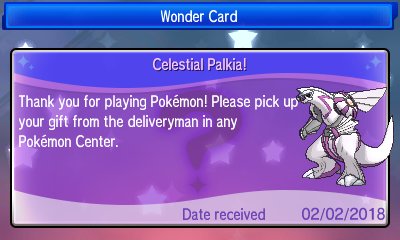 In The Games Department
Pokémon Ultra Sun & Ultra Moon
For those of you in many countries, the Dialga & Palkia event is due to end next week. This event gives a Palkia to Sun and Ultra Sun and a Dialga to Moon and Ultra Moon. In Sun & Moon, these are Level 60 while in Ultra Sun & Ultra Moon they are Level 100 and hold Gold Bottle Caps. This is the first month in a year long campaign giving away the version exclusive Legendary Pokémon. It runs until February 28th 2018.
In the US & Ireland, you can get codes at Gamestop until February 28th
In Canada & Australia, you can get codes at EBGames until February 28th
In the UK, you can get codes at GAME until February 28th
In Spain, you can get codes at GAME until February 28th
In Germany, Denmark, Norway, Sweden, Finland & Italy, you can get codes at Gamestop until February 28th
In France, you can get codes at Micromania until February 28th
In the Netherlands, you can get codes at GameMania until February 28th
In the Netherlands and Belgium it can be found at Game Mania, or in Belgium Smartoys
In Portugal, it can be obtained at FNAC stores
The codes can be redeemed until May 23rd 2018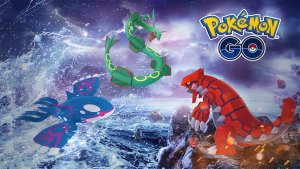 In The Games Department
Pokémon GO
Legendary Week has been announced. From February 23rd through to March 5th, Kyogre and Groudon will appear again in Raid Battles in Pokémon GO along with Rayquaza. Following this, depending on which of the three Legendary Pokémon are defeated the most, from March 5th to March 16th, the egg distributions will be different. If Groudon is defeated, then Grass, Ground and Fire-type Pokémon will appear more in Eggs. If Kyogre is most defeated, then Water, Electric and Bug-type Pokémon will appear more in eggs and if Rayquaza is most defeated, then Psychic, Dragon and Flying-type Pokémon will appear more in eggs. To coincide with this, starting tomorrow more Special Boxes will be available containing valuable items including Premium Raid Passes
Edit @ 21:24: A new Special Box has gone live. This box has got 6 Lucky Eggs, 20 Pinap Berries, 6 Star Pieces and 30 Ultra Balls for 480 Coins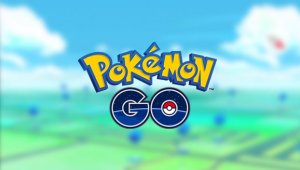 In The Games Department
Pokémon GO
A special new raid boss has been announced for Japan. To tie in with the current Team Rainbow Rocket takeover of the Pokémon Center stores, from February 26th to March 11th, a special raid battle will appear. This is a Raid against Giovanni's Nidoking. This Nidoking is stronger than previous Nidoking Raid bosses that ran in the game until recently. If players succeed in defeating Giovanni's Nidoking, they will receive a special sticker from the staff. The raids run every 90 minutes from 4pm on Weekdays and 11am on Weekends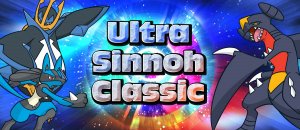 In The Games Department
Pokémon Ultra Sun & Ultra Moon - Battle Competition
Battles for the next Battle Competition has begun. This is the Ultra Sinnoh Classic competition. This is a Single Battle competition using rules where players can only use Pokémon that were in the Sinnoh Pokédex. No Alola Forms, Mega Stones or Z-Crystals are allowed. Dialga, Palkia, Giratina, Phione, Manaphy, Darkrai, Shaymin and Arceus are banned. All Pokémon will be raised to Level 50 for the duration of the competition. Battles run from February 23rd through February 25th. All entrants will get the 50 Battle Points.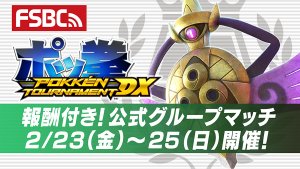 In The Games Department
Pokkén Tournament DX
The next special Group Match has begun on Pokkén Tournament DX.Until February 25th you can participate in the Underworld Ruler Group Match. This cup is a Team Battle competition, once again on a Fixed Battle Arena. Participating in this brings a special title reward based on Braixen, and if you place highly you'll get other titles based on your placement.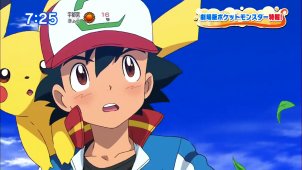 In The Anime Department
Pokémon the Movie 2018
It has been announced that the world premiere of the latest bit of footage of the new Pokémon movie, which features Lugia, will air on Japanese Variety Show Oha Suta on Tuesday February 27th. Currently it's not known what will be contained in this footage but we'll provide full details as they come so be sure to check back.