29-05-2018 05:01 BST / 00:01 EDT by Serebii
This update may be amended throughout the day so be sure to check back. If you have any ideas for the site, be sure to send them in
Since the release of Pokémon Ultra Sun & Ultra Moon, the Discord Chat has been rife with discussion, so be sure to visit it. Our Forums have also had these discussion and are a bustling trade and competitive section for the games. Be sure to like our FaceBook Page.
Last Update: 10:50 BST
Edit @ 07:01: Pokémon Shuffle | Edit @ 08:05: Oha Suta
In The Games Department
Pokémon - Oha Suta
Japanese Variety Show, Oha Suta, to share "shocking" Pokémon news on May 31st 2018, which is listed as "a moment a new story begins". This episode is due to air at 07:05 JST on Thursday May 31st 2018. At present it's not clear what the news is but we'll provide full details as they come
Edit @ 10:50: TV Tokyo's website for Oha Suta's episode on Thursday has removed the description of "Shocking Pokémon news" & "a moment a new story begins" and has replaced it with "Full of Pokémon Information"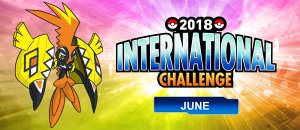 In The Games Department
Pokémon Ultra Sun & Ultra Moon - Battle Competition
Details for the next Battle Competition have been announced. This is the 2018 International Challenge June competition. This is a Double Battle competition using standard VGC rules, with players being able to earn CP to go towards qualification for the World Championships.. All Pokémon will be raised to Level 50 for the duration of the competition. Registration runs from June 7th 2018 to June 14th 2018. Battles will run from June 15th through June 17th. All entrants will get the 50 Battle Points.
In addition to this, this allows players to earn Championship Points to go towards a place in the World Championships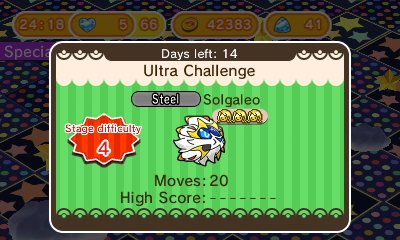 In The Games Department
Pokémon Shuffle - Events
Pokémon Shuffle has begun Week 16 of its event cycle. This cycle has the following stages that will run for a week
The Ultra Challenge Stage is a stage for Solgaleo
The Great Challenge Stages are Machamp, Politoed, Tepig (Winking), Keldeo Resolute Forme and Zygarde 10% Forme
The Daily Pokémon are Clefairy (Winking), Charmander (Winking), Squirtle (Winking), Bulbasaur (Winking) & Jigglypuff (Winking)
There's a One Chance Per Day stage for Cosmoem
There's a Special stage for Luxray
In addition to this, there's a Zygarde 50% Forme Escalation Battle which will run for two weeks.