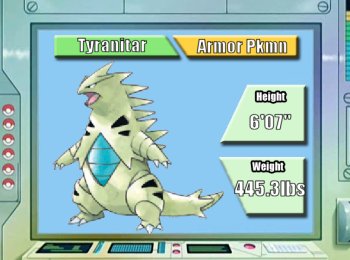 Tyranitar, The Armor Pokémon. It is so overwhelmingly powerful, it can bring down a whole mountain to make its nest. It roams in mountains seeking new opponents to fight. Its body can't be harmed by any sort of attack, so it is very eager to make challenges against enemies. Extremely strong, it can change the landscape. It has an insolent nature that makes it not care about others. In just one of its mighty hands, it has the power to make the ground shake and mountains crumble.
Overview
Tyranitar, the beast from GSC. Tyranitar has always been a popular choice, understandably so with such an awesome move pool, great stats and a solid typing. Gamefreak have been incredibly kind to Tyranitar, it has always been a superior Pokémon but in Diamond and Pearl it looks like it will be taking just an extra notch up the ladder.
The special and physical split is the main change that has favoured Tyranitar. It now has physical Dark typed STAB to use alongside the pre-existing Rock STAB, which also got a significant improvement with the addition of Stone Edge.
Of course, D/P hasn't been completely positive for TTar since it wasn't the only Pokémon who got significant benefits from it. Pokémon it used to wall with ease, such as Alakazam and Gardevoir, got a new toy in the form of Focus Bomb, meaning Tyranitar needs to think twice about switching into them. Also, old enemies also got a boost. Heracross and a fair few fighting types are salivating at the sight of Adherence Scarf, the speed boost will set them above all variations of Tyranitar 90% of the time, even after it's got a Dragon Dance set-up. New enemies have also shown their face as well: Garchomp, frequently dubbed as "Land Shark", is always going to be threatening since it can KO Tyranitar with its STAB boosted Earthquake, and just as an extra spit in the face, it also looks like it may be a contender for Tyranitar's spot as the most fearsome physical sweeper.
Still, even with old and new enemies Tyranitar is still likely to remain a staple of Competitive Battling, new opponents may look like they're going to threaten its position but at the end of the day, a well played Tyranitar is always going to be a threat to any team that hasn't come prepared for it.
Trait
Sandstream: is Tyranitar's only choice, in effect it's an 'infinite' Sandstorm that will rage through the battle until another weather move is used to cancel it out. This can be both a benefit and a burden. For Tyranitar is a huge benefit. A new addition to Sandstorm in this generation was a 1.5x boost to Special Defence for every Rock type whilst Sandstorm is in play.
Additional advantages that come from Sandstorm is the passive damage and the fact that it can automatically cancel out other weather effects. Also, a handful of Pokémon can take advantage of Sandstorm through their ability, namely Sand Veil, which boosts evasiveness slightly.
Ironically however, all of those advantages can easily become burdens. Your own team-mates will be effected by the damage from Sandstorm and opposing Rock Types will become significantly tougher, and any opposing Sand Veil users will become harder to hit. Most good teams that intend to use Tyranitar should be built in a way that they can contain and mitigate the burdens that come from an 'infinite sandstorm'.
Move Sets
The Dragon Dancer
- Earthquake
- Dragon Dance
- Taunt
- Stone Edge / Crunch
Item Attached: Leftovers
Trait: Sandstream
EVs and Nature:
EVs: 76 HP / 252 Atk / 180 Spd
Adamant Nature (+Atk, -SAtk)
The classic Tyranitar of the 3rd Gen, to put it quite simply it was a beast and it's more than likely that it will continue to be a beast. So long as you can take out the direct counters you can normally expect this set to get a clean sweep with ease. After one Dragon Dance it outruns the majority of Pokémon and after two there's only a handful left that can outrun it, of course with the addition of Adherence Scarf there will be a few more Pokémon with the capability to outrun it but a Dragon Dancing Tyranitar is still something to fear.
Earthquake is an obvious move, it may not get STAB but its strength and coverage more than makes up for that. Dragon Dance is a given, it should be obvious that it wouldn't be a DD-Tar without Dragon Dance. Taunt was always the standard of 3rd Gen DD-Tars and since Taunt got a significant boost in D/P I expect that to remain the same. For those who don't know, Taunt's job is to stop opponents like Skarmory from Whirlwinding away your Dragon Dances and to stop the likes of Weezing from hitting you with Will-o-Wisp.
Crunch and Stone Edge is where indecision is likely to be. Both get STAB and both are very good moves. Picking between them will be tough but it's really up to preference and also what you need the most.
Although you may feel tempted to run both along with Earthquake, in turn ditching Taunt, I wouldn't advise it. Without Taunt you are exposed to being Hazed and statused. There is certainly room for a three attack DD-Tar if you can play it correctly but for over all reliability using Taunt is the way to go.
EVs and Nature:
This is another area where you may see some indecision, there's several viable ways to go with it. Max Attack isn't a necessity but it's certainly useful and there really isn't a downside to using that much, although if Tyranitar is being used as a back-up wall as well as sweeper (for example being used to wall Flying and Normal attacks) then a more defensive EV spread may be appropriate. The other area of focus for your EVs will be speed, which will be covered in depth, and finally the rest of the EVs can be dumped into HP.
The bare minimum speed to run with Tyranitar is 203. With 203 speed, after a single Dragon Dance you will outrun every Pokémon in the Base 100 Speed category so long as they don't have a nature boost for their speed. This would include: Salamence, Zapdos, Slaking, Flygon and a few others. 200 is all you would need to outrun those after a Dragon Dance but those extra three speed points are to ensure that you will also outrun Garchomp provided it hasn't got a nature boost.
EVs: 76 HP / 252 Atk / 180 Spd
Adamant Nature (+Atk, -SAtk)
The next big speed stat is 221, Adamant Tyranitar's absolute max. After a single DD you will outrun all of the aforementioned Base 100 Pokémon regardless of them running a Speed boosting nature, although unfortunately a Max Speed Jolly Garchomp will still outrun you.
EVs: 4 HP / 252 Atk / 252 Spd
Adamant Nature (+Atk, -SAtk)
The final big speed stat is 243, Tyranitar's absolute max and requiring the investment of a plus Speed nature (ideally Jolly). After a single Dragon Dance a Jolly TTar can outrun Raikou, Starmie, Gengar and Tauros (and a few others). It'll also outrun faster Pokémon like Aerodactyl, Jolteon, Dugtrio, Sceptile and Alakazam if they lack a plus Speed nature.
EVs: 4 HP / 252 Atk / 252 Spd
Jolly Nature (+Spd, -SAtk)
Choice-Tar
- Stone Edge
- Earthquake
- Crunch
- Pursuit / Focus Punch / Ice Fang
Item Attached: Choice Band
Trait: Sandstream
EVs and Nature:
EVs: 4 HP / 252 Atk / 252 Spd
Adamant Nature (+Atk, -SAtk)
Choice Band Tyranitar. It packs an incredibly hard punch without the need to boost its stats beforehand. The two STAB moves and Earthquake are pretty obvious choices, the last slot will likely bring some variation though. Physical Pursuit is pretty nice, especially with Choice Band behind it. You can catch Pokémon trying to escape from Tyranitar (such as Gengar) and get a surprise KO. Focus Punch is also nice with prediction and for catching opponents switching in. Ice Fang is an option for hitting Garchomp as well as the many Pokémon with an Ice weakness (such as: Flygon, Breloom and Torterra).
EVs and Nature:
It's pretty straight forward. Max speed is nice, even though Tyranitar is slow a lot of Pokémon are slower when it's running Max Speed. Without speed EVs you won't be able to outrun opponents like: Milotic, Suicune and Metagross, and outrunning them is a pretty nice bonus.
Jolly is worth consideration since it'll notch you just a little faster and will outrun a handful of extra opponents (such as very defensive Celebis and Jirachis who lack Speed EVs) but the bonus isn't as much as you would gain on a Dragon Dance set and losing the attack boost is pretty significant.
Sub-Puncher
- Focus Punch
- Substitute
- Crunch
- Stone Edge
Item Attached: Leftovers
Trait: Sandstream
EVs and Nature:
EVs: 252 HP / 252 Atk / 4 Def
Adamant Nature (+Atk, -SAtk)
There's plenty of nice offence on this set, with Max Attack and a Substitute to hide behind Tyranitar can cause a lot of pain for opponents. Substitute can also come as a nasty surprise if opponents attempt to status you, throwing up a Sub just before Weezing or Dusknoir try to Will-o-Wisp is essentially a free turn. The fact that Tyranitar can achieve a 404 HP stat means that its Substitutes will need two Seismic Tosses to be broken and that nice collection of resistances means Tyranitar will have plenty of opportunities to throw up a Substitute.
EVs and Nature:
Max HP is a given, Max HP IVs are also pretty much required, 101 HP Subs are part of what makes this set effective since it can freely set-up on any opponent who relies on Night Shade or Seismic Toss to do damage. Its possible to pull this set off without it but Max HP is preferable. Aside from that, Max Attack is obvious. Some speed may be a nice investment to allow Tyranitar to outrun a few more threats but I can't think of any significant ones that would call for more Speed on a set like this.
Tyrani-Boah
- Focus Punch
- Substitute
- Dark Pulse / Crunch
- Thunderbolt
Item Attached: Leftovers
Trait: Sandstream
EVs and Nature:
EVs: 252 HP / 68 Spd / 188 SAtk
Quiet Nature (+SAtk, -Spd)
The Tyrani-Boah of the 3rd Gen, pioneered by Jumpman16 and chaos of Smogon. At one point this set was the standard and destroyed teams fairly easily. It was really a product of what was popular when the set was created, Pokémon like: Blissey, Skarmory, Claydol, Suicune, Donphan, Dusclops and Celebi were popular choices in teams, and Tyrani-Boah was capable of taking them all on. It functions quite similarly to the aforementioned Sub-Puncher set with an emphasis on Special Attacking, although with Crunch going physical it would be possible to run a similar set but with a focus on physical attacking with Thunderbolt as added support, although in all honesty if you want to go that route you would probably be better off with the pure physical attacker mentioned above than a 'sort of' Tyrani-Boah.
This set might find itself reduced to novelty status since it's unlikely that the 4th Gen competitive battling scene is likely to shape up in such a defensive way as the 3rd Gen did but the set is still worth a mention if only for a nod at history.
EVs and Nature:
Quiet was the standard for the special attacker with a lot of Special Attack. As with the aforementioned Sub-Puncher, 404 HP is very helpful. The speed is to allow it to outrun Weezing, who would otherwise be able to catch it with Will-o-Wisp before it can get a Substitute in place.
If you were to run a more physically emphasized "Boah" set you would pretty much just change the nature and EVs. You won't hit certain Pokémon as hard (such as Donphan and Suicune) but it's still viable.
EVs: 252 HP / 188 Atk / 68 Spd
Brave Nature (+Atk, -Spd)
Adherence Scarf
- Stone Edge
- Earthquake
- Crunch
- Pursuit / Focus Punch / Ice Fang
Item Attached: Adherence Scarf
Trait: Sandstream
EVs and Nature:
EVs: 4 HP / 252 Atk / 252 Spd
Jolly Nature (+Spd, -SAtk)
This is pretty much the Choice Band Tyranitar with Adherence Scarf. You won't pack as strong a punch but you'll have the surprise factor going in your favour.
EVs and Nature:
I would say that Jolly is worth the investment for the same reasons that it's helpful on DD-Tar, that extra nature boost sets you above a lot of Pokémon (which were mentioned previously) and unlike the Choice Band Tar, this set is more about hitting weak but fast Pokémon rather than being a hard hitter (although in its own regard it still hits very hard). Adamant certainly isn't a poor investment however.
Adherence Glasses
- Dark Pulse
- Ice Beam
- Thunderbolt
- Flamethrower / Surf / Focus Punch
Item Attached: Adherence Glasses
Trait: Sandstream
EVs and Nature:
EVs: 4 HP / 252 Spd / 252 SAtk
Modest Nature (+SAtk, -Atk)
Going purely on special offence is somewhat of a novelty with Tyranitar, especially when you consider its physical options, but that decent Special Attack stat and good set of move choices makes this somewhat viable. Aside from that, it's played quite similarly to the Choice Band TTar: get in, predict, get out. The final special move can be dropped for Focus Punch if you're particularly concerned about being walled by Blissey and Snorlax but chances are by the time they catch on that it's a pure Special Attacker you will have done all the damage you can expect to do. As mentioned previously, it is somewhat of a novelty on Tyranitar when compared to its physical sets but it's an option, maybe not a strong option but an option nonetheless.
EVs and Nature:
It's pretty straight forward, Max Speed and Max Special Attack. If you choose to run Focus Punch you may wish to consider using a nature that doesn't lower Attack but aside from that its pretty simple.
Other Options
Rock Slide, Aerial Ace, Thunder Wave, Curse, Iron Defence, Thunder Fang, Fire Fang, Snow Slide, Screech, Rock Cart, Ancient Power, Hidden Power [Rock], Stealth Rock, Roar.
Rock Slide will always be an option over Stone Edge for the extra 10% accuracy, but when you factor in the power boost and the fact that the side effect is usually more helpful (mainly because it can crit opponents switching in whilst you can't flinch Pokémon switching in) you'll probably find yourself converted into using Stone Edge.
Aerial Ace wipes the floor with Breloom and Heracross, and both are major threats to Tyranitar, and it's generally helpful for hitting Grass, Bug and Fighting types anyway. It's a shame that its base power is so low though, a STAB Crunch will do around about the same damage as a super-effective Aerial Ace so its use will only come into play when it's either 4x effective or when Crunch is resisted.
Thunder Wave is just generally a good move but unfortunately a lot of Tyranitar's best counters are defensive Ground types who are immune to Thunder Wave.
Curse and Iron Defence would be okay choices if it wasn't for its fairly wide cross-section of weaknesses, Curse in particularly would've been interesting since it also boosts Tyranitar's attack. Unfortunately the aforementioned weaknesses will severely diminish the usefulness of any set attempting to use either of the two and in general Dragon Dance is a better use of your time if you want to stat boost.
Thunder Fang and Fire Fang are some more physical options that Tyranitar has access to. Over all I would say they aren't worth the move slot investment when compared to its other options, Ice Fang only creeps into usefulness because of the large number of Pokémon with a 4x weakness to it.
Snow Slide can be used over Ice Fang if you want to but in general the Pokémon that Snow Slide will hit are the kind of Pokémon Tyranitar doesn't want to be taking a hit from anyway.
Screech will scare a lot of Pokémon and force a fair few switches. Pokémon who are willing to take a hit from Tyranitar after having their defence halved are few and far between. Stack some Spikes or Stealth Rocks with it and you can get a bit of passive damage but over all Tyranitar's other options are better.
Rock Cart will make Tyranitar faster than just about every Pokémon available but Tyranitar has Dragon Dance anyway and for the most part that's the superior choice.
Ancient Power and Hidden Power [Rock] are special Rock STAB moves but Tyranitar's other special moves cover everything Rock hits and their power is comparable to both of those moves even after STAB (in fact: Ice Beam, Flamethrower, Surf and Thunderbolt are stronger than Ancient Power even after STAB).
Stealth Rock is a move Tyranitar has gotten but with it being spread to so many Pokémon it probably is better off to use it on something else. Tyranitar's primary job it to be a sweeper, leave supporting to other Pokémon.
Roar is a Pseudo-Hazing option, but the opponents who are likely to stat-boost usually have moves to hit Tyranitar with anyway so it isn't all that good at it. Once again as with Stealth Rock, it's probably better to leave support moves to other Pokémon.
Countering Tyranitar
Tyranitar is still as beastly and fearsome as it ever was, the fact that it has gotten Dark Typed STAB just makes it that much more scary. It'll essentially be a necessity for a team to have a reliable Dark and Rock resister if they don't want to see Tyranitar march through them.
In the 3rd generation the standard way to counter Tyranitar was with tough Pokémon of either the Ground or Water type. Good examples of these include: Donphan, Swampert, Suicune and Milotic. And from the new comers, there's a few others to add: Torterra, Hippowdon and Gliscor being the prominent ones.
Even though the "Bulky Ground or Water type" rule of thumb still holds true somewhat it isn't as simple as that with Crunch and Stone Edge added to the mix. Its going to become even more important to figure out what set the opposing Tyranitar is using and especially important to figure out if its using Choice Band or not. Choice Band Tyranitar is a scary sight, you can expect it rack up about 40-50% damage on most of those 'counters' if you end up walking into the wrong move and since it's likely to be faster than them Tyranitar won't have any issues staying in and finishing the job. If that didn't make it clear enough, you need to predict who you switch to wisely and your team should always have at least one reliable Dark, Rock and Ground resister, and preferably one who is capable of threatening Tyranitar.
As for the Dragon Dancer, that's slightly easier to deal with, of course the Dragon Dancer always shines when you've been worn down to the point where you are no longer prepared to handle it. In general, any one of those Bulky Ground or Water types mentioned previously can handle the Dragon Dancer and pose an immediate threat with a STAB Ground or Water move. If Tyranitar lacks Crunch: Bronzong, Claydol and Flygon can also join that list. Cresselia would also be a decent counter for Crunch-less Tar even with the lack of Stone Edge resistance, but still, those bulky defences are really useful.
The secondary counter to the DDer is a Pokémon who can KO it before they get KOed. With the addition of Adherence Scarf this has become even easier with Pokémon like Heracross easily reaching a 400+ speed stat. The new "Quick Attack" additions are also helpful: Aqua Jet, Palette Punch, and Vacuum Blade, alongside the pre-existing Mach Punch. The fighting typed ones will able to get an OHKO with a high enough attack stat but the other two will only be reliable for picking off an injured Tyranitar or grabbing a 2KO, of course that may be all you need anyway.
Most Tyranitars will use either Substitute or Taunt (obviously excluding the Choice Band Tar), which makes statusing it with either Paralysis or Burn that much harder, but if you can land either of those it will significantly cut Tyranitar's offensive abilities.
Tyranitar also has a somewhat broad collection of weaknesses. Water, Grass, Bug, Steel, Ground and Fight. It really isn't all that hard exposing one of Tyranitar's weaknesses for most Pokémon, prediction can be a significant difference maker. If you think Tyranitar is going to switch into your Alakazam's Psychic then throw a Focus Bomb its way, if you think it's going to wall your Salamence's Aerial Ace then throw an Earthquake in front of it.
There are also new moves added with D/P that are worthy of note:
Somersault is a wonderful move that will really be a help against Tyranitar, not only can the Pokémon get a super-effective hit but afterwards they can bounce off to a Tyranitar counter anyway.
A few more Fighting attacks have been added to the fray. I've mentioned Focus Bomb several times already but other new ones include: Arm Hammer, In Fight and Pulse Bomb, all of which are a positive step forward from Brick Break.
Grass, Steel and Bug also got some other toys, stuff like Scissor Cross and Energy Ball are going to make Tyranitar's life difficult and Iron Head is certainly a big help to all those Steel types who had to deal with Iron Tail as their STAB move (and even then many of those didn't bother with it).
Water has also gotten a boost. Aqua Jet was mentioned before but the physical/special split means the Water types more inclined to physical offence now have Waterfall and Aqua Tail whilst the special attackers still have Surf and Hydro Pump to rely on.
Ground hasn't changed all that much however. Earthquake is still going to be the staple physical attack but on the special side of things Land Power has been added as an extra worry for Tyranitar, although Tyranitar can breath a sigh of relief knowing that it hasn't been spread to many Pokémon (and many of the ones who got it had Earthquake before anyway).
Locations in Games
Ruby/Sapphire

Trade from FRLGCXD

Colosseum/XD

Snagged from Evice in Realgam Tower (Col.) Evolve Pupitar (XD)

Fire Red/Leaf Green

Evolve Pupitar

Diamond/Pearl

Evolve Pupitar (Diamond) Trade from Diamond/Transfer from GBA Games (Pearl)
Animé Appearences