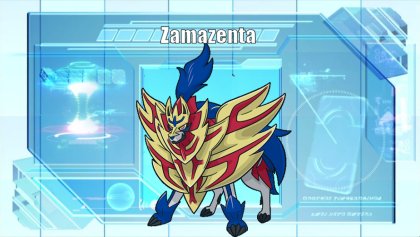 Zamazenta, The Warrior Pokémon. In times past, it worked together with a king of the people to save the Galar region. It absorbs metal that it then uses in battle. This Pokémon slept for aeons while in the form of a statue. It was asleep for so long, people forgot that it ever existed. Its ability to deflect any attack led to it being known as the Fighting Master's Shield. It was feared and respected by all. Now that it's equipped with its shield, it can shrug off impressive blows, including the attacks of Dynamax Pokémon.
Overview
Zamazenta may be the cover legendary of Shield, but it does not reach the same accolades of its Sword counterpart. Its high stats are let down by several gaping holes in its movepool, preventing it from functioning effectively as a wall or setup sweeper. Zamazenta's typing is also a curse. Many of its fellow legends are Psychic, Fairy and Flying, and teams being prepared for other Steel types equates to an environment that is incredibly hostile to Zamazenta. Zamazenta has the makings of a hero, with high all-around stats, a good ability, and a plethora of resistances, but its flaws render it the worst of the best.
Positives
Blazing 138/128 speeds make Zamazenta difficult to outspeed, a rarity for defensive Pokémon.
Dauntless Shield shield boosting its Defense makes it a reliable pivot into physical attacks.
Base 145 Defenses, and a Steel typing in Crowned form enable Zamazenta to take multiple hits.
Negatives
Lack of Reliable recovery, leaving Zamazenta to be worn down quickly.
Poor typing. Its STABs are resisted by many targets, and provide weaknesses that are easily exploited by a hostile environment.
Offense is lacking in both boosting options and Body Press for a Fighting STAB
Unable to Dynamax, missing out on some sorely needed bulk and self-boosting moves.
Movesets
A Slumbering Hero
-Behemoth Bash
-Close Combat
-Howl
-Rest
Item Attached: Rusted Shield
Ability: Dauntless Shield
EVs and Nature:
252 HP / 194 SDef / 60 Spe
Careful Nature
Rest Crowned Zamazenta enables it to make the most out of its stellar defenses. Pivot into resisted moves, Statuses, etc setup with Howl and begin grinding through the opponent's team. Close Combat and Behemoth Bash are Zamazenta's best STABs, despite their low PP having decent coverage and Behemoth Bash's ability to punish Dynamax. Howl is necessary due to the lack of investment in Zamazenta's attack. Rest is what really turns this set on the head, enabling Zamazenta to disregard status and giving it more durability throughout the game, allowing it to switch in more and buying more time for extra Howls.
DYNAMAX:
Zamazenta cannot Dynamax.
EVs and Items:
Rusted Shield is necessary for getting the buffed defenses and greater defensive profile. EVs are into HP and Special Defense to make it as bulky as possible, with Defense being buffed by Dauntless Shield. 60 Speed EVs are necessary to outspeed unboosted Base 90s like Kyogre and Groudon. Could be possible to go full into Defense and rely on a teammate to
Other Options:
Crunch -lacks STAB and raw power but provides far superior coverage against the many Psychic and Ghost types running around.
Partners:
Pokémon with Heal Bell make excellent partners for Zamazenta, enabling easy recovery from Sleep and enabling it to avoid Resting every time it gets statused. Blissey stands out for its ability to sponge Special Attacks in contrast to Zamazenta's physical bulk. Kyogre makes another excellent partner with phenomenal special bulk, reducing Fire damage with Rain and offensively answering Fire, Ground and Flying type that otherwise trouble Zamazenta. Defoggers provide entry hazard control, which is necessary when Crowned Zamazenta will be constantly pivoting into moves and cannot negate them with Heavy Duty Boots
Banded Shield Hero
-Close Combat
-Crunch
-Wild Charge
-Play Rough
Item Attached: Choice Band
Ability: Dauntless Shield
EVs and Nature:
4 HP / 252 Atk / 252 Spe
Adamant Nature
Choice Band Zamazenta takes advantage of its impressive speed and attack to compromise opposing Pokémon for Zamazenta's teammates to clean up. Zamazenta's Defense and Dauntless Shield enables it to come in multiple times on the many physical threats in the format and threaten with its good coverage. Close Combat is reliable STAB move that hits many Steel types like Ferrothorn, Excadrill and Dialga. Crunch and Wild Charge deal with the common Fighting resists, like Solgaleo, Lunala, Giratina, and Calyrex Shadow rider for the former and Ho-Oh, and Yvetal for the latter. Play Rough provides an answer against Rayquaza, Dracovish and a recoiless answer vs Yvetal.
DYNAMAX:
Zamazenta cannot Dynamax.
EVs and Items:
Choice Band offers immediate power that is otherwise hard for Zamazenta to come by. Max Attack and Speed to make Zamazenta as effective as possible in attacking.
Other Options:
Psychic Fangs -Hits Eternatus, Amoongus and other Poison types that resist Close Combat.
Partners:
Yvetal makes an excellent partner, answering Psychic and Ghost types, and clearing entry hazards and screens while starting a Fighting Dark Psychic core. Giratina and Lunala answer Psychic types and can switch into Poison moves while providing status support.
Countering Zamazenta
Dauntless Shield does not increase Zamazenta's Special Defense, so strong special attackers like Kyogre, Xerneasand Calyrex Shadow Rider can exploit Zamazenta's weaker defense for an easy 1-2HKO. However, Zamazenta's high speed makes it difficult to outright counter.
Lugia and Giratina prove frustrating opponents to Zamazenta as well. Lugia walls both Crowned and Uncrowned Zamazenta, and while it struggles to do damage to Crowned Zamazenta, it can easily Whirlwind any boosts away and rack up entry hazard damage. Giratina can outright cripple Zamazenta with Will-o-Wisp and quickly drains Close Combat and Behemoth Bash PP thanks to pressure, while again needing multiple boosts to punch through.
Other checks are dependent on Zamazenta's moves. Ho-oh fears Wild Charge, but otherwise walls most Zamazenta's and cripple it with Sacred Fire burns. Defensive Eternatus excels against sets lacking Psychic Fangs.
Locations in Games
Red/Blue/Yellow:
Not in game
Gold/Silver/Crystal:
Not in game
Ruby/Sapphire/Emerald:
Not in game
FireRed/LeafGreen:
Not in game
Colosseum/XD:
Not in game
Diamond/Pearl/Platinum:
Not in game
HeartGold/SoulSilver:
Not in game
Black/White:
Not in game
Black 2/White 2:
Not in game
X/Y:
Not in game
Omega Ruby/Alpha Sapphire:
Not in game
Sun/Moon:
Not in game
Ultra Sun/Ultra Moon:
Not in game
Let's Go, Pikachu!/Let's Go, Eevee!:
Not in game
Sword/Shield:
Slumbering Weald (Shield)
Trade from Shield (Sword)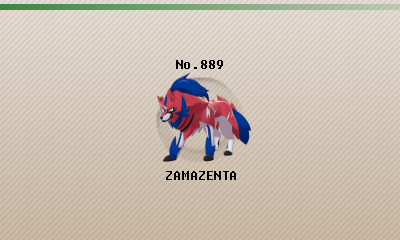 Anime Appearences
| | |
| --- | --- |
| Zamazenta has made a few appearances in the anime. Most notably, it joined Zacian in helping Ash & Goh stop Eternatus. | |