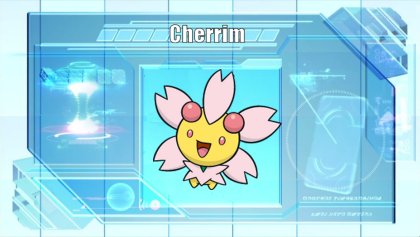 Cherrim, The Blossom Pokémon. During times of strong sunlight, its bud blooms, its petals open fully, and it becomes very active. If it senses strong sunlight, it opens its folded petals to absorb the sun's rays with its whole body. It is docile as a bud, but turns cheerful when it blooms. It folds back into a bud if sunlight wanes. It blooms during times of strong sunlight. It tries to make up for everything it endured as a bud.
Overview
Cherrim is a rather unique Pokémon. Following on from the concept of weather changing forms introduced by Castform, Cherrim furthers this with a specific kind of weather, sunshine. Outside the weather, Cherrim is extremely mediocre as it seems like just an ordinary weak Grass-type Pokémon just with offensive moves and no powder ones. However, when you throw it in sunshine, it can be somewhat formidable and, in Doubles & Triples, potentially evil, but we'll get to that later, but in activating the ability, you will also power up one of the main types that will take out Cherrim, Fire-type, which will just destroy Cherrim with ease. Cherrim has decent coverage with its movepool, but really it is outclassed by most.
Positives
- It has a decent offensive movepool
- It can prevent itself from getting hit by status
- Its ability really benefits your team in Doubles & Triples, and Cherrim in singles

Negatives
- Its stats are mediocre at best
- Its gimmick ability causes it to be more easily pummeled by its main weakness
- Fire-types will kill it.
Abilities
Flower Gift: Ally's Attack and Special Defence are multiplied by 1.5 during strong sunlight. - This ability is very handy in double & triple battles as it shores up your allies. Boosting Cherrim's Attack in singles can be helpful and make Cherrim a decent force to be reckoned with.
Movesets
Cherrim Blossom
- Sunny Day
- Seed Bomb
- Return
- Aromatherapy
Item Attached: Heat Rock
Ability: Flower Gift
EVs and Nature:
EVs: 252 Atk / 252 Speed / 4HP
Adamant Nature
This is your standard Physical Cherrim set. While in past generations, you'd normally have Nature Power here to turn into Earthquake, that has changed in X & Y so an equally powerful and seldom resisted Return would be your best bet. Sunny Day and Heat Rock are rather standard as they will activate Flower Gift and boost Attack to a decent level, with the Heat Rock extending the sunshine to 8 turns. Seed Bomb gets STAB and can do some significant damage while Aromatherapy will simply heal Cherrim and the rest of the team of any status condition.
A Special Cherry for Pac-man
- Sunny Day
- Aromatherapy / Healing Wish
- Solar Beam
- Hidden Power Fire / Rock
Item Attached: Heat Rock
Ability: Flower Gift
EVs and Nature:
EVs: 252 SAtk / 252 Speed / 4HP
Modest Nature
Even though the Special Attack stat isn't boosted, Cherrim's Special Attack is passable and can be abused easily. Like before, sunshine is key here. Solar Beam is a move that takes advantage of the sunshine and means that you don't have to take a turn to charge. With STAB, this becomes incredibly brutal and can take down many Pokémon. Aromatherapy will heal the team's status conditions while Healing Wish will allow for Cherrim to faint (if it's about to faint itself else it's just a waste) and heal the next Pokémon you use. Hidden Power gives decent coverage against Bug or Flying-type Pokémon with Fire getting the nice Sunny Day boost.
Other Options
Dazzling Gleam, Giga Drain, Morning Sun/Synthesis, Worry Seed
Dazzling Gleam is a new move in Cherrim's movepool and gives decent coverage
Giga Drain is a good move that can do damage and heal Cherrim
Morning Sun & Synthesis work well when in sunshine, because they will heal a lot of Cherrim's health, but taking the turn, they may be rather useless
Substitute can be useful to allow for Cherrim to survive hits and do what it needs to do
Weather Ball works well in the sunshine as it gets a massive power boost, change to Fire-type and the sunshine increase
Worry Seed can be used to nullify weather removing abilities
Double & Triple Battle Options
With Flower Gift as Cherrim's ability, it seems almost too obvious that double/triple battle teams would want to exploit the Attack and Special Defense Boost as much as possible. Cherrim isn't a threat by itself but its partner under the sun will be the threat, like Sacred Fire Entei. The set here will make sure Cherrim's Partner is always hitting hard.
Mario would like this Doubles Cherry
- Helping Hand
- Sunny Day
- Solarbeam/Leech Seed
- Weather Ball/Protect
Item Attached: Heat Rock
Ability: Flower Gift
EVs and Nature:
EVs: 252 SAtk, 252 Speed
Modest/Timid Nature
If opting for Leech Seed and Protect, run Timid 252 HP instead of SAtk.
Cherrim needs the sun, period. The entire reason to run Cherrim is for Flower Gift, should Sand Stream activate again or your opponent is running Rain Dance Bronzong there needs to be a way to immediately get the sun back up for Flower Gift. Helping hand to make those Sun Boosted, Flower Gift Boosted, Stab Physical Fire attacks even more insanely powerful.
Despite Flower Gift boosting Cherim's own Attack, the only Physical attacks it learns is Seed Bomb and... Return. So Special Attacking it is. Under the Sun, Solarbeam won't need to charge and Weather Ball essentially becomes a base 150 Fire Move. Leech Seed and Protect are for keeping Cherrim alive essentially keeping Flower Gift up.
Flower Gift is to Cherrim as Wonder Guard is to Shedinja. Neither Cherrim or Shedinja would see play if not for their abilities, and if said abilities were on stronger Pokemon, they could become game breaking.
I wouldn't recommend Cherrim to any serious sun team, but here are some damage calcs to showcase just how absurdly powerful attacks can get with Cherrim's help.
+1 252+ Atk Choice Band Entei Helping Hand Flare Blitz vs. 0 HP / 0 Def Kingdra in Sun: 259-306 (89 - 105.1%) -- 31.3% chance to OHKO
+1 252 Atk Choice Band Victini Helping Hand V-create vs. 0 HP / 0 Def Kingdra in Sun: 322-380 (110.6 - 130.5%) -- guaranteed OHKO
Countering Cherrim
Fire-types. Simply put, Fire-type Pokémon with Fire-type moves will destroy Cherrim. Going the physical route would be best due to the lack of increased Special Defense, but even with that, you'd have a good chance of KOing Cherrim in one hit if using the right Pokémon like Delphox, Charizard, Ninetales or more. Alternatively, you could go the standard Bug-type or Flying-type route as it's not as likely going to be able to counter it. Another way to go is to participate in a weather war, either by nullifying the weather or by replacing it with other types of weather. Without Sunny Day in effect, Cherrim is next to useless so removing the weather would be very beneficial to your team.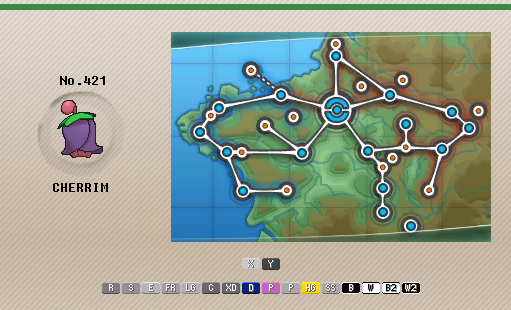 Locations in Games
Ruby/Sapphire/Emerald:
Not in game
FireRed/LeafGreen:
Not in game
Colosseum/XD:
Not in game
Diamond/Pearl/Platinum:
Evolve Cherubi
HeartGold/SoulSilver:
Evolve Cherubi
Black/White:
Route 12
Black 2/White 2:
Trade from Black/White
X/Y:
Transfer from Generation V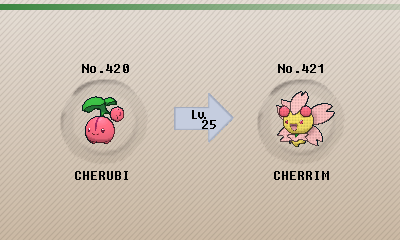 Animé Appearences
| | |
| --- | --- |
| Cherrim has made several appearances in the anime, most of which were cameos. | |