07-06-2016 05:08 BST / 00:08 EDT by Serebii
This update may be amended throughout the day so be sure to check back. If you have any ideas for the site, be sure to send them in
With the generation continuing and Nationals coming up globally, and the Chatroom has been rife with discussion while the WiFi Chatroom has been a place for battles, trades and Friend Safari hunting, so be sure to visit them. Our Forums have also had these discussion and are a bustling trade and competitive section for the games. Be sure to like our FaceBook Page.
Last Update: 22:16 BST
Edit @ 07:02: Pokémon Shuffle | Edit @ 07:48: Comaster | Edit @ 08:23: Mew Event | Edit @ 10:57: Pokémon Election | Edit @ 14:15: European eShop sale | Edit @ 19:01: Pokémon Sun & Moon - QR Code News | Edit @ 22:16: Pokémon Symphonic Evolutions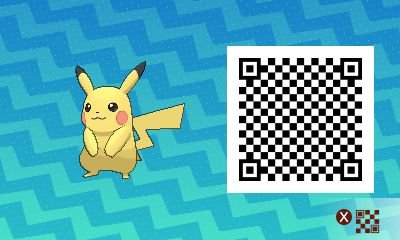 In The Games Department
Pokémon Sun & Moon - QR Code Details
On Thursday, a lot of Pokémon Sun & Moon news was released and hidden within it was a piece of information pertaining to the special QR Code Scanner aspect of the game. Back in April, a new arcade game was announced called Pokémon Ga-Olé, which replaces the current Pokémon Tretta, is coming to Japan in July 2016. This arcade game has got new discs and on these discs is a special QR code. Previously, we didn't know what the QR code is for, however it is confirmed that these QR Codes are the first set of special Pokémon QR Codes that will be compatible with Pokémon Sun & Moon through the QR Scanner. We'll bring full details on this arcade game when it launches next month and more details on the QR Scanner features, and products featuring the QR Codes, as they come.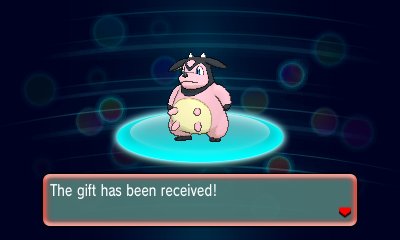 In The Games Department
Pokémon Omega Ruby & Alpha Sapphire - Whitney's Miltank
For those of you who participated in the recent Johto Classic Battle Competition, the entry gift is now available to all qualifying players. This gift is a Miltank based on the Miltank used by Goldenrod City Gym Leader, Whitney in Pokémon Gold & Silver. It can be redeemed until July 31st at 23:59 UTC. Our Event Database has been fully updated with details of this event.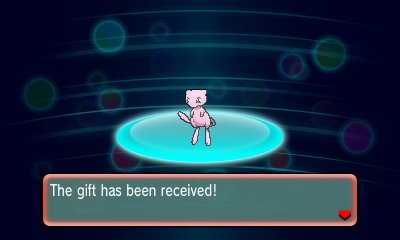 In The Games Department
Pokémon XYORAS - Mew Event
Following the surprise release, and then removal last week, the second chance distribution of Mew in Europe has become active again. This distribution is available by entering the code MEW2016 and can only be redeemed if you didn't obtain the Pokémon 20th anniversary Mew back in February. It is only available until June 30th 2016 so don't miss this chance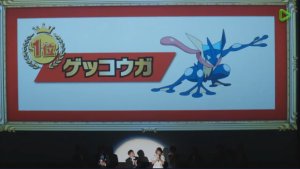 In The Games Department
Pokémon Elections
Today marks the results of the Pokémon Elections. Over the past few months a special contest has been running in Japan in conjunction with the upcoming Pokémon movie, Volcanion & The Ingenious Magearna, that has had members of the public vote for the most popular Pokémon. This vote is to culminate in the distribution gift at the movie from July 16th, various merchandise, as well as a special edition New Nintendo 3DS LL in a contest in CoroCoro magazine. The winners are as follows
#720 (Last Place) Simisear
#05 Sylveon
#04 Pikachu
#03 Mew
#02 Arceus
#01 Greninja
As such, Greninja will be distributed at the movie from July 16th 2016, and will be holding a Master Ball. Full details will be given in the next issue of CoroCoro. We'll bring more details as it comes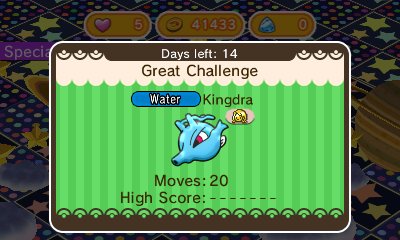 In The Games Department
Pokémon Shuffle - Events
A few brand new challenges have begun on Pokémon Shuffle and Pokémon Shuffle Mobile.
First, the Kingdra stage has begun its first run on Pokémon Shuffle. It runs until June 21st 2016.
Next, the Landorus stage has begun a repeat run until June 14th 2016. Each day, the likelihood of catching this Pokémon will increase
Next, the Beedrill stage has also begun a repeat run until June 21st 2016.
Next, the Uxie stage has also begun a repeat run until June 21st 2016
Next, the Daily Pokémon (#5) stages of Maractus, Dunsparce, Qwilfish, Durant and Heatmor have begun a repeat run until June 21st
All of these require the version 1.3.12 to download. Our Pokémon listings have been updated with these Pokémon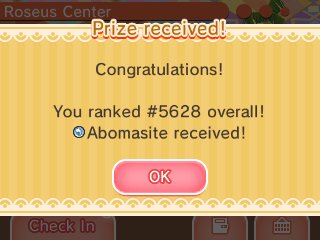 In The Games Department
Pokémon Shuffle - Events
If you were one of the lucky players worldwide who ranked in the Mega Abomasnow competitive stage over the past week, then the Abomasite is now available to be received. The Attack Power and Mega Speedups for the higher ranked players will also be obtained. If you didn't qualify, then you can redeem a Disruption Delay. To get these items, simply Check In between now and June 14th 2016 at 06:00 UTC and you will receive the item.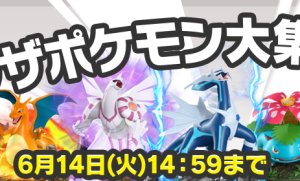 In The Games Department
Pokémon Comaster
The Pokémon Comaster app has had an update and with this update, a new Trevo has been added until June 14th. This Trevo, the Concept Trevo, has higher rates to get Pokémon with EX being at 1%, R being at 3% and UC being at 5.2%. Included in this is the new figure for Turtwig, as well as the addition of Bagon and Machamp to the Trevo. Our Figures section has been updated with the new figure
In addition to this, it has been announced that you can reset the challenges from June 25th in order to redo challenges on each stage. When you do, you will get 3 Diamonds per challenge. You can only get up to 120 Diamonds in this way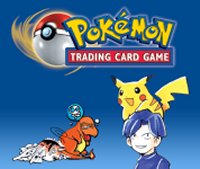 In The Games Department
Pokémon - EU eShop Sales
Nintendo of Europe have announced that, to celebrate the 5th anniversary of the Nintendo eShop, the following three Pokémon games are to be available at a reduced price from Thursday June 9th to Thursday June 23rd 2016. The games and sale prices are as follows
Pokédex 3D Pro - Ł6.69/€7.49 - 50% off
Pokémon Link: Battle - Ł3.59/€3.99 - 50% off
Pokémon Trading Card Game - Ł2.19/€2.49 - 50% off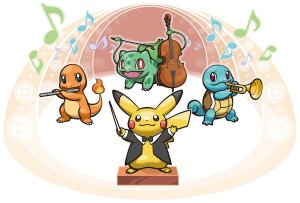 In The Pokémon Department
Pokémon Symphonic Evolutions
Following the last two years of concerts across the US since 2014, two more new concerts have been announced for Pokémon Symphonic Evolutions for 2017. Tickets for both will be on sale from this Friday.
First, in Orlando, Florida in the US, a concert will be held at the Walt Disney Theater at 2pm on Sunday April 30th 2017
Secondly, in Toronto, Ontaria in Canada, a concert will be held at the Sony Centre for the Performing Arts at 7:30pm on Saturday May 6th 2017