18-10-2016 07:05 BST / 02:05 EDT by Serebii
Be sure to check yesterday's update for a new Pokémon. This update may be amended throughout the day so be sure to check back. If you have any ideas for the site, be sure to send them in
With the new generation upcoming, and the Chatroom has been rife with discussion while the WiFi Chatroom has been a place for battles, trades and Friend Safari hunting, so be sure to visit them. Our Forums have also had these discussion and are a bustling trade and competitive section for the games. Be sure to like our FaceBook Page.
Last Update: 15:21 BST
Edit @ 07:07: Pokémon Shuffle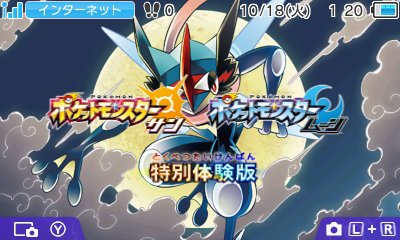 In The Games Department
Pokémon Sun & Moon
The Pokémon Sun & Moon demo is now live in the Nintendo 3DS eShop, and as such our coverage shall begin. The demo is 3046 blocks, approx. 380MB. All story based elements and any data extracted shall be put in the spoiler tag so you won't be spoiled
It will go live in North America at 07:00 PDT
04:14: A new Alolan Form Pokémon is seen in the demo. Check the spoiler tag
Demo:

03:07: The next Pokémon Sun & Moon information is to be released on October 27th at 22:00 JST which is 14:00 BST, 15:00 CEST, 09:00 EDT, 06:00 PDT
Edit @ 07:27: This is just a note to explain how we are going to move forward. Despite Game Freak's best efforts to scrub the demo, unfortunately some things have still got through including new Pokémon that have yet to be revealed. Due to legal circumstances, it has been decided that it is somewhat unwise to post these on Serebii.net. However, if you do wish to discuss the contents, you can feel free to in our
Discussion Thread
Edit @ 09:02: The demo is now live in Continental Europe
Edit @ 10:01: The demo is now live in the United Kingdom
Edit @ 15:21: The demo is now live in North America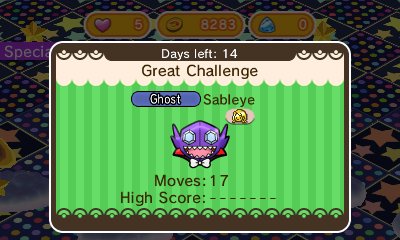 In The Games Department
Pokémon Shuffle - Events
A few brand new challenges have begun on Pokémon Shuffle and Pokémon Shuffle Mobile.
First, a special Sableye (Spooky) challenge has begun, giving a special new Ghost-type Sableye. It runs until November 1st 2016
Next, a new Pokémon Safari has begun and will run until November 1st 2016. This stage gives Zubat, Golbat, Crobat, Drifloon, Pumpkaboo (Spooky), Gourgeist (Spooky) and Pikachu (Spooky)
Next, a Drifblim stage has also begun. It also runs until November 1st 2016
Finally, the Hoopa Confined & Landorus Incarnate Forme stages have begun repeat runs. Hoopa runs until November 1st 2016 while Landorus runs until October 25th 2016
All of these require the version 1.3.24 to download. Our Pokémon listings have been updated with these Pokémon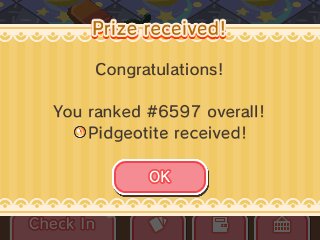 In The Games Department
Pokémon Shuffle - Events
If you were one of the lucky players worldwide who ranked in the Mega Pidgeot competitive stage over the past week, then the Pidgeotite is now available to be received. The Attack Power, Mega Speedup and Raise Max Level for the higher ranked players will also be obtained. If you didn't qualify, then you can redeem an Attack Power. To get these items, simply Check In between now and October 25th 2016 at 06:00 UTC and you will receive the item.