07-05-2018 14:04 BST / 09:04 EDT by Serebii
This update may be amended throughout the day so be sure to check back. If you have any ideas for the site, be sure to send them in
Since the release of Pokémon Ultra Sun & Ultra Moon, the Discord Chat has been rife with discussion, so be sure to visit it. Our Forums have also had these discussion and are a bustling trade and competitive section for the games. Be sure to like our FaceBook Page.
Last Update: 14:55 BST
Edit @ 14:55: Episode Titles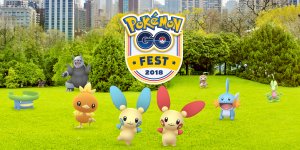 In The Games Department
Pokémon GO
Niantic have announced a collection of real life events.
Pokémon GO Fest returns to Chicago from July 14 to July 15. The event will be held in Lincoln Park with a walking course. Single day passes cost $20 and will go on sale on May 11th. It is said to be bringing with it a unique and immersive gameplay experience not seen in any of Niantic's previous live events
In Dortmund, Germany, a Safari Zone event will run on June 30th to July 1st in the Westfalenpark. It is open for all for free
There will be a Safari Zone event in Yokosuka, Japan later this Summer and more events held across Asia as the year progresses
The June and July Pokémon GO Community Days are on June 16th 2018 and July 8th 2018. The starring Pokémon are currently to be announced
Those who can't attend the events will also be able to play for other benefits. We'll bring more on all the events and their special contents for the game as and when they come so be sure to keep checking back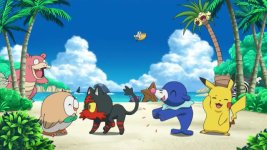 In The Anime Department
Pokémon Sun & Moon - Episode Title
Japanese TV Guides have revealed new episode titles for upcoming episodes of the anime. These episodes are due to air on May 17th, May 24th, May 31st and June 7th respectively. The first features Ash training for his journey and meeting Tapu Bulu again. The second features Team Rocket challenge Ash now that they have mastered Z-Moves. The third features Ash face off against Nanu for the Grand Trial where has has to beat three Pokémon in a row only using a single Pokémon.
Episode 1018: Tapu Bulu! Intense Slacker Training!!
Episode 1019: The Decisive Super Battle! Pikachu VS Mimikyu!!
Episode 1020: Nanu's Grand Trial! The Awakening of Lycanroc!
Episode 1021: Ultra Beast Clash! Operation: Rumble Crash!!