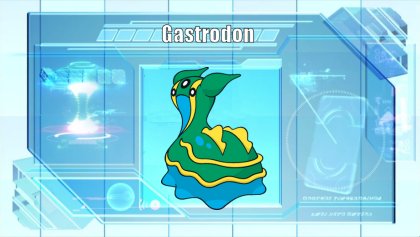 Gastrodon, The Sea Slug Pokémon. It secretes a purple fluid to deter enemies. This fluid isn't poisonous—instead, it's super sticky, and once it sticks, it's very hard to unstick. Its body is covered in a sticky slime. It's very susceptible to dehydration, so it can't spend too much time on land. Its search for food sometimes leads it onto land, where it leaves behind a sticky trail of slime as it passes through. The softness of its body helps disperse the force of impacts, so although its body is uncommonly squishy, it's also surprisingly resilient.
Overview
Gastrodon is a middling Pokemon that had its chance of limelight stolen by Seismitoad, all because of Stealth Rock access. However, good bulk and Storm Drain allow Gastrodon to act as a substitute to Seismitoad when your team has Stealth Rock on another Pokemon as it brings greater longevity and the ability to check sweepers that Seismitoad can't, but the lack of Stealth Rock is a real nail in Gastrodon's coffin. However don't let this seem negative as Gastrodon is still an excellent pivot with good bulk and typing to handle many threats.
Positives
Gastrodon has solid bulk and access to Recover, making it an excellent pivot
Water/Ground is fantastic typing as shown by Swampert and again, Recover makes Gastrodon harder to remove without huge offensive pressure.

Negatives
Gastrodon is very slow meaning it will always take a hit, and is easy to Taunt or Encore which turns it into setup fodder
Lacking Stealth Rock is huge for a Ground-type and it puts that burden onto another team member
Abilities
Sticky Hold - Pokemon can't lose items - Nice with Knock Off being really common but most times Storm Drain is better.
Storm Drain - Pokemon is immune to Water moves and gains 1 Special Attack stage when hit with a Water type move. In doubles, redirects spread Water type moves to the Storm Drain user - Great ability as anything that grants an immunity is solid, let alone one that turns in into offensive pressure.
Sand Force - Raises Rock, Ground, and Steel moves by 30% when in a sandstorm - Good but not on Gastrodon as you want to use it as a bulky pivot and not a wallbreaker, making Storm Drain or Sticky Hold better.
Movesets
Defensive
-Earth Power
-Scald
-Recover
-Clear Smog / Toxic / Yawn
Item Attached: Leftovers
Ability: Storm Drain
EVs and Nature:
252 HP / 104 Def / 152 SpDef
Calm Nature
Scald is one of the best moves for a defensive Pokemon and Gastrodon isn't an exception. Earth Power is a nice secondary STAB and helps Gastrodon deal with other Gastrodon and Qwilfish. Recover is mandatory for longevity while the last slot is open for Clear Smog for boosters or Toxic for walls, both being great based on your team. Yawn is also a strong move against Dynamax users and can really disrupt their attempt to sweep.
Gastrodon wants to be as generally bulky as possible, though the choice between mixed bulk or physical bulk depends on your preference. Leftovers gives Gastrodon extra longevity, though Sitrus Berry is also an alternative if item clause is an issue or if you want Gastrodon to perform better against individual threats. Storm Drain is the ideal ability since the Water immunity is one of the main draws to using Gastrodon in general, making it a good counter to the likes of Dracovish.
Partners
Hawlucha - With Gastrodon baiting in Grass types, Hawlucha is a nice option as it can easily force a switch and secure a boost with Swords Dance or White Herb Unburden. Gastrodon can also harass bulky Waters that could wall Hawlucha with Toxic, making it easier late game to break through them.
VGC & Double Battle Options
Gastrodon is a Pokemon that just keeps on finding a way to exist in the Doubles metagame, despite being a Pokemon that looks like it has little place in it. Storm Drain alone is a very powerful ability and the rise in Water-types only helped Gastrodon rise to the spotlight, since redirection and an immunity together make for a very powerful ability. The rise of Lapras hurts Gastrodon since it's a Water-type that easily beats Gastrodon, but otherwise it still has a place as a good Water-type deterrent. However, the downsides to Gastrodon lie in the fact that it is somewhat passive against foes it can't directly threaten with type advantage, so even if it's difficult to take it down right away it can quickly become a Pokemon that gets ignored for awhile while the foe beats down Gastrodon's teammates. It also has no way to deal with unexpected Grass-type moves since it's so slow, forcing it to use Rindo Berry to actually take a hit from them. The introduction of Venusaur also poses an issue as it introduces another actually threatening Grass-type to the metagame, so Gastrodon has it rough at the moment. However, none of this changes the fact that Gastrodon has a place in this metagame, and definitely a Pokemon to keep in mind while teambuilding.
Starry Slug
- Earth Power
- Scald / Ice Beam
- Recover
- Protect
Item Attached: Rindo Berry / Leftovers / Sitrus Berry
Ability: Storm Drain
EVs and Nature:
252 HP / 252 SpA / 4 SpDef
Quiet / Modest Nature
Gastrodon is fairly straightforward in its moveset, Earth Power is the primary STAB option due to Ground-type coverage being very useful in the current VGC metagame. Scald is naturally a powerful secondary STAB option with a nasty burn chance, but it's not entirely mandatory since the extra coverage it provides has few notable targets that Earth Power doesn't already handle, namely Rhyperior. Ice Beam is useful for threatening Grass-types such as Whimsicott or Venusaur instead, since with Rindo Berry it can take a hit and otherwise punish them for ignoring it. Recover keeps Gastrodon healthy in the long run which makes it harder for teams relying on Dracovish or Milotic, and in general it can help Gastrodon win out late-game. Protect provides a useful pivoting tool especially against foes that may want to target it with a Grass-type move, and in general it's great to have Protect on such a slow Pokemon.
The EV spread is highly customizable since there are many useful benchmarks to consider on Gastrodon, though having a lot of HP and Special Attack investment is important for Gastrodon to actually contribute to the team. However, Gastrodon can afford to invest further bulk for specific defensive benchmarks and otherwise invest in Speed to hit specific Speed tiers. The choice between Quiet and Modest nature largely depends on which Speed tiers are useful for your team, and there's generally no perfect answer here. Rindo Berry is the most common item choice to allow Gastrodon to handle random Grass-type coverage from threats such as Gyarados, though the rise of Venusaur also makes it easier to accept that Grass-types will usually beat it anyway so Leftovers or Sitrus Berry can be used for general longevity.
Other Options & Team Ideas
-Incineroar is back so it goes without saying that Incineroar is a Pokemon you want to consider for any Doubles team. In particular, Incineroar is very good against the Grass-types that threaten Gastrodon though they will still usually outspeed both Pokemon so you'll need more than just Incineroar to handle Grass-types.
-Corviknight is another Grass-type check that pairs decently with Gastrodon, though both are somewhat passive slow Pokemon so they'll need more offensive teammates to pick up the offensive pressure.
-Togekiss is still broken and it only continues to get better, boasting unmatched flexibility in its sets. However, as a Grass-type check it has a few issues since Venusaur can threaten it, and also outspeed Togekiss with sun support.
-Tyranitar is a great teammate for Gastrodon that really appreciates Storm Drain, and the sandstorm it provides is also useful at disrupting the sun support that you will often see on Venusaur teams.
-If Rotom Mow is a problem, consider Dragapult as a teammate since it resists all of its common move choices and only really fears Will-O-Wisp. However, with the introduction of Incineroar there's also less Rotom Mow going around anyway.
Countering Gastrodon
Grass types - Resisting both STABs and always OHKOing back, nearly any Grass type will beat Gastrodon. Rillaboom is a nice option as it can slow whatever comes in with Drum Beating and thus probably get a solid hit in or Substitute on Gastrodon. Eldegoss is similar but is a better pivot and can sleep something or Leech Seed it, but it is otherwise more passive. Finally Rotom Mow is just immune to Earth Power and can just pivot out, or even Trick and cripple Gastrodon.
Locations in Games
Red/Blue/Yellow:
Not in game
Gold/Silver/Crystal:
Not in game
Ruby/Sapphire/Emerald:
Not in game
FireRed/LeafGreen:
Not in game
Colosseum/XD:
Not in game
Diamond/Pearl/Platinum:
Routes 213, 218, 221, 222, 224 & 230, Fuego Ironworks (Diamond/Pearl)
Route 205 South, Route 212 South, Route 213, Pastoria City, Canalave City, Valley Windworks, Route 218, Route 224, Fuego Ironworks (Platinum)
HeartGold/SoulSilver:
Evolve Shellos
Black/White:
Trade from Black 2/White 2
Black 2/White 2:
Evolve Shellos
X/Y:
Friend Safari
Omega Ruby/Alpha Sapphire:
Evolve Shellos
Sun/Moon:
Ancient Poni Path, Exeggutor Island, Poni Wilds
Ultra Sun/Ultra Moon:
Ancient Poni Path, Exeggutor Island, Poni Breaker Coast, Poni Wilds
Let's Go, Pikachu!/Let's Go, Eevee!:
Not in game.
Sword/Shield:
Route 9, Dusty Bowl, Galar Mine No. 2, Giant's Mirror
Max Raid Battles: Bridge Field, Dusty Bowl, Giant's Cap, Giant's Mirror, Lake of Outrage, Rolling Fields, South Lake Miloch, West Lake Axewell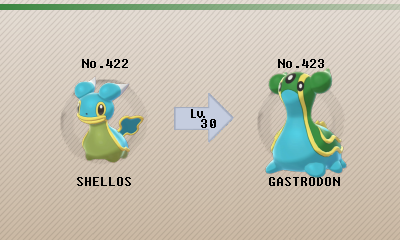 Animé Appearences
| | |
| --- | --- |
| Gastrodon has made a few appearances in the anime. Most notably, Zoey and Paul use them in the Sinnoh Region during their Grand Festival and Pokémon League campaigns respectively. Sinnoh Champion Cynthia also used one. | |