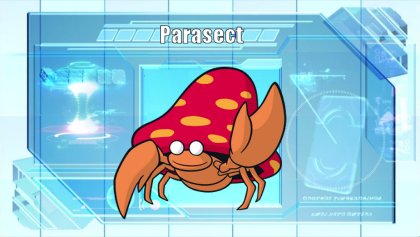 Parasect, The Mushroom Pokémon. A mushroom grown larger than the host's body controls Parasect. It scatters poisonous spores. The larger the mushroom on its back grows, the stronger the mushroom spores it scatters. Parasect is known to infest large trees en masse and drain nutrients from the lower trunk and roots. When an infested tree dies, they move onto another tree all at once.
Overview
Ah Parasect. I have always liked the concept of you. Before Amoonguss came, you were the ultimate powder user, being one of just a few fully evolved Pokémon with access to Spore and with decent Attack and low enough Speed to help reign in a Trick Room, you had so much potential. It has just one problem: Its weaknesses. It has two 4* weaknesses to some of the most common types in the games: Fire and Flying, as well as multiple other weaknesses. Not having the Hit Point bulk that Amoonguss has, this makes it the rather subpar option, but it's still somewhat usable. It's just a shame that such a cool looking Pokémon, with such a wide range of status moves is let down by its weaknesses
Positives
+Works somewhatwell in a Trick Room
+Decent Attack...95 is not amazing, but decent, which puts it ahead of Amoonguss
+Fantastic support movepool
+It gets Spore...100% Sleep setting move.

Negatives
-Its weaknesses just destroy it. 4* weak to Fire & Flying, 2* weak to Ice, Poison, Bug & Rock
-Its offensive movepool lacks a lot of coverage
-Its bulk of 60/80/80 is barely adequate
Abilities
Effect Spore: The opponent has a 10% chance of being induced by PARALYZE, POISON, or SLEEP when using an attack, that requires physical contact, against this Pokémon. - It's a decent enough ability, with a small chance of screwing over an opponent.
Dry Skin: HP is restored when hit by Water-type moves or when it is raining but also makes the Pokémon weak to Fire-type moves and reduces HP during strong sunlight. - Gives an immunity to Water-type moves, and makes it more useful with Rain Support, and the added Fire-type effectiveness doesn't really matter on Parasect as it'd die from an Ember.
Hidden Ability (Available):
Damp: Explosion and Selfdestruct will not work while the Pokémon is on the field. - Yeah, don't use this.
Movesets
The Parasect Queen!
-Spore
-X-Scissor
-Seed Bomb
-Knock Off/Pursuit
Item Attached: Leftovers
Ability: Dry Skin
EVs and Nature:
EVs: 252 HP / 252 Atk / 4 Def
Adamant Nature
That's right, it's an attacking set. This set is obviously best used in a Trick Room, but thanks to Spore you may be able to get it set up in standard battles if you're against things that won't set it on Fire or swoop down from the sky to obliterate this parasitic mushroom. X-Scissor is a great move with STAB, and can help deal with the Grass-type Pokémon that are immune to Spore, and Seed Bomb can do decent STAB damage. Knock Off can provide decent coverage and mess up an opponent that is now asleep, as well, with Pursuit damaging Pokémon switching out because you have put them to sleep. Overall it's a decent set for you to use if you wish to use Parasect for a quirky offensive Pokémon. Leftovers can be used to recover health gradually while the opponent sleeps, but another option can be the Focus Sash to make sure Parasect lives to drop the Spore.
SubSeedShroom
-Spore
-Substitute
-Leech Seed
-Knock Off
Item Attached: Leftovers
Ability: Dry Skin
EVs and Nature:
EVs: 252 HP / 252 Def / 4 SDef
Impish Nature
Now we're onto the Sub-Seed set. Parasect works well as a Sub-Seeder, thanks to its ability to guarantee that the opponent will fall asleep (if not a Grass-type Pokémon), from there you can just keep sapping away its life, recovering yours, with thge occasional hit from Knock Off to ruin their strategy and do further damage
Other Options
Moves such as Brick Break and Cross Poison can be used to varying degrees of success to provide decent physical damage as well as provide coverage
Bug Bite is a good physical Bug-type option, with the ability of removing a Pokémon's berry and using it as your own. Very handy in this age of Sitrus Berry.
Fell Stinger can be used gimmickly. If a Pokémon is about to be Knocked Out, use this move and it will take it down and give you an Attack boost, making Parasect a force to be reckoned with.
Rototiller is a great way to boost your Parasect's Attack and Special Attack
You can also run other support statuses such as through use of Stun Spore or Toxic, but as these aren't quite as useful and certainly not as reliable as Spore, it'd be a tricky thing to make work
Swords Dance can be used to set Parasect up to be an attacking beast, but due to the fact Parasect is slow and weak to so much, it can backfire
Double & Triple Battle Options
Parasect is one of 3 fully evolved Pokemon that learn Spore (without using Sketch) but it's seldom used over Breloom or Amoongus. Breloom has offenses that pressure out Bulky Waters and Fighting weak Pokemon in tandem with being able to Spore the things it cannot beat. Amoongus is more defensively inclined with Regenerator as its ability and base 114 HP. Where does this leave Parasect?
Stat wise, despite it being introduced in the first Generation, it shares Base HP, Special Attack and Physical Defense with Breloom, shares Base Special Defense and Speed with Amoongus and gets the short end of the stick when averaging Amoonguss's and Breloom's Physical attack. 6 Weaknesses, 2 of which are x4 effective and VERY common on top of everything else and it's no wonder Trainers don't want to risk using Parasect on their teams.
Parasect, when staring one down in team preview, will be filling a very specific niche, as it is the only Pokemon right now to learn all of Spore, Rage Powder and Wide Guard. Being part bug is nice too for pressuring Cresselia, but Wide Guard REALLY sets it apart from its Spore learning cousins.
In The Desert, on a Host With No Name
Bug Bite
Seed Bomb
Spore
Wide Guard
Item Attached: Focus Sash
Ability: Dry Skin
EVs and Nature:
EVs: 252Atk, 252 HP, 4 Def
Brave/Adamant Nature
Parasect also gets Dry Skin, which was a neat way to handle some offensive Rain teams, but it's merely a check to Politoed + Ludicolo/Kingdra because Talonflame is usually on the team to check those pesky Grass types.
Bug Bite is fairly disruptive if one can predict which Pokemon is holding a Sitrus Berry or not. Seed Bomb is secondary STAB, but not bad by any means. Spore is the reason Parasect is close to being relevant as Dark Void is to Smeargle. Though the last move, Wide Guard has more to it than one may think.
Wide Guard blocks wide spreading moves and won't fail no matter how many times one uses it. So in theory, if the opposing Mega Charizard Y only had Heat Wave as its way to hit Parasect, then it more or less is walled. Same with Choice Scarf Landorus and its Earthquake and Rock Slide. With that in mind however Parasect is major Taunt bait, and won't be able to survive these Scenarios when being forced to attack.
Partners for Parasect would include Drizzle Politoed and or Terrakion, for Rock Slide hits opposing Fire and FLying type Pokemon for serious damage. Parasect is base 30 speed too, so Trick Room is definitely an option for it. Aromatisse ensures neither it or Parasect would be taunted thanks to Aroma Veil.
Parasect was left with pretty sub par stats and really stiff competition from Amoonguss, who has no x4 weaknesses and more bulk to boot. Parasect is definitely a niche Pokemon and will most likely find its home on a team that needs a check to rain, but also Wide Guard in one Pokemon. Overlooked, yes, Completely outclassed? No.
Countering Parasect
Talonflame.
.
.
No, really. Talonflame is just the ultimate anti-Parasect counter. It gets priority Flying-type moves which means it'll even move before Parasect gets a chance in a Trick Room, and all its powerful Flying and Fire-type moves will one hit KO it with ease. Alternatively, other Fire-type and Flying-type Pokémon and moves will be able to lay down the hurt on Parasect with very little issues. Failing that, you should go for something immune to Sleep such as Primeape, Vigoroth or Delibird which, all not as powerful as standard, can do decent damage on Parasect, especially Primeape with a Fire Punch.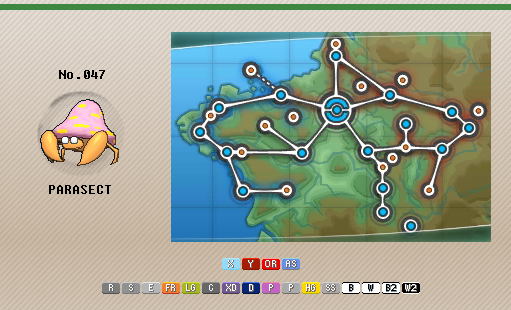 Locations in Games
Ruby/Sapphire/Emerald:
Trade from FireRed/LeafGreen/XD
FireRed/LeafGreen:
Cerulean Cave Floors 1, 2 & Basement 1, Safari Zone Area 1
Colosseum/XD:
Evolve Paras (XD)
Trade from FireRed/LeafGreen/XD (Colosseum)
Diamond/Pearl/Platinum:
Evolve Paras
HeartGold/SoulSilver:
Cerulean Cave, Safari Zone
Black/White:
Evolve Paras (White)
Trade from White (Black)
Black 2/White 2:
Trade from White
X/Y:
Evolve Paras
Omega Ruby/Alpha Sapphire:
Evolve Paras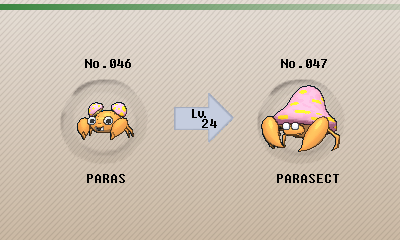 Animé Appearences
| | |
| --- | --- |
| Parasect has made a few appearances in the anime. Most notably, Ash faced one in the Kanto region with his Charmeleon after it had evolved from Paras. | |