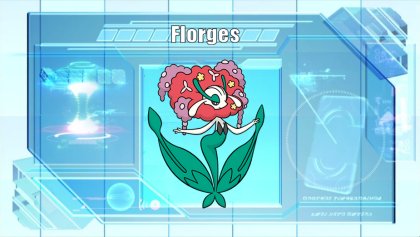 Florges, The Garden Pokémon. It claims exquisite flower gardens as its territory, and it obtains power from basking in the energy emitted by flowering plants. In times long past, governors of castles would invite Florges to create flower gardens to embellish the castle domains.
Overview
When Gen 6 arrived, it bestowed upon the game of Pokemon an entirely new type; Fairy types. With the advent of Fairy types, many existing Pokemon were re-typed to be Fairy types, while several new Fairy types were created as well. Among those Fairy types was none other than Florges, who many expected to be a Grass/Fairy type Pokemon by virtue of its appearance. But, it wasn't, and instead ended up being a pure Fairy type. This is not necessarily a bad thing however, as Fairy type is still arguably one of the better typings in the game. Typing aside, Florges is very good at what it does. It has a staggeringly high special defense stat, which makes it a solid special sponge with defensive typing that Blissey wishes it could have. With a great support movepool and even a surprisingly high special attack stat for a defensive Pokemon, Florges certainly has a lot going for it. However, all is not well for Florges. It is almost entirely helpless against Steel, Poison, and Fire types, most of whom can switch in freely and threaten it out, if not KO it outright. In addition, it has trouble playing in the big leagues due to competition from other Fairy types such as Sylveon and Clefable, especially when you consider that both of Florges abilities are pretty much useless. That said, in formats where Clefable and Sylveon aren't available, Florges stands tall as the dominant Fairy. Don't let its floral appearance fool you; Florges is tough to break, and can be threatening if you underestimate it.
Positives
+Base 154 Special Defense is absolutely ridiculous. With a passable base 78 HP stat to go with it, Florges has some respectable special bulk.
+Fairy typing is amazing typing. With only two easily worked around weaknesses, and resistances to Dark, Bug, and Fighting and an immunity to Dragon, Florges has the defensive typing that some special sponges (cough Blissey cough) wish they had.
+Despite being a defensive Pokemon, Florges actually has a fantastic base 112 Special Attack, which in conjunction with STAB Moonblast, can make it more threatening than one might assume.
+Florges has a killer support movepool, with gems like Aromatherapy and Wish to help the team, while also having Synthesis and Protect to help keep itself healthy.
+Base 75 speed is decent enough for a defensive Pokemon.
+Florges has a few odd coverage moves, such as Psychic and Giga Drain, and can learn Calm Mind as well, so its usage isn't limited solely to support.
+It comes in five colors! ...Which doesn't really affect its usefulness at all, but at least it's a nifty aesthetic thing.

Negatives
-Base 68 defense is rather underwhelming. It's not as lopsided as, oh say, Blissey, but Florges is significantly weaker on the physical side than it is on the special side.
-Neither of its abilities do anything in Singles, so in said formats they are literally useless.
-Florges is absolute setup bait for Steel types, while Fire and Poison types can also threaten it immensely if it's not carrying Toxic or Psychic respectively (which most Florges don't).
-Florges is very susceptible to Taunt and Trick, making it prone to being shut down by most stallbreakers.
-It can't compete with Clefable and Sylveon, as its benefits over the competition are too minor to justify its use. If you're gonna use Florges, do it in formats where Clefable and Sylveon can't be used.
-Neither of its pre-evolutions are worth using in any format due to being outclassed by other Fairy types.
Abilities
Flower Veil: Prevents lowering of ally Grass-type Pokémon's stats. - Flower Veil literally does nothing in Singles, since Florges isn't a grass type, and this doesn't affect Pokemon not in battle. However, there's an ever so rare chance that it could do something, because if Trevenant were to use Forest's Curse on Florges, then Flower Veil would affect it. However, Trevenant is not commonly used where Florges is most common, and even when it is used, Forest's Curse is almost never used. In other words, Flower Veil will be useless 99.99% of the time in Singles. A shame, really. In Doubles, however, it can be a little bit more useful
Hidden Ability (Available):
Symbiosis: Passes the Pokémon's hold item to its adjacent ally when that ally consumes its hold item - Much like Flower Veil, Symbiosis does nothing in Singles. Poor Florges is stuck with two abilities that do nothing at all in Singles. Even in Doubles though, Symbiosis isn't that great, given Florges typically likes to have an item itself rather than giving away its item. Mind you, there is a certain Glitch involving Symbiosis that can cause item effects to occur more than once on a Pokemon who receives an item from Symbiosis, but if you're exploiting that bug, then you should feel bad.
Movesets
Flower Power
-Wish
-Synthesis / Protect
-Aromatherapy
-Moonblast
Item Attached: Leftovers
Ability: Flower Veil
EVs and Nature:
EVs: 252 HP / 252 Def / 4 SpDef
Bold Nature
Your standard Florges is one of support. In general you won't see too many variations from a support set, but fortunately it pulls off said support set very well. Wish is the crux of the set, as it can help keep teammates healthy, in addition to Florges itself at times. However, Wish's two-turn healing can often make it impractical for healing Florges in a pinch. For this reason, it has one of two options. Synthesis can be utilized for instant recovery, but Protect can also be used to waste a turn so that Wish can take place, while also giving you an extra tick of Leftovers. From there, Florges has another excellent support option in the form of Aromatherapy, which clears the status effects on all Pokemon in your team. Needless to say, this is a godsend as most Pokemon hate status, and it prevents Florges itself from being Toxic stalled. Finally, to prevent Florges from being completely passive, and to put its solid base 112 special attack to good use, pretty much every Florges will be packing Moonblast. Not only is it a solid STAB attack in general, but its 30% chance to lower special attacks can allow Florges to hinder special attackers that may try to take Florges on.
Despite what one may expect, Florges it typically best off with a physically defensive spread. Why? With Florges' special defense stat being as high as it is, it gets some pretty substantial diminishing returns for EV investment. However, investing in its lower HP and Defense stats improves its overall bulk considerably more, and allows it to tank some hits from both sides of the spectrum, especially those it resists. Considering the myriad of powerful physical attacking fighting, dark, and bug types, a physically defensive spread helps Florges counter and check a wider variety of threats; for instance, things like Heracross and Mienshao have a hard time breaking through Florges' physically defensive spread. For this reason, 252 HP and 252 Defense EVs with a Bold Nature maximizes Florges' physical bulk, while the leftover 4 EVs are put into special defense. Leftovers is always the item of choice, as the passive healing helps Florges extend its longevity. Finally, in terms of abilities… sadly, both of its abilities are pretty useless, but Flower Veil has an incredibly situational and rare use in that it can affect Florges if Trevenant were to use Forest's Curse on it. Mind you, this never happens, but given it has a miniscule chance to do something as opposed to Symbiosis having no chance to do anything, then it becomes the preferred ability.
Other Options
-Calm Mind can be used to set up against the special attackers that Florges walls, making it much harder to break on the special side. Just watch out for powerful physical threats which can still force Florges out.
-Toxic is an option to stall out foes, which helps against opposing defensive Pokemon. Florges takes on less of a supportive role in this case, though.
-Worry Seed can be an option that can hinder Pokemon who rely on their abilities.
-Psychic is an option that can surprise Poison types who might think they're safe against Florges, and can at least hit fire types Neutrally, but in general it's hard to fit into a movepool.
-Energy Ball and Giga Drain both offer an option to surprise things like Quagsire and Swampert, but its neutral coverage doesn't pair well with Fairy type, given everything that resists Fairy also resists Grass.
-Hidden Power Fire can be used to surprise some steel types, most notably those that are 4x weak to Fire, but its meager base power can let you down at times.
VGC, Double & Triple Battle Options
Florges was fun to use when players still thought it was a Grass Type. Florges tanks Overheats fairly well. Like most Fairy types Florges is built specially defensive, main problem being it's weaker Defense stat.
Riff Rafflesia
Moonblast
Helping Hand
Worry Seed / Swagger
Protect
Item Attached: Choice Band / Specs / Scarf
Ability: Symbiosis
EVs and Nature:
EVs: 252 HP 252 Def 4 SDef
Bold Nature
This set relies on a partner with a consumable item so Symbiosis kicks in and gives said partner a held item. In this case a Choice Item. A surprise tactic at best that may swing the game into your favor, but nothing so dominant as to win best of 3 sets. One idea is to have the partner Pokemon hold a Perisim/Lum Berry, have Florges Swagger it, then pass a Choice Scarf over to the partner leaving it at +2 attack for as long as it's on the field.
One obstacle this Pokemon can't manage is how some Held Items are too valuable for Florges shenanigans. Groudon needs the Red Orb, Kangaskhan needs the Kangaskhanite so on and so forth. Florges won't fit well in this format simply because attacks are hitting insanely hard now, a modest defensive Pokemon with only Swagger to truly defend itself won't get far.
Countering Florges
In the formats where Florges is most used, if you want to deal with Florges, just smack it with some cold steel. Aggron and Mega Aggron take pitiful damage from Moonblast, only being 6HKO'ed by it, while being able to 2HKO for standard Aggron or 1HKO for Mega Aggron with Heavy Slam. Doublade with Eviolite is only 5HKO'ed by Moonblast, while it can 2HKO with Iron Head, or set up Swords Dance. Offensive Empoleon can 2HKO Florges with Flash Cannon, while only being 6HKO'ed by Moonblast. Specially defensive Empoleon is a nigh immovable object for Florges, although it won't do too much in return. Forretress is only 5HKO'ed by Moonblast, although due to Florges' low speed Gyro Ball won't do much in return, so Forretress will typically just take the time to set up hazards instead. Metagross has no problem dismantling Florges; its Assault Vest set can tank Moonblasts all day long, only being 9HKO'ed, while it can 2HKO with Meteor Mash (or 1HKO about 43% of the time with Meteor Mash). Meanwhile, its Choice Band can soundly 1HKO with Meteor Mash, while still only being 6HKO'ed by Moonblast. Other Steel types such as Cobalion and Lucario can check Florges by 2HKOing it with Iron Head and Flash Cannon, respectively, but they have to watch out as their secondary types and low special defense can allow Florges to 2HKO them as well. Poison types are your next best bet, although they can be threatened by the rare Psychic. Crobat stands tall as one of the best answers, as most variants can deal with Florges one way or another. Support Crobat is only 7HKO'ed by Moonblast and can shut Florges down with Taunt, while offensive Crobat is 5HKO'ed by Moonblast and 2HKOs Florges in return. Mega Beedrill is able to take a Moonblast given it is only 4HKO'ed, while it can obliterate Florges with STAB Adaptability Poison Jab. It can also use Florges as an obvious switch to Mega Evolve safely without needing to use Protect. Nidoking and Nidqueen are both able to deal with Florges pretty easily, as both can 2HKO it with Sludge Wave, while Florges can only 4HKO 'King and 5HKO 'Queen with Moonblast; just watch out for random special attack drops from Moonblast, which can be a nuisance. Likewise, offensive Roserade is only 5HKO'ed by Moonblast and can 2HKO with Sludge Bomb, or take the time to set up hazards when it forces Florges out. Specially defensive Roserade can also wall Florges into oblivion, with Moonblast being unable to break Roserade. Toxicroak can reliably check Florges with a powerful Gunk Shot being able to 1HKO, but it has to watch out for the fact that Moonblast can 2HKO, so with some prior damage it's not a safe switch in. Fire types are usually a pretty safe bet as well. Arcanine resists Moonblast and is only 5HKO'ed, while it can 2HKO with Flare Blitz for offensive variants. Chandelure is only 4HKO'ed by Moonblast, but its Specs set can 2HKO Florges with Fire Blast (watch out for Moonblast's special attack drops though). Darmanitan's frighteningly powerful Life Orb Flare Blitz can 1HKO Florges outright, and it's only 4HKO'ed by Moonblast. Even on Scarf sets, Darmanitan still soundly 2HKOs Florges. Entei is only 5HKO'ed by Moonblast and can 2HKO with either Choice Banded Flare Blitz or Sacred Fire, with Sacred Fire's burn chance also punishing switch-ins as well if it forces Florges out. Defensive Rotom-H walls Florges due to only being 7HKO'ed by Moonblast, but unfortunately is not able to do much in return; however, if low on health, it can utilize Pain Split to weaken Florges while keeping itself healthy. If it's running Trick, however, it can utilize Tricking a choice item onto Florges in order to shut down support sets. Just watch out for Choiced Moonblasts if you go this route, though. When in doubt, you can always check Florges with powerful physical attackers; things like Feraligatr, Mamoswine, and Gyarados can manage to 2HKO Florges even with a physically defensive spread. In addition, Florges is very susceptible to Taunt and Trick due to its emphasis on support, so something like Aerodactyl or Gyarados taunting it will hinders its ability to perform its support role.
In more inclusive formats, it becomes obvious that Florges has bigger problems. A myriad of more powerful steel types, such as Scizor, Mega Scizor, Heatran, Magnezone, Ferrothorn, Jirachi, Excadrill, and Mega Metagross can all switch into Florges with little to fear, and then can promptly 1HKO or 2HKO Florges with their powerful STAB attacks. Skarmory doesn't fear much from Florges either, but doesn't do much in return; however, it can take the time to either set hazards or blow away the opponent's with Defog, or just phase Florges out. Bisharp's secondary typing can cause Moonblast to 2HKO, but it can still 1HKO with Iron Head and outspeeds Florges. Mega Venusaur's supreme bulk allows it to only be 7HKO'ed by Moonblast while it can 2HKO it with Sludge Bomb. Gengar can 2HKO with Sludge Wave or Taunt Florges to shut it down, while only being 4HKO'ed by Moonblast. Mega Charizard Y is only 5HKO'ed by Moonblast, while its sun-boosted Fire Blasts can 2HKO Florges. Talonflame can set up Swords Dance on Florges while only being 4HKO'ed, and Choice Band variants can just 2HKO Florges outright. Powerful physical attackers such as Landorus-T, Azumarill, and Mega Pinsir can manage to 2HKO Florges without much duress as well. In the end, most of the things that can handle Sylveon and Clefable also handle Florges, except more easily, so you don't have to prepare too hard for Florges in standard play.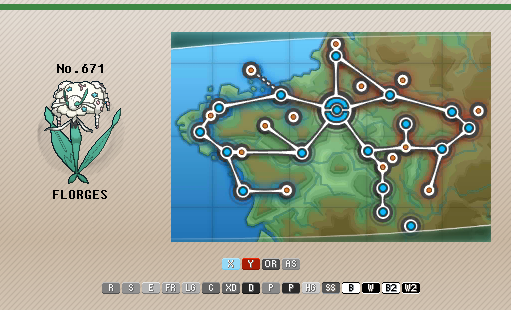 Locations in Games
Ruby/Sapphire/Emerald:
Not in game
FireRed/LeafGreen:
Not in game
Colosseum/XD:
Not in game
Diamond/Pearl/Platinum:
Not in game
HeartGold/SoulSilver:
Not in game
Black/White:
Not in game
Black 2/White 2:
Not in game
X/Y:
Evolve Floette
Omega Ruby/Alpha Sapphire:
Trade from X & Y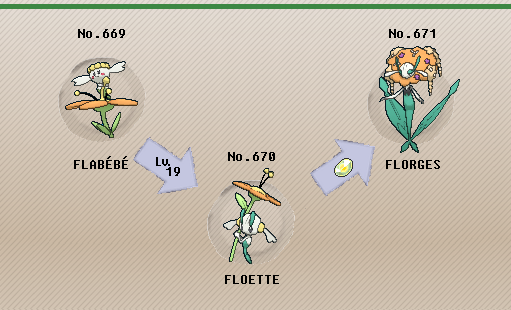 Animé Appearences
| | |
| --- | --- |
| Florges has made a few appearances in the anime. In it, it attacked Goodra's former homeland under the threat of Team Rocket when Floette was injured. | |