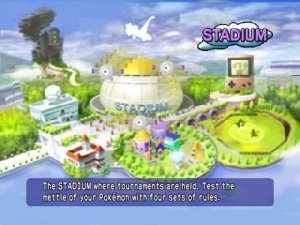 Game Modes
Pokémon Stadium 2 continues on from both of its predecessors in providing a variety of features on the game. These features include multiple different areas to battle and several other areas that can provide new features for your game or just to play.
Some of these features require you to be saved at the Pokémon Centre while others may require you to have a GameBoy game. However, unlike the predecessor, most of the modes can work without a GameBoy game.
After completion of all the modes, you will unlock Round 2, which is switchable before entering the Pokémon Stadium by pressing the C-Right button on the controller.
Battle Now

GameBoy Game Required: No
Saved at the Pokémon Centre: No
Round 2 Changes: No

The Battle Now mode, accessible on the menu prior to entering Pokémon Stadium, allows you to battle on your own, or against a second player, using a random selection of rental Pokémon. These battles are relatively simple battles and run off of the same rules as the PokéCup.

Event Battle

GameBoy Game Required: Yes
Saved at the Pokémon Centre: No
Round 2 Changes: No

The Event Battle mode is a quick way to battle between two players. Here, you need to select a set of rules based upon the cups in the Stadium. Both players need to have a GameBoy game plugged into the Transfer Pak in their controller and the game will use the current party of the game.

This mode also allows for time constraints to be set so that the battle can progress more rapidly, creating even more strategies by requiring quick thinking.

Gallery

GameBoy Game Required: No
Saved at the Pokémon Centre: No
Round 2 Changes: No

The Gallery feature exists only within the North American version of the game and allows you to take photos of the various Pokémon within your game, or with rental Pokémon over a variety of backdrops, doing many animations. You can store over 30 photographs in the album in the game and had the ability to take the game to a special printing station in order to print the images as stickers.

Stadium

GameBoy Game Required: No
Saved at the Pokémon Centre: No
Round 2 Changes: Yes

The Stadium Mode is the main mode of the game. This mode is single player and allows you to battle within four different cups. These cups have varying rules and varying opponents requiring a lot of strategy. The cups are as follows

Pika Cup: Battles for Pokémon Level 15-20
Petit Cup: Battles for Pokémon Level 25-30
PokéCup: Battles for Pokémon Level 50-55
Prime Cup: Battles for Pokémon Level 1-100

Free Battle

GameBoy Game Required: No
Saved at the Pokémon Centre: No
Round 2 Changes: No

The Free Battle mode allows you to play on your own, or with up to three other players in battles following certain sets of rules. These rules match the same rules as the Stadium and also include an "Anything Goes" mode which allows you to use all 6 Pokémon without any restrictions. You can use Rental Pokémon and Pokémon on your GameBoy game. In addition to this, you can team up with a friend in a prolonged battle, sharing a team.

Anything Goes: Battles for Pokémon Level 1-100 - No restrictions
Pika Cup: Battles for Pokémon Level 15-20
Petit Cup: Battles for Pokémon Level 25-30
PokéCup: Battles for Pokémon Level 50-55
Prime Cup: Battles for Pokémon Level 1-100

Gym Leader Castle

GameBoy Game Required: No
Saved at the Pokémon Centre: No
Round 2 Changes: Yes

The Gym Leader Castle is a new feature introduced within this game where you have to face up against the various Gym Leaders of the Kanto region, opening more gyms as you progress. These battles tend to have focused types and strategies. If you use your GameBoy game, the final battle with the Rival varies depending upon the choices you made within the game.

GB Tower

GameBoy Game Required: Yes
Saved at the Pokémon Centre: No
Round 2 Changes: No

The GameBoy Tower allows you to play your GameBoy games on the big-screen. This can be further augmented by unlocking the Doduo GameBoy when completing PokéCup or Prime Cup which increases the speed in-game to 200% of normal and then even further improved by the Dodrio GameBoy after you have beaten both the PokéCup and Prime Cup modes.

Kid's Club

GameBoy Game Required: No
Saved at the Pokémon Centre: No
Round 2 Changes: No

The Kid's Club is a collection of 9 mini-games. These mini-games can be played against the computer in one of four difficulties or against other players. This mode doesn't utilise any of the GameBoy games and just works as a competition. It has an extra mode where you have to win a certain amount of mini-games to win the overall tournament.

Victory Palace

GameBoy Game Required: No
Saved at the Pokémon Centre: No
Round 2 Changes: No

The Victory Palace acts as a hall of fame. Whenever you finish a cup with a species of Pokémon in your team, that species will be added to the Hall of Fame. Details of the Pokémon including OT/ID and what cup they were used in gets saved. If you register all 151 Pokémon within the palace, you unlock a special Amnesia Psyduck

Pokémon Lab

GameBoy Game Required: Yes
Saved at the Pokémon Centre: For full functionality
Round 2 Changes: No

The Pokémon Lab takes the functions utilised within the various modes of Pokémon Stadium's predecessor and fits them within one area. This area is mostly just for organisation and facts. In addition to giving extras, you have multiple boxes on the N64 game itself which you can use to save your excess Pokémon.
It has a Pokédex to allow you to search and view all of the Pokémon you have seen
It allows you to search through the boxes of your game
It allows you to trade between two games

Vs. Mewtwo

GameBoy Game Required: No
Saved at the Pokémon Centre: Np
Round 2 Changes: Yes

This small mode unlocks after you have beaten all of the cups in the Stadium mode and have cleared the Gym Leader Tower. Once those are complete, the silhouette of Mewtwo shall appear over the Stadium and will challenge you to a single battle. Defeat it and it unlocks Round 2